Dear Friends of Reading to Kids,
A few more teachers have signed up to be Zoom hosts for this Saturday's "Seasons & the Natural World" virtual reading clubs, so we need you to head quickly to readingtokids.org to RSVP!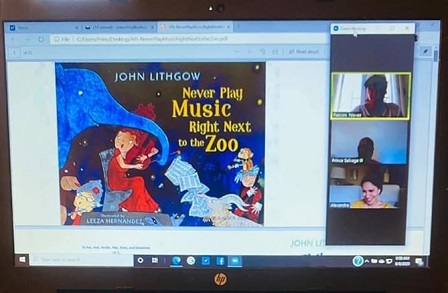 If you have ever read with us at any of our prior reading clubs (face-to-face or virtual), please RSVP now at our homepage at www.readingtokids.org or keep checking back to submit your RSVP for our virtual reading clubs this Saturday!
(If you are signed up but can't attend after all, please click here to cancel ASAP or before 3:00 p.m. tomorrow so someone else can take your place!)
If you check the website and find it is full, please keep checking back, since additional spots may open today and tomorrow.
We are again limiting RSVPs for these virtual reading clubs only to returning volunteers - people who have volunteered with us at least once before at any of our previous face-to-face or virtual reading clubs.
STAND-BY READERS WANTED!
If all spots are full you can also let us know at
info@readingtokids.org
if you are willing to be a
"stand-by" reader
this Saturday, someone willing to fill in for any grade at any school if we have any last-second reader cancellations.
Stand-by readers must be available this Saturday morning from 8am to around 11am and willing to read to any grade at any school. It's a really important role!
HOW VIRTUAL READING CLUBS WORK
Because LAUSD teachers are using Zoom to reach their students, we will use Zoom for these virtual reading clubs. The reading clubs will be hosted by participating teachers at each school using their school Zoom accounts, but you will need your own Zoom account to join the reading club. If you don't already have a Zoom account, you can sign up for a free, Basic account here: https://zoom.us/pricing
IMPORTANT: You will need to use Zoom from a desktop or laptop computer. The phone and tablet versions of Zoom do not have the necessary features for our virtual reading clubs.
Ideally, anyone who volunteers for these virtual reading clubs will be comfortable using Zoom. If you wish to test out your Zoom connectivity prior to the reading clubs, we encourage you to email us at info@readingtokids.org so we may do a brief test run with you before the virtual reading clubs.
The Friday before the reading clubs you will receive a link for a Zoom "check-in" session with your Site Coordinators that will begin promptly at 9:00 a.m. that Saturday. Click here to review the schedule for these virtual reading clubs.
Once you and your fellow volunteers are checked in, that same Zoom session will have a Zoom Volunteer Orientation / Virtual Reading Club Training that will start promptly at 9:15 a.m.
At 9:30 a.m. you and your volunteer partner will leave that Site Coordinator session and then join the teacher's Zoom session. The teacher will host the Zoom call and make you co-hosts. The first 30 minutes will be for troubleshooting and a prep session for just you and your reading partner and the teacher.
The kids will join that same reading club Zoom session at 10:00 a.m., and it will likely go until 10:30 or 11:00, at the teacher's discretion.
After the reading clubs end you will then rejoin your Site Coordinator's Zoom call for a brief wrap-up.
To screen share the book you will be reading with the children, you will need Adobe Acrobat or the free Adobe Reader from https://get.adobe.com/reader.
We will provide you a PDF of the read-aloud book so you can prepare for the reading clubs. You can see the read-aloud book titles for this month at https://readingtokids.org/Books/BooksMonth.php.
We will provide at the above link activities and simple craft ideas the kids can do at home. You would prepare to lead the kids in an activity and craft, though you may not actually do a craft, depending upon how the Zoom session goes. The kids may just want to talk to new faces!
_______________________________________________
We learned yesterday that Jim Ostiller, one of our most dedicated volunteers at Esperanza Elementary, passed away peacefully at home. He was 93 years old.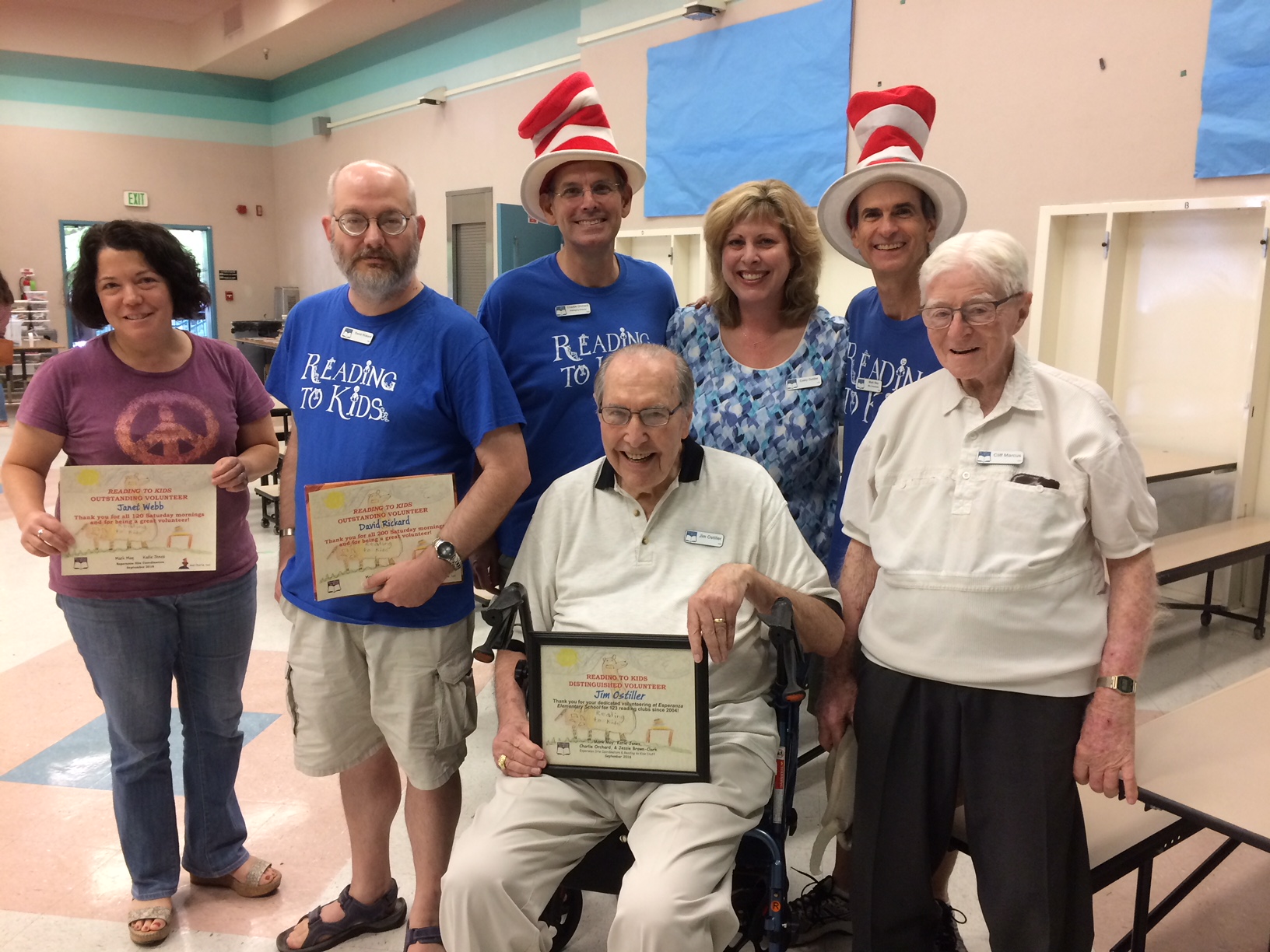 In the photo above from September 8, 2018, Jim Ostiller is seated in the middle as he receives his 123rd reading club milestone certificate at his last reading club. Standing from left to right with their current number of reading clubs attended: Janet Webb (133 reading clubs), David Rickard (221 reading clubs), Charlie Orchard (Managing Director), Cathy Ostiller (133 reading clubs), Mark May (Esperanza Site Coordinator), and Cliff Marcus (115 reading clubs). Click the photo to see it full-sized.
Jim always read to 3rd graders with his friend of more than 40 years, Cliff Marcus, and his daughter Cathy. He also recruited his son Rick and daughter Karen as readers, and Jim read with us at 123 reading clubs, choosing to "retire" from reading in September 2018 due to mobility reasons.
Jim was born in 1927, graduated from the US Naval Academy in 1947, and was a CPA for 52 years, retiring at the age of 84. In July 2004, when Jim was 77, he was introduced to Reading to Kids through his daughter, Cathy, who had been volunteering since the year prior.
Jim believed so strongly in the value of our program that even after his doctor told him in 2010 he should no longer drive, every month his friend Cliff (who Jim had recruited as a fellow reader) would pick up Jim from his home in Beverly Hills to drive them to Esperanza Elementary, where they joined Cathy to read together as a team. Cliff passed away early last year at 98 years old.
Jim was touched when the 4th and 5th graders he used to read to when they were in 3rd grade would remember him by name and give him artwork they created for him at the reading clubs. Through a foundation he managed, Jim arranged $15,500 in donations to Reading to Kids over 10 years.
When asked why he enjoyed reading with us, Jim explained a few years ago, "It's a lot of fun being around so many young adult volunteers and children. I remember not wanting to go to school on a Saturday as a kid, so I was impressed these kids would want to come to school on a Saturday. The kids were interested and interesting. Working with the kids is a window into a different culture."
It was an honor for all of us at Reading to Kids to count Jim amongst our readers and supporters.
_______________________________________________
2020 ANNUAL FUND DRIVE UPDATE!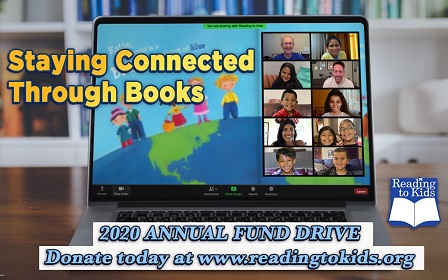 Our 2020 Annual Fund Drive is going strong with $11,440 donated from 120 donors!
Those who have donated can see their names listed on our 2020 Annual Fund Drive page. Help us reach the $20,000 mark from 200 donors - donate today to join them!
Our Annual Fund Drive lasts until December 31st, and our ambitious goal this year is to raise $60,000 from 600 donors. Please help us meet that goal by spreading the word to your friends and co-workers!
How Can You Help?
1) Make a pledge to donate by check or donate online today by visiting our 2020 Annual Fund Drive. Contributions of any amount are greatly appreciated!
2) Show your support by asking friends and family to contribute! Visit our 2020 Annual Fund Drive page and look under the "Help us Fundraise!" header for resources, including information on creating your own personalized fundraising page on Facebook, our handy donor sheet for raising money with your friends and co-workers, tips for fundraising, and so much more.
Once they know about Reading to Kids, many of your friends and family will want to donate - we just need you to ask!
Also, if your workplace matches donations to nonprofits, please share with them your donation, and ask them to consider matching it. In this way you double your donation and share with others your enthusiasm for Reading to Kids!

_______________________________________________
3 MORE RUNNERS NEEDED FOR THE
2021 LA MARATHON OR 5K!
Do you know any runners? Are you a runner? Please forward this email to them and ask them to join Team Reading to Kids in the 2021 Los Angeles Marathon on Sunday, March 21st!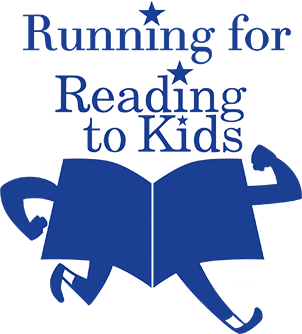 We're looking for three more marathon runners to join us in one of the best marathons in the country.
If a marathon is too daunting, you can join us in the LA Big 5K (that's just 3.1 miles) near Dodger Stadium the day before the marathon on Saturday, March 20, 2021.
You can share this Facebook group with any of your runner friends to encourage them to join our team!
If you or a runner you know is interested in becoming one of our fundraising runners or creating a fundraising team, please email Chris Martin at marathon@readingtokids.org!
IMPORTANT NOTE: To register to run on behalf of Reading to Kids, you MUST receive from us a special web address to use when registering on the Los Angeles Marathon website.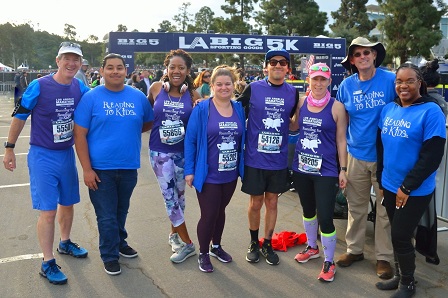 _______________________________________________
LOOKING AHEAD TO
DECEMBER READING CLUBS:
ZOOM SANTA & HELPERS NEEDED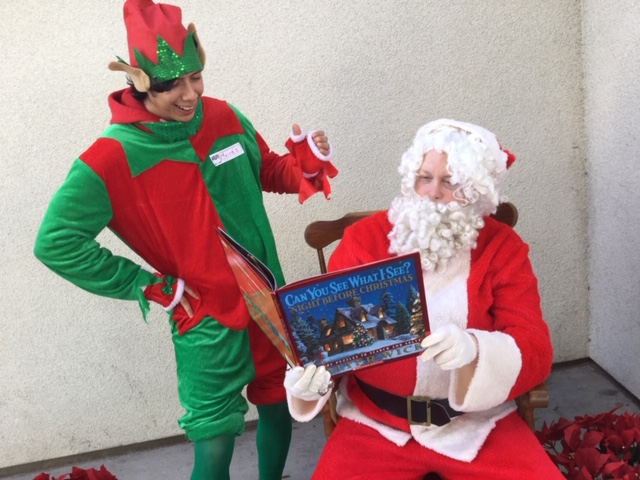 It may seem a bit early for Santa, but we have begun planning early this year for how we can bring Santa to the December 12th reading clubs!
At least once in your life you should experience being Santa or one of his helpers - and here is a unique opportunity!
Since we generally have 36 teacher hosts each month, we need four people willing to be Santa, Mrs. Claus, or an assisting elf for our reading clubs on December 12th.
We've had Santas of all shapes, sizes, and gender.
This year we'll need Santa to provide his or her own Santa beard and wig, hat, and Santa jacket to wear while on Zoom
.
Santa outfits good enough for Zoom are not too expensive at
Party City
or
Amazon
.
There's nothing better than seeing the students' excitement when Santa visits our reading clubs! If you can be a Zoom Santa, Mrs. Claus, or an assisting elf on December 12th, please email us at info@readingtokids.org. You won't be able to read that day, but you'll see dozens of smiling faces!
_______________________________________________