Even though it was the first day of their Spring Break, this past Saturday 598 kids, 275 volunteers, 115 parents, and 25 teachers & staff helped to make our April 13th reading clubs a success!


Click the above image for a wonderful Instagram video of Site Coordinator Paul Chung discussing and showing what we do!
Sign up early for our May 11th reading clubs! RSVP for these magical Fantasy, Folklore, & Fairytales reading clubs here.
Please also take a moment to join our May 11th Facebook event and invite your friends to join, too.
CRAFTS & READING GUIDE MEETING SUNDAY, 4/28
_______________________________________________
Are you ready to work full-time at a nonprofit where you can make a big difference? Reading to Kids is hiring a Program Coordinator for a permanent position!
The position is posted on our website, where you can read it by clicking on the Program Coordinator button below Latest News. Be sure to apply as soon as possible.

Please share the above position with anyone you think would be a good fit, especially if they have volunteered with us before!
_______________________________________________
BUY YOUR TICKETS NOW FOR OUR
20TH ANNIVERSARY CELEBRATION,
COMEDY NIGHT, & SILENT AUCTION
ON MAY 11TH!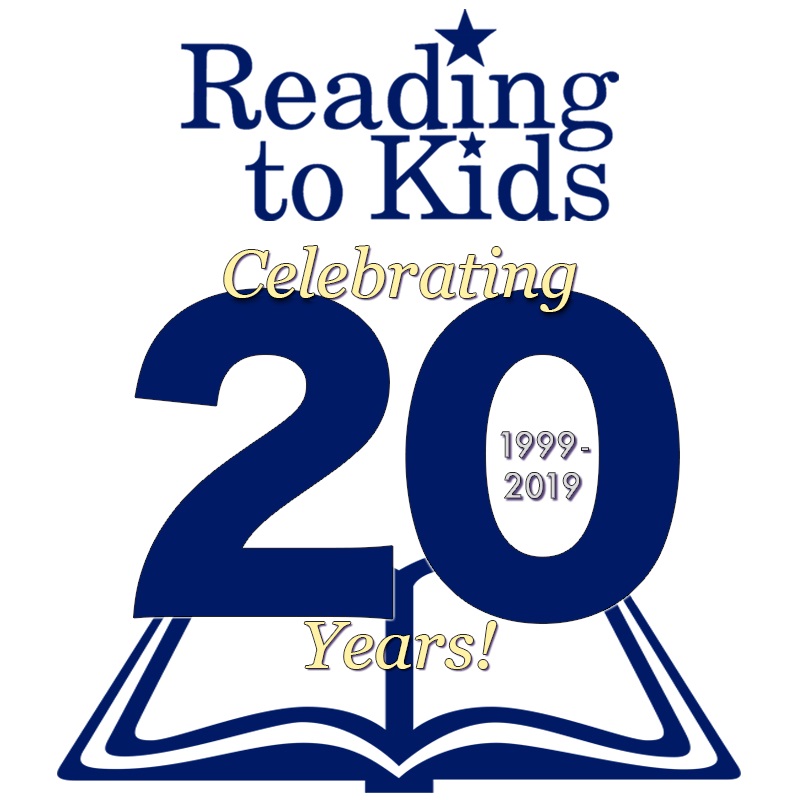 Reading to Kids turns 20 years old at our May 11th reading clubs, and tickets are now on sale for our celebration event that evening!
We'll be partying like it's 1999 again at the beautiful Historic Woman's Club in Santa Monica, hosted by internationally-known Mallory Lewis and Lamb Chop and her "After Dark" material!
We'll also have a silent auction, a DJ, and a video presentation, with comedians Jodi Miller, Henry Phillips, Darren Capozzi, and Adam Richmond performing an incredible night of comedy!
Head on over to our 20th Anniversary Celebration page to buy your tickets and see all the details so far!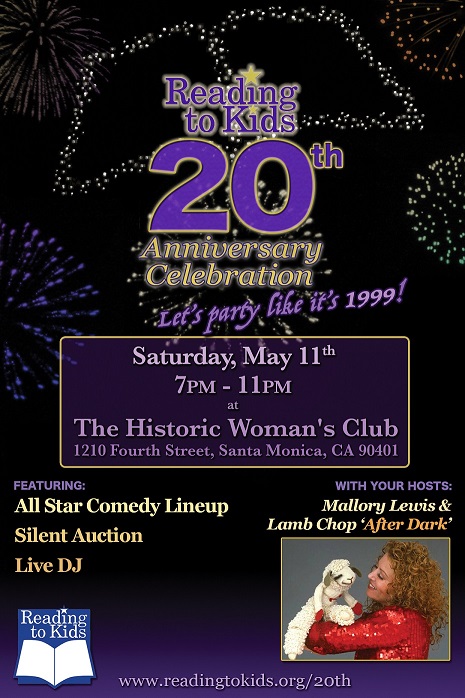 Please also click the above image for our 20th Anniversary postcard to share online or forward to anyone you know who may be interested in going.
Tickets are $35 online before 2pm on 5/11/19, $45 at the door while tickets last. ****Guests must be 18 and over.****
If you personally know or have a solid connection to a well-known, headliner comedian who would be interested and available in performing that night, please email us at info@readingtokids.org.