Last Saturday 301 kids, 97 volunteers, and 38 teachers & staff helped to make our November 11th reading clubs a success! This is our third month since May with more than 300 kids participating!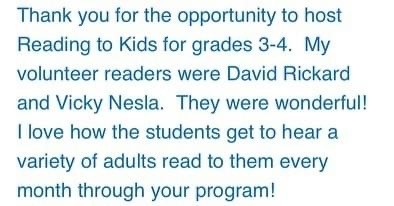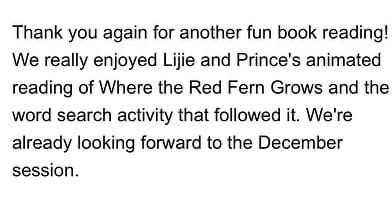 Click on the above images to read just two of the positive replies
we received Saturday from teachers about these reading clubs!
2/3rds of the volunteers showed their college spirit by wearing college logos from 40 different schools - just one of the ways we planted the seeds of college aspirations this year!
On Saturday we received another $544 from 13 donors towards our 2020 Annual Fund Drive!

The names of the new donors have already been added to our 2020 Annual Fund Drive page, and here are the school competition stats so far:

SCHOOL COMPETITION WINNERS!


Highest percentage of volunteers who donated at the Nov. 14th reading clubs:
1st: Esperanza (a new leader with 29%!)
2nd: MacArthur Park (23%)
3rd: Alta Loma (17%)

Highest dollar amount raised at the Nov. 14th reading clubs:
1st: Esperanza
2nd: MacArthur Park
3rd: Alta Loma

Highest percentage of volunteers who have donated overall:
1st: Esperanza
2nd: MacArthur Park
3rd: Los Angeles

Highest dollar amount raised overall:
1st: Esperanza
2nd: Los Angeles
3rd: MacArthur Park

All of these donations will be doubled or tripled by our matching donors, and their offers still stand!

That's right, you can still double or triple your donation and change the above standings by donating this week!

Our overall goal by the end of the year is to raise $60,000 from 600 donors.

Here's how you can help, with your donations being counted towards the school competition:

1) Make a pledge to donate by check or donate online today by visiting our 2020 Annual Fund Drive. Contributions of any amount are greatly appreciated!

2) Show your support by asking friends and family to contribute! Visit our 2020 Annual Fund Drive page and look under the "Help us Fundraise!" header for resources, including information on creating your own personalized fundraising page on Facebook, our handy donor sheet for raising money with your friends and co-workers, tips for fundraising, and so much more.

Once they know about Reading to Kids, many of your friends and family will want to donate - we just need you to ask!

Also, if your workplace matches donations to nonprofits, please share with them your donation, and ask them to consider matching it. In this way you double your donation and share with others your enthusiasm for Reading to Kids!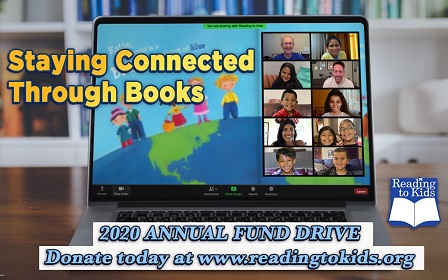 Virtual reading clubs count towards our milestones just as much as our face-to-face reading clubs!
Though we couldn't provide printed milestone certificates to them, we honored these 10 volunteers by sharing their milestone certificates at their schools' Site Coordinator debrief sessions after the clubs!

• Lijie Yang (10 reading clubs each)
• Mary Michelle Moore (30 reading clubs)
• Eric Dunlap (40 reading clubs)

Pictured below are the certificates for our seven Site Coordinators who teached milestones on Saturday:

• Erica Kolsrud (10 reading clubs)
• Mira Metry (20 reading clubs)
• Pam Anton (30 reading clubs)
• Heather Horn & Emily Sandersfeld (60 reading clubs each)
• Mariel Rubio (140 reading clubs!)
• Jen Smith (210 reading clubs!)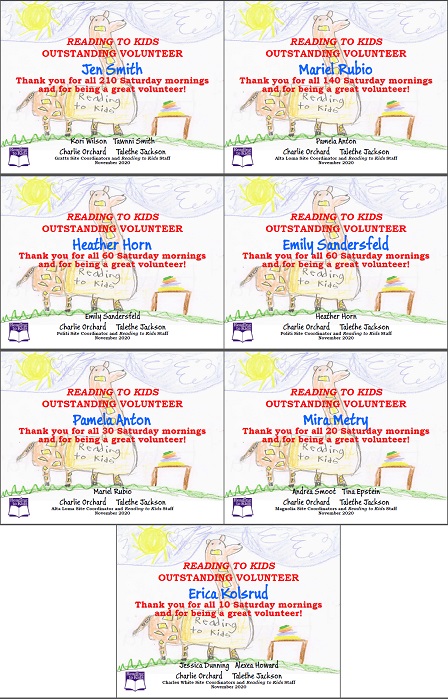 _______________________________________________
DECEMBER 12TH READING CLUBS
NEARLY CONFIRMED
We are eager for next month's virtual reading clubs on December 14th, but first need to recruit enough teachers to be Zoom hosts for them.
In about two weeks when we confirm enough teacher hosts, we will then open our RSVP system for those "Family & the Spirit of Giving" reading clubs!
Zoom Santa Needed!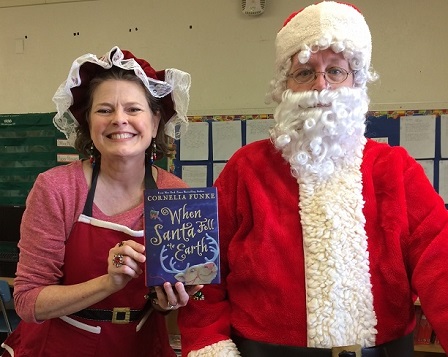 At least once in your life you should experience being Santa - and here is your chance!
Since we generally have 36 teacher hosts each month, we need one more person willing to be Santa for our reading clubs on December 12th.
We've had Santas of all shapes, sizes, and gender, and we'll provide the Santa suit to anyone who lives in southern California!
There's nothing better than seeing the students' excitement when Santa visits our reading clubs! If you can be a Zoom Santa on December 12th, please reply to this email. You won't be able to read that day, but you'll see dozens of smiling faces!
So, please keep checking www.readingtokids.org to see if you can submit an RSVP!
OPERATIONS VOLUNTEERS NEEDED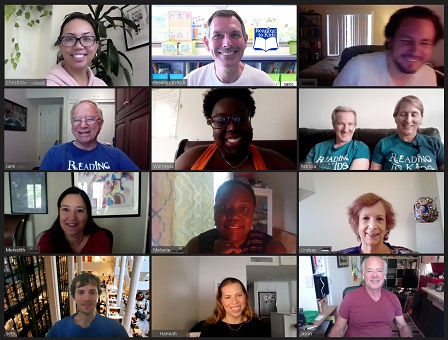 For our virtual reading clubs we need experienced volunteers to
help train volunteers to use Zoom or be a second or third virtual Site Coordinator
in our Zoom reading clubs for any of our schools.
Being a Site Coordinator guarantees you a (non-reading) spot at our next reading clubs, so please e-mail us at
info@readingtokids.org
if you can help us create wonderful reading clubs!
_______________________________________________
Thanks, and once enough teachers are confirmed over the next few weeks we will open our RSVP system for our next reading clubs (always the second Saturday of each month) on December 12th.