Dear Friends of Reading to Kids,
Over the last several weeks on our Twitter, Facebook, and Instagram we have been posting "Volunteer Spotlights" profiles of some of our key volunteers! These contain photos and interesting facts about those volunteers and what drew them to Reading to Kids.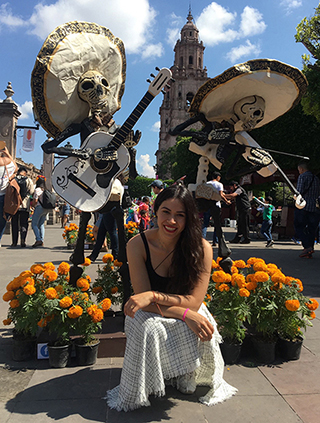 We are delighted to have volunteer Nancy Camacho serve as our translator, providing Spanish translations for our flyers and volunteer spotlights! Nancy is a committed Reading to Kids Volunteer who has read with us on 24 reading club Saturdays at several of our partner schools. Her usual school is Esperanza Elementary.
Nancy told us recently, "I believe literature is transformative. It can help kids build their own value systems and it also has the power to expose kids to places, cultures, vocabulary, and things outside of their immediate communities. What I love the most about Reading to Kids is that it helps promote a positive reading culture in the lives of underserved kids, and in this sense, gives them greater access to varied perspectives and experiences."
_______________________________________________
2020 ANNUAL FUND DRIVE UPDATE!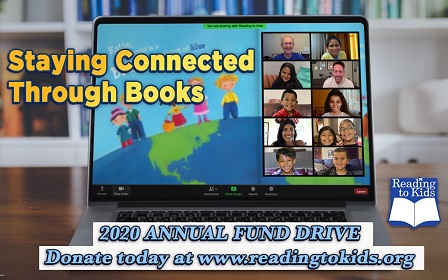 Our 2020 Annual Fund Drive is off and running with $4,978 donated from 60 donors!
Those who have donated can see their names listed on our 2020 Annual Fund Drive page. If you have not yet donated, please donate today so we can add your name there, too.
Our Annual Fund Drive lasts until December 31st, and our ambitious goal this year is to raise $60,000 from 600 donors. Please help us meet that goal by spreading the word to your friends and co-workers!
How Can You Help?
1) Make a pledge to donate by check or donate online today by visiting our 2020 Annual Fund Drive. Contributions of any amount are greatly appreciated!
2) Show your support by asking friends and family to contribute! Visit our 2020 Annual Fund Drive page and look under the "Help us Fundraise!" header for resources, including information on creating your own personalized fundraising page on Facebook, our handy donor sheet for raising money with your friends and co-workers, tips for fundraising, and so much more.
Once they know about Reading to Kids, many of your friends and family will want to donate - we just need you to ask!
Also, if your workplace matches donations to nonprofits, please share with them your donation, and ask them to consider matching it. In this way you double your donation and share with others your enthusiasm for Reading to Kids!

_______________________________________________
THREE NEW VOLUNTEER
READ-ALOUD VIDEOS!
Nine employees at West Monroe Partners have created three more read-aloud videos for the kids at our partner schools!
Tiffany Liu, Brad Tate, and Shawn Babiuch read from one of our books we read aloud at our Zoom reading clubs earlier this month, Frank Einstein and the Electro-Finger.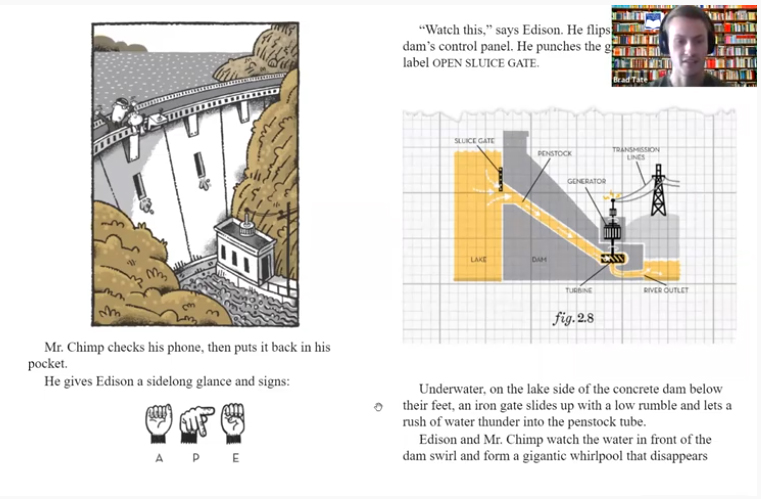 Click on the image above to see and hear them read aloud the first nine chapters, then end with a paper pumpkin craft.
Next, Connor Roth, Jen Park, and Kelly Haley together read aloud another of our read-aloud books from this month, Iggy Peck and the Mysterious Mansion. Click the image below to watch them read aloud the first six chapters, then end with a craft video on how to make homemade slime!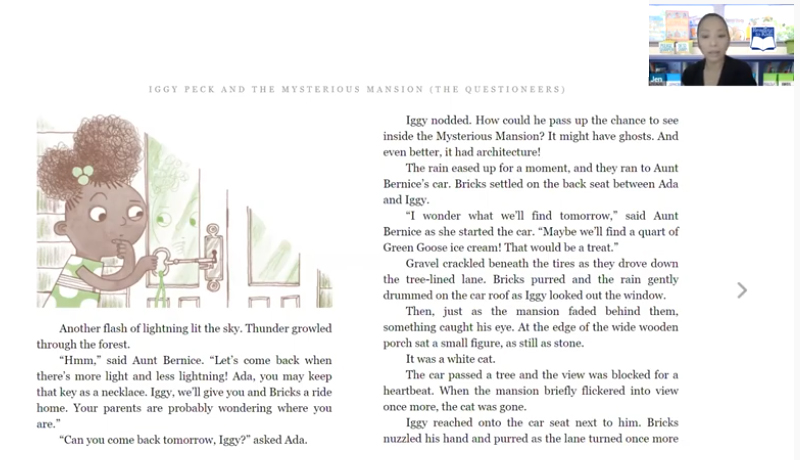 Their third group of readers, Katie Flessas, Ruben David, and John Zuk, created the below video of themselves reading the first 33 pages of The Absolute Value of Mike. Click on the image below to see their read-aloud video that ends with a pumpkin face painting crafts video.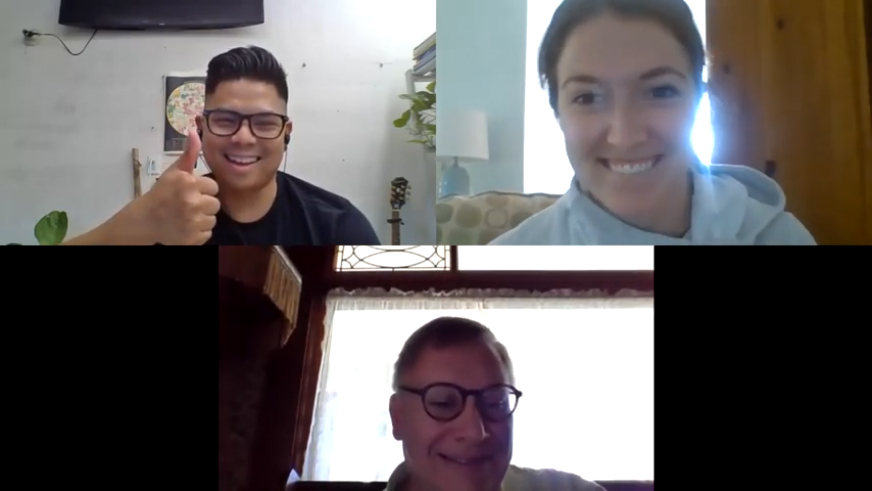 _______________________________________________
NOVEMBER 14TH READING CLUBS
NEARLY CONFIRMED
Teachers are starting to confirm as Zoom hosts for next month's virtual reading clubs on November 14th.
In about two weeks when we confirm enough teacher hosts, we will then open our RSVP system for those "Seasons & the Natural World" reading clubs!
So, please keep checking www.readingtokids.org to see if you can submit an RSVP!
OPERATIONS VOLUNTEERS NEEDED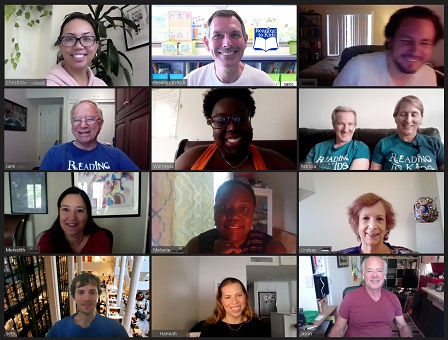 For our virtual reading clubs we need experienced volunteers to
help train volunteers to use Zoom or be a second or third virtual Site Coordinator
in our Zoom reading clubs for any of our schools.
Being a Site Coordinator guarantees you a (non-reading) spot at our next reading clubs, so please e-mail us at
info@readingtokids.org
if you can help us create wonderful reading clubs!
_______________________________________________
LOOKING AHEAD TO
DECEMBER READING CLUBS:
ZOOM SANTA & HELPERS NEEDED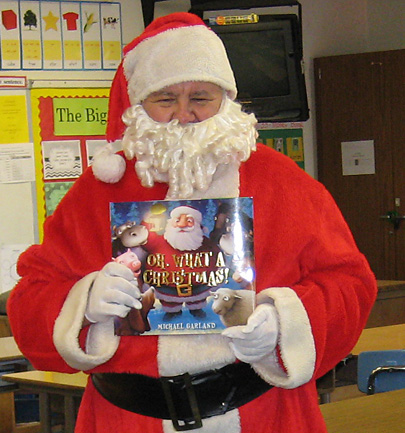 It may seem a bit early for Santa, but we have begun planning early this year for how we can bring Santa to the December 12th reading clubs!
At least once in your life you should experience being Santa or one of his helpers - and here is a unique opportunity!
Since we generally have 36 teacher hosts each month, we need four people willing to be Santa, Mrs. Claus, or an assisting elf for our reading clubs on December 12th.
We've had Santas of all shapes, sizes, and gender.
This year we'll need Santa to provide his or her own Santa beard and wig, hat, and Santa jacket to wear while on Zoom
.
Santa outfits good enough for Zoom are not too expensive at
Party City
or
Amazon
.
There's nothing better than seeing the students' excitement when Santa visits our reading clubs! If you can be a Zoom Santa, Mrs. Claus, or an assisting elf on December 12th, please email us at info@readingtokids.org. You won't be able to read that day, but you'll see dozens of smiling faces!
_______________________________________________
3 MORE RUNNERS NEEDED FOR THE
2021 LA MARATHON OR 5K!
Do you know any runners? Are you a runner? Please forward this email to them and ask them to join Team Reading to Kids in the 2021 Los Angeles Marathon on Sunday, March 21st!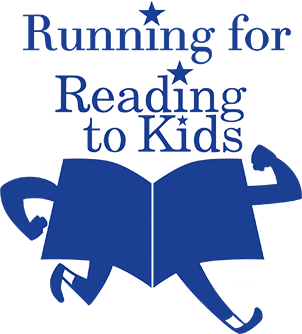 We're looking for three more marathon runners to join us in one of the best marathons in the country.
If a marathon is too daunting, you can join us in the LA Big 5K (that's just 3.1 miles) near Dodger Stadium the day before the marathon on Saturday, March 20, 2021.
You can share this Facebook group with any of your runner friends to encourage them to join our team!
If you or a runner you know is interested in becoming one of our fundraising runners or creating a fundraising team, please email Chris Martin at marathon@readingtokids.org!
IMPORTANT NOTE: To register to run on behalf of Reading to Kids, you MUST receive from us a special web address to use when registering on the Los Angeles Marathon website.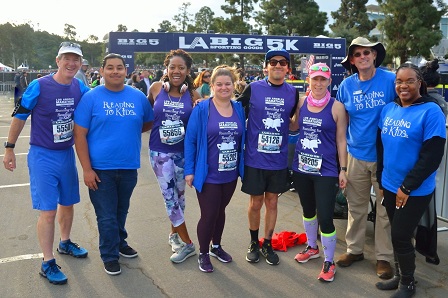 _______________________________________________
Thanks, and we hope you will donate today to our 2020 Annual Fund Drive so we can add your name as a supporter!