Dear Friends of Reading to Kids,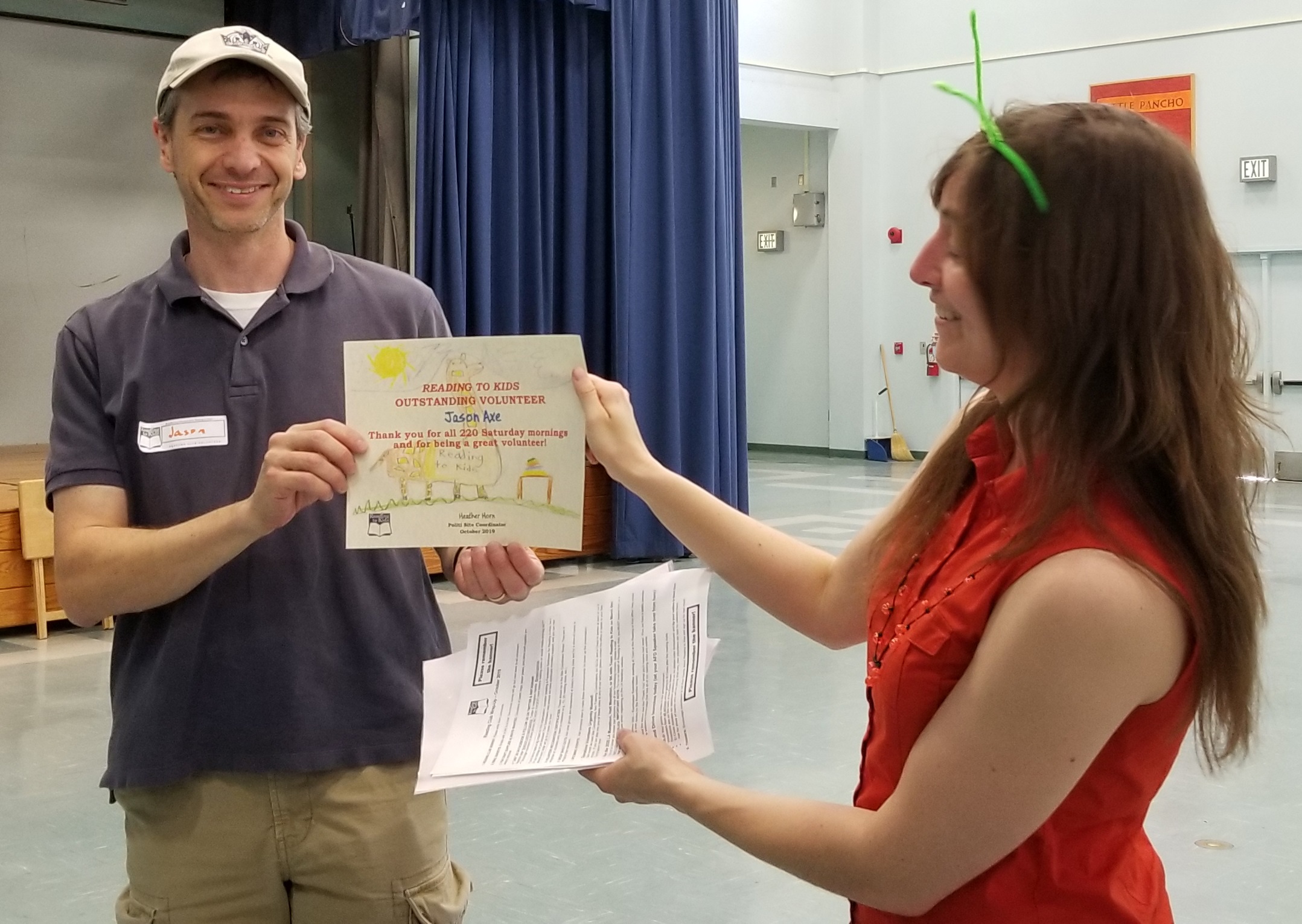 At our October 12th reading clubs one of our founders, Jason Axe, earned his Milestone Certificate for his 220th reading club as he volunteered at Politi! Click the picture above to see a larger view of him receiving our first-ever 220th Milestone Certificate from Politi Elementary Site Coordinator Heather Horn.
NOVEMBER 9TH READING CLUBS;
COLLEGE SPIRIT & ITEMS
Want to earn your own Milestone Certificate for volunteering at your 10th, 20th, or more reading clubs? Then sign up today to read at our "Seasons & the Natural World" reading clubs on November 9th. We still need 182 more volunteers!
After you sign up, spread the word by joining our November 9th Facebook Event.
November 9th is also
College Spirit Day
, so represent your alma mater and inspire excitement for higher education by wearing your school gear that morning!
COLLEGE GIVE-AWAY ITEMS WANTED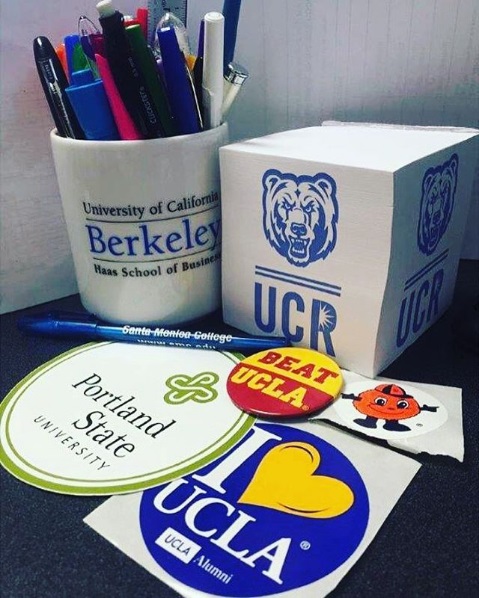 We want to give each child who attends our November 9th reading clubs something small with a college insignia on it.
If you can obtain college-related items, stickers are always a hit with the younger kids. For the older kids we like to give them pens, pencils, notebooks, etc. But really, anything with a college logo will help plant the seeds of college interest.
If you work at or have a connection with a college, please help us by asking for a donation of items with that college's insignia. If you like, you can click this link for a request letter/email you can send. Great sources of items with your college's logo are the athletic department and the bookstore!
To "sponsor" one grade at one school, we need about 40 of one item. To sponsor all of one grade at all 8 schools, then we need about 300 of one item. And anything in between would be very helpful!
_______________________________________________
2019 ANNUAL FUND DRIVE UPDATE!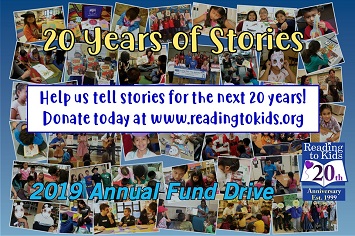 Our 2019 Annual Fund Drive is off and running with $7,707 donated from 135 donors!
Those who have donated can see their names listed on our 2019 Annual Fund Drive page. If you have not yet donated, please donate today so we can add your name there, too.
Our Annual Fund Drive lasts until December 31st, and our ambitious goal this year is to raise $60,000 from 600 donors. Please help us meet that goal by spreading the word to your friends and co-workers!
How Can You Help?
1) Make a pledge to donate by check or online. Contributions of any amount are greatly appreciated!
2) Show your support by asking friends and family to contribute! Visit our 2019 Annual Fund Drive page and look under the "Help us Fundraise!" header for resources, including information on creating your own personalized fundraising page on Facebook, our handy donor sheet for raising money with your friends and co-workers, tips for fundraising, and so much more.
Once they know about Reading to Kids, many of your friends and family will want to donate - we just need you to ask!
Also, if your workplace matches donations to nonprofits, please share with them your donation, and ask them to consider matching it. In this way you double your donation and share with others your enthusiasm for Reading to Kids!

_______________________________________________
RUNNERS NEEDED FOR MARATHON,
1/2 MARATHON, OR 5 K!
Do you know any runners? Are you a runner? Please forward this email to them and ask them to join Team Reading to Kids in the 2020 Los Angeles Marathon on Sunday, March 8th!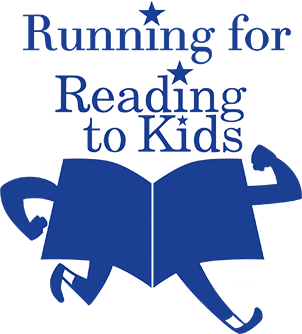 We're looking for six more full marathon runners and six Charity Challenge runners (the last 13 miles of the course) to join us in one of the best marathons in the country.
If either of those distances is too daunting, you can join us in the Big 5K (that's just 3.1 miles) near Dodger Stadium the day before the marathon on Saturday, March 7, 2020.
You can share this Facebook group with any of your runner friends to encourage them to join our team!
If you or a runner you know is interested in becoming one of our fundraising runners or creating a fundraising team, please email Chris Martin at marathon@readingtokids.org!
IMPORTANT NOTE: To register to run on behalf of Reading to Kids, you MUST receive from us a special web address to use when registering on the Los Angeles Marathon website.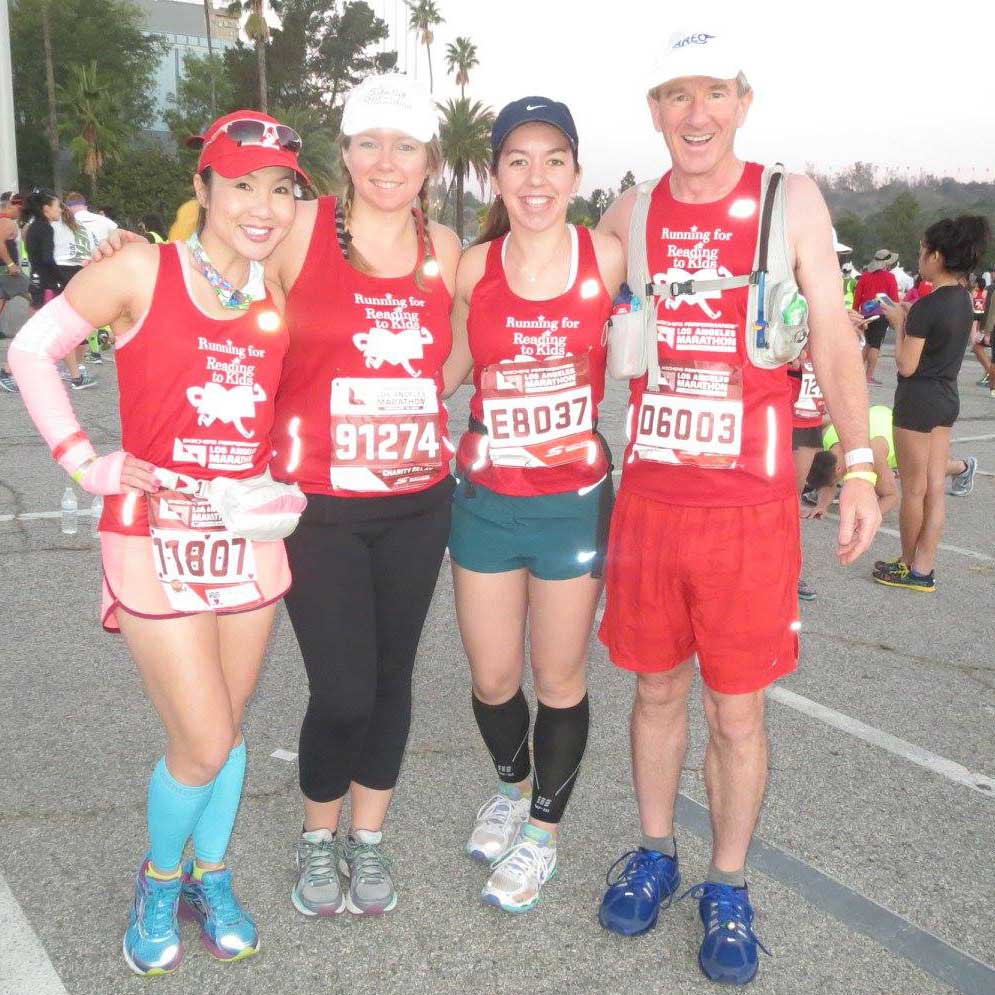 _______________________________________________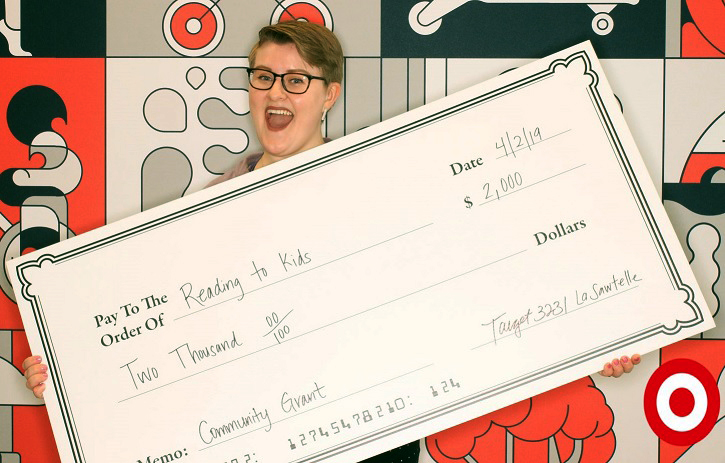 Did you know Reading to Kids receives about half of our funding from corporation and foundation grants? For example, over the last five years alone six of our volunteers helped us receive $150,000 in grants from their employers!
Please check to see if your employer offers grants that Reading to Kids can apply to, and let us know! You may help us buy thousands of books for kids!
_______________________________________________