Dear Friends of Reading to Kids,
This past Saturday we were delighted to welcome 591 kids, 296 volunteers, 117 parents, and 23 teachers & staff to our Fantasy, Folklore, & Fairytales reading clubs!
Reading to Kids
also turned 20 years old on Saturday!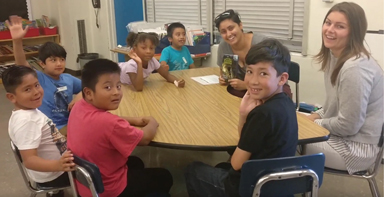 Click the above image for an inspiring, 4-minute
YouTube video of our impact, edited by our
Marketing Committee co-chair Daniel Martinez!
RSVP FOR JUNE 8TH CLUBS
We hope you can join us for our June 8th "People & Places Around the World" reading clubs!
Our summer reading clubs are smaller, so be sure to sign up early. Please also join our June 8th Facebook event so your friends will see that you're attending and you can invite them to join you!
_______________________________________________
Are you or is someone you know ready to work full-time at a nonprofit where you can make a big difference? Reading to Kids is hiring a Program Coordinator for a permanent position!
The position is posted on our website, where you can read it by clicking on the Program Coordinator button below Latest News. Be sure to apply as soon as possible.

Please share the above position with anyone you think would be a good fit!
_______________________________________________
READING TO KIDS OFFICE CLOSED NEXT WEEK, 5/18 - 5/27
Starting this Saturday, May 18th, through Memorial Day, May 27th, the Reading to Kids offices will be closed. You can always sign up for our June 8th reading clubs on our website, and we'll begin replying to emails when we return on Tuesday, May 28th. For urgent issues you can also leave a voicemail at (310) 479-7455.
_______________________________________________