Next week for an hour or two between 7:30am and 2:30pm, we need your help conducting quick classroom walk-throughs to encourage kids to come to this Saturday's reading clubs.
Please reply to
info@readingtokids.org
or call the office at
(310) 479-7455
if you can be an Ambassador!
_______________________________________________
BUY YOUR TICKETS NOW FOR OUR
20TH ANNIVERSARY CELEBRATION,
COMEDY NIGHT, & SILENT AUCTION
ON MAY 11TH!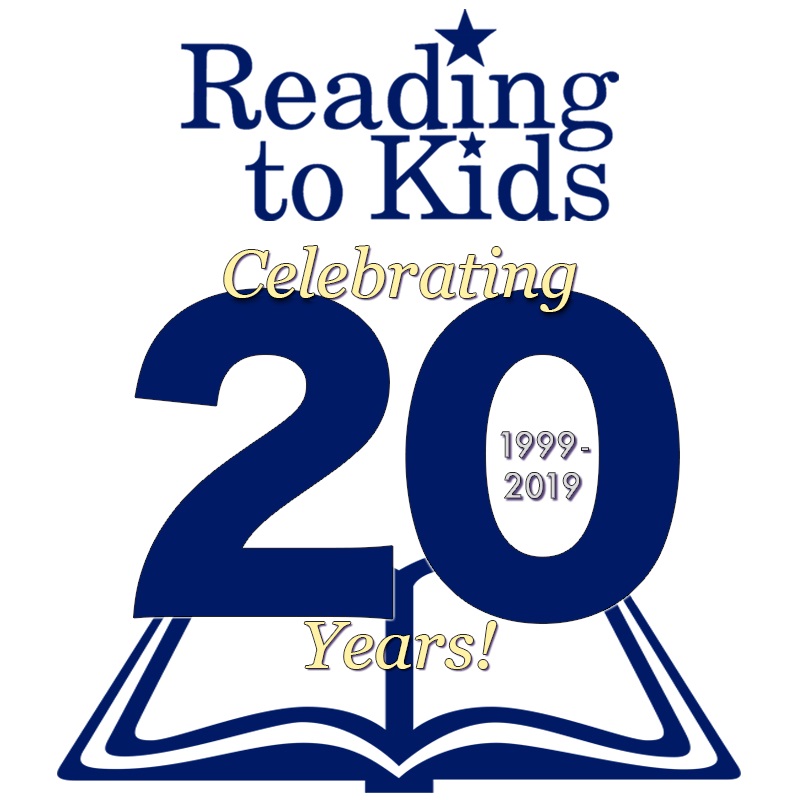 Please celebrate with us as Reading to Kids turns 20 years old at our May 11th reading clubs! Tickets are now on sale for our event that evening!
We'll be partying like it's 1999 again at the beautiful Historic Woman's Club in Santa Monica, hosted by internationally-known Mallory Lewis and Lamb Chop and her "After Dark" material!
We'll also have a silent auction, a DJ, and a video presentation, with comedians Jodi Miller, Henry Phillips, Darren Capozzi, and Adam Richmond performing an incredible night of comedy!
Head on over to our 20th Anniversary Celebration page to buy your tickets and see all the details so far!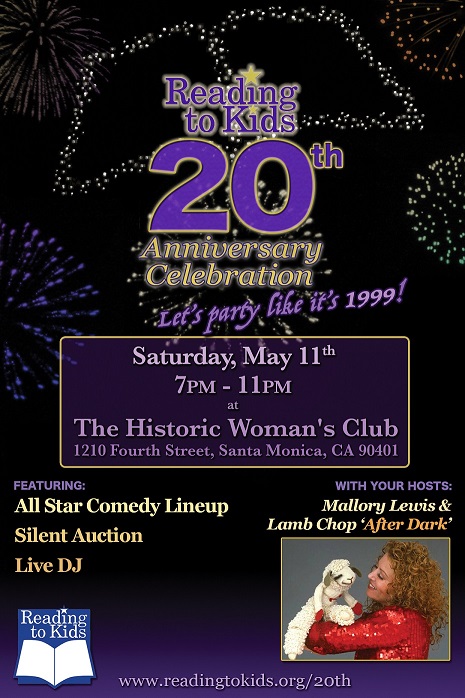 Please also click the above image for our 20th Anniversary postcard to share online or forward to anyone you know who may be interested in going.
Tickets are $35 online before 2pm on 5/11/19, $45 at the door while tickets last. ****Guests must be 18 and over.****
_______________________________________________
20TH ANNIVERSARY
EVENT VOLUNTEERS NEEDED!
If you can volunteer at our
20th Anniversary Celebration
on May 11th for two or more hours from as early as 4pm until the end, please call the
Reading to Kids
office at (310) 479-7455 or email
info@readingtokids.org
.
_______________________________________________
THANK YOU AGAIN TO THE
ELLA FITZGERALD CHARITABLE FOUNDATION!
The Ella Fitzgerald Charitable Foundation has once again supported us, this time with a donation of 2,516 new books! Starting this month our volunteers will give them away to kids at the reading clubs, where they will delight children for years to come!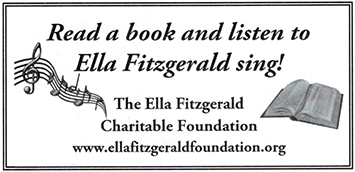 Please join us in thanking the Ella Fitzgerald Charitable Foundation by visiting their website and the official Ella Fitzgerald Facebook fan page.
_______________________________________________