Dear Friends of Reading to Kids,
_______________________________________________
Over the weekend we were very saddened to learn that Reading to Kids Taskforce member and long-time Los Angeles Elementary GLC Andreia Gray has passed away.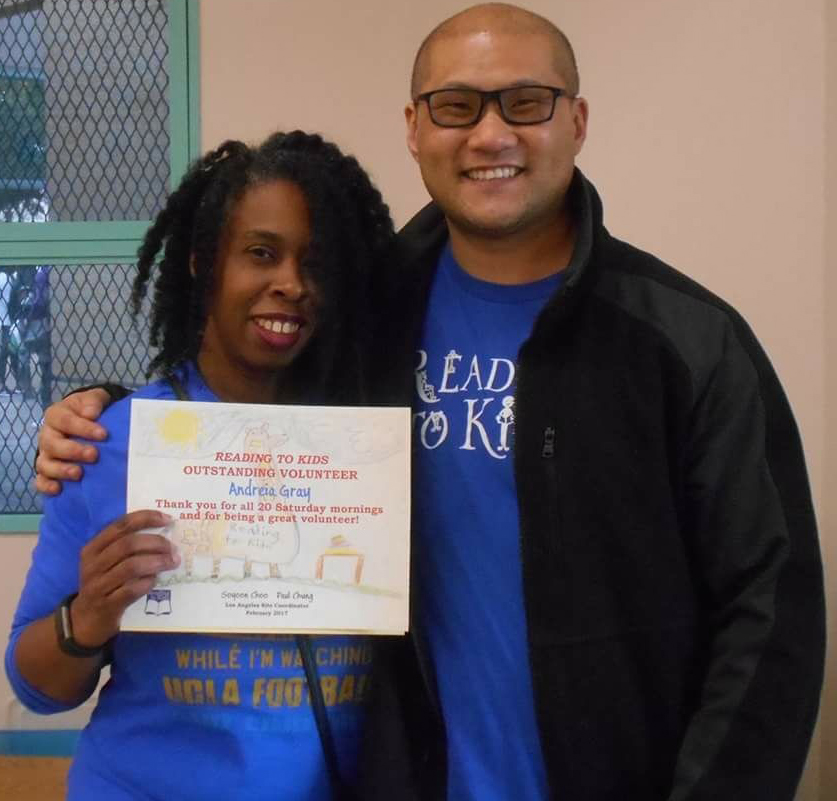 In the photo above, Paul Chung (Los Angeles Site Coordinator) presents to Andreia Gray her 20th reading club Milestone Certificate.
Andreia first volunteered with Reading to Kids in May 2015, and since then she had only missed two of our reading clubs, very quickly amassing a total of 24 reading clubs. Since October 2015 Andreia was a key member of our leadership team at Los Angeles Elementary as the 5th Grade GLC there nearly every month, including this past June 10th.
Those of us who knew Andreia will always remember her warm, positive spirit and energy, as well as her enthusiasm for UCLA, Reading to Kids specifically, and volunteering in general. She loved taking and sharing photos of her volunteering with us, and anyone fortunate to be friends with her on Facebook enjoyed an uplifting stream of inspiring images and encouragement to make the world a better place for all. Andreia frequently sought out other ways to support Los Angeles Elementary, such as reading aloud in March at their Read Across America event in celebration of Dr. Seuss' birthday.
Andreia's son Alex Johnson is also a Reading to Kids Taskforce member and volunteer. Reading to Kids was honored to have Andreia volunteer with our program, and our deepest condolences and best thoughts go out to Alex and the rest of his family.
_______________________________________________
TASKFORCE MEMBERS &
CO-CHAIRS WANTED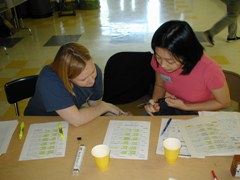 Ready to deepen your involvement with Reading to Kids? You can share your interests and talents in many ways, such as volunteer relations, fundraising, and marketing, by joining our Taskforce!
Our Volunteer Relations Committee chairperson, Kori Wilson, is looking for a co-chair who is active on social media to help him plan fun events for our volunteers!

Our Marketing Committee chairperson, Selina Vazquez, is looking for a co-chair to help spread the word about our organization.

Our Fundraising Committee chairperson, Mark May, is looking for a co-chair as well.
_______________________________________________
Thanks, and we wish you a very happy 4th of July next week!