Our "Amazing Animals and Interesting Environments" Reading Clubs are on April 12th and we would love for you to join us! We are looking for 284 more volunteers to enjoy a fun morning of reading to kids.
Please
click here
to submit your RSVP today. Then please join our
April 12th event on Facebook
to help spread the word with your friends.
_______________________________________________
BUY A COOL BOOK SHIRT & EARN $$ FOR
READING TO KIDS!
Looking for a cool new shirt to wear when reading to kids? Out of Print Clothing sells high-quality shirts, tote bags, and other items that feature the covers of iconic and often out-of-print book covers.

From March 8 - 29, Out of Print Clothing is offering free standard shipping and 30% of their proceeds to Reading to Kids!
All you have to do is enter coupon code READINGTOKIDS at checkout, then scroll up to the shipping section and click on Free Shipping.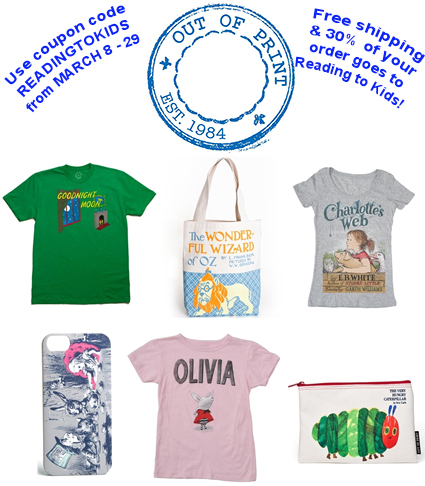 Their shirts and other items make great gifts for yourself and others, and until March 29th, they also benefit Reading to Kids!
_______________________________________________
SAVE THE DATE: JOIN LAMB CHOP AT OUR
15TH ANNIVERSARY CELEBRATION & COMEDY NIGHT ON APRIL 29TH
This year Reading to Kids turns 15 years old, and we'll be celebrating our quinceañera on Tuesday, April 29th at our Comedy Night and Silent Auction at the Hollywood Improv!
Please mark your calendars for this hilarious evening hosted by internationally-known Mallory Lewis and Lamb Chop! See the puppet you grew up watching as she helps us celebrate with some of her naughtier "After Dark" material!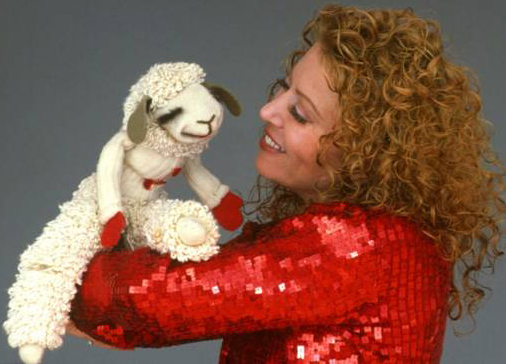 Joining Lamb Chop will be
a handful of hilarious comedians hand-picked by the world famous Hollywood Improv
. You won't want to miss out on this event, so keep your eyes peeled for more updates!
If you are interested in helping with the Silent Auction, please join the Reading to Kids Taskforce Special Events Committee, or call us at the Reading to Kids office for more details.
Anyone who would like to help is encouraged to join us, and we are especially interested in hearing from those volunteers who have helped us with past Comedy Nights.
_______________________________________________
We need YOUR help gathering prizes for this year's events!
Our events are more fun and raise more money if we have great prizes to award, raffle, and/or auction. Big prizes. Little prizes. Serious prizes. Silly prizes. We need them all! Check out our list of prizes from last year's Silent Auction for ideas.
If you have any prizes, or you know where to get them, let us know! We'd love to have something fabulous for the Silent Auction or for our grand prize Bingo winner -- anything unique or with an autograph is always welcome!
To help you get started, here is a generic donation letter to give to a manager, supervisor, or friend who may be able to donate a gift, product, or service, tips on how to best approach a business or person to donate to our events, and a donation form for the donor to complete.
In the past we have had gift certificates, products, services, and tickets to fun events. If you work at or have a connection with a restaurant, retail store, or for a company with products or services to offer, please help us by asking for a donation to our events.
Please also let us know to whom you reach out so we don't accidentally duplicate Special Events Committee efforts in contacting businesses.
_______________________________________________
COMEDIANS AND A CELEBRITY WANTED
We need a well-known, headliner comedian for our April 29th Benefit Comedy Night! If you personally know a headliner comedian who would be interested and available for this event at the Hollywood Improv on April 29th, please email us at info

readingtokids.org.
We'd also like to have a celebrity host as a bingo caller for our annual Legendary Bingo Night on June 11th. Please email us if you can personally reach out to any celebrities who would like to help your favorite good cause!
_______________________________________________
Thanks, and we hope to see you on April 12th!