Dear Friends of Reading to Kids,
We rocked the schools at our "Music and Celebrations" reading clubs on Saturday with 1,059 kids, 448 volunteers, 104 parents, and 27 teachers & staff. These were our largest March reading clubs in 4 years!
We extend a special thank you to our fabulous and talented musicians who put on a great show at each school! Click the above link to learn more and thank them!
Then on Sunday, Team Reading to Kids got up at the crack of dawn to run the 2014 ASICS LA Marathon. Head over to their website to see an inspiring video that includes footage shot by three of our team members. We also have a slideshow of our runners before and after the marathon.
They've raised over $12,800, and you can still donate to their fundraising pages on FirstGiving!

Looking ahead to next month, please be sure to sign up early for the next reading clubs! Click here to submit your RSVP for our "Amazing Animals and Interesting Environments" Reading Clubs on April 12th.
_______________________________________________
BUY A COOL BOOK SHIRT & EARN $$ FOR
READING TO KIDS!
Looking for a cool new shirt to wear when reading to kids? Out of Print Clothing sells high-quality shirts, tote bags, and other items that feature the covers of iconic and often out-of-print book covers.

From March 8 - 29, Out of Print Clothing is offering free standard shipping and 30% of their proceeds to Reading to Kids!
All you have to do is enter coupon code READINGTOKIDS at checkout, then scroll up to the shipping section and click on Free Shipping.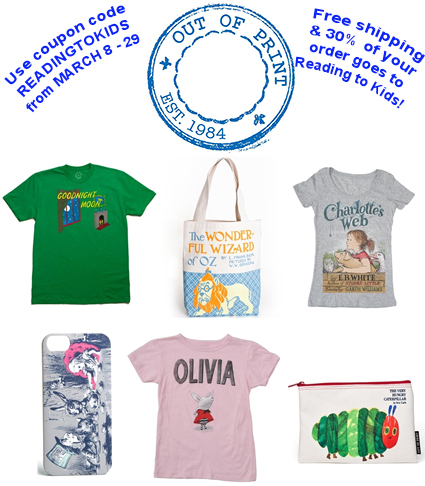 Their shirts and other items make great gifts for yourself and others, and until March 29th, they also benefit Reading to Kids!
_______________________________________________
We're planning this year's fundraising events, and we need your help gathering prizes!
Our events are more fun and raise more money if we have great prizes to award, raffle, and/or auction. Big prizes. Little prizes. Serious prizes. Silly prizes. We need them all! Check out our list of prizes from last year's Silent Auction for ideas.
If you have any prizes, or you know where to get them, let us know! We'd love to have something fabulous for the Silent Auction or for our grand prize Bingo winner -- anything unique or with an autograph is always welcome!
To help you get started, here is a generic donation letter to give to a manager, supervisor, or friend who may be able to donate a gift, product, or service, tips on how to best approach a business or person to donate to our events, and a donation form for the donor to complete.
In the past we have had gift certificates, products, services, and tickets to fun events. If you work at or have a connection with a restaurant, retail store, or for a company with products or services to offer, please help us by asking for a donation to our events.
Please also let us know to whom you reach out so we don't accidentally duplicate Special Events Committee efforts in contacting businesses.
_______________________________________________
COMEDIANS AND A CELEBRITY WANTED
We need a well-known, headliner comedian for our April 29th Benefit Comedy Night! If you personally know a headliner comedian who would be interested and available for this event at the Hollywood Improv on April 29th, please email us at info

readingtokids.org.
We'd also like to have a celebrity host as a bingo caller for our annual Legendary Bingo Night on June 11th. Please email us if you can personally reach out to any celebrities who would like to help your favorite good cause!
_______________________________________________