Dear Friends of Reading to Kids,
We have just 5 spots remaining for our June 8th "Super Heroes and Super People" Reading Clubs this Saturday. Sign up here and keep checking in for new openings.
If you're signed up but can't join us, please click here to cancel before 3:00pm tomorrow so that someone else may take your place.
_______________________________________________
LOWER-PRICE TICKETS NOW AVAILABLE FOR
COMEDY NIGHT & SILENT AUCTION!
In addition to our $35 dinner package, we have added a $24 general admission ticket option to our June 18th Comedy Night & Silent Auction!
General Admission requires additional purchase of two food or drink items during the evening, and you still get to bid on and win any of our over 50 Silent Auction items. Be sure to tell your friends, co-workers and family members to buy their tickets and join you. Comedy Night is a great night out for groups!
_______________________________________________
BUY YOUR JUNE 18TH COMEDY NIGHT & SILENT AUCTION TICKETS
Our 2013 Benefit Comedy Night and Silent Auction is just 12 days away on Tuesday, June 18th! Help support your favorite volunteer opportunity and join us at the Hollywood Improv for what promises to be a side-splitting show featuring Doug Benson!

Doug has appeared on many programs, including Jimmy Kimmel Live, Comedy Central Presents, and Last Comic Standing, to name just a few. He also hosts his popular Doug Loves Movies and The Benson Interruption podcasts. Doug has over half a million Twitter followers, so buy your tickets early! Joining Doug will be several other hilarious comedians hand-picked by the world famous Hollywood Improv.
Tuesday, June 18th
Hollywood Improv
8162 Melrose Avenue
Two ticket options: The $35 (+ $4 service charge) dinner package includes dinner in the showroom. General admission $20 tickets (+ $4 service charge) require additional purchase of 2 food or drink items during the evening.

6:00pm Silent Auction opens
6:30pm Dinner service begins
8:00 - 9:30pm Showtime, hosted by Chris Millhouse!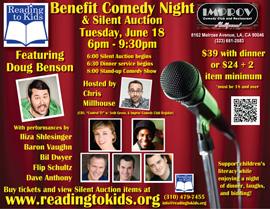 You know you'll have a good time while doing a great deed, so buy your Comedy Night tickets TODAY for yourself and your friends!
_______________________________________________
OVER 50 SILENT AUCTION LOTS POSTED
Let the Silent Auction excitement begin! On our Comedy Night & Silent Auction page you can now see the 50+ interesting items up for bidding, including:
- 2 VIP Tickets to a taping of The Late Late Show with Craig Ferguson
- Tickets to your favorite So. Cal. amusement parks, theaters, and restaurants
- Unique HBO and autographed Lakers memorabilia

Check out the fantastic deals, buy your Comedy Night tickets today, and get ready to win!
_______________________________________________
VOLUNTEER BOWLING NIGHT WAS A BLAST
Last Saturday's volunteer bowling night was fantastic fun as a dozen of us gathered at Shatto 39 Lanes in Koreatown!
I wasn't able to reach my personal goal of bowling at least 100, but I was able to crown Rob, representing Los Angeles Elementary, the Reading to Kids Bowling King for the night! Check out the photo of the crowning at the bowling night's Facebook event, and be envious of the crown Rob earned!
Our sincere thanks to the Volunteer Relations Committee co-chairs and members for putting together such a fun night. Stay tuned for their next event, which may feature miniature golf!
_______________________________________________
Thank you, and we look forward to seeing you on Saturday and at Comedy Night!