Dear Friends of Reading to Kids,
We have 9 spots remaining for our May 11th "Fantasy, Folklore, and Fairytales" Reading Clubs this Saturday. Sign up here and keep checking in for new openings.
If you're signed up but can't join us, please click here to cancel before 3 p.m. tomorrow so that someone else may take your place.
_______________________________________________
Mark your calendars! On Wednesday, May 15th, we'll be enjoying an evening of Legendary Bingo at Hamburger Mary's in West Hollywood! This fantastic event is not to be missed!
There is a $20 suggested donation at the door (cash only, please!) which includes 9 regular bingo games and one grand prize bingo game with awesome prizes! Remember, the show is R rated and a ton of fun.
WHEN: Wednesday, May 15th, 7pm - 9pm
WHERE: Hamburger Mary's Restaurant
8288 Santa Monica Blvd.
West Hollywood, CA 90046

Legendary Bingo is very popular and there is limited seating available. Plan to arrive before 7:00 p.m. to get a seat. We strongly suggest making a reservation (you must have a party of 8 or more) at Hamburger Mary's to ensure your seat. You can call Hamburger Mary's at (323) 654-3800.

For more details, visit our event on Facebook and share it with your friends!
Please also click the image below for a flyer in .PDF format, and forward it to anyone you know who may be interested in going to our Legendary Bingo Night.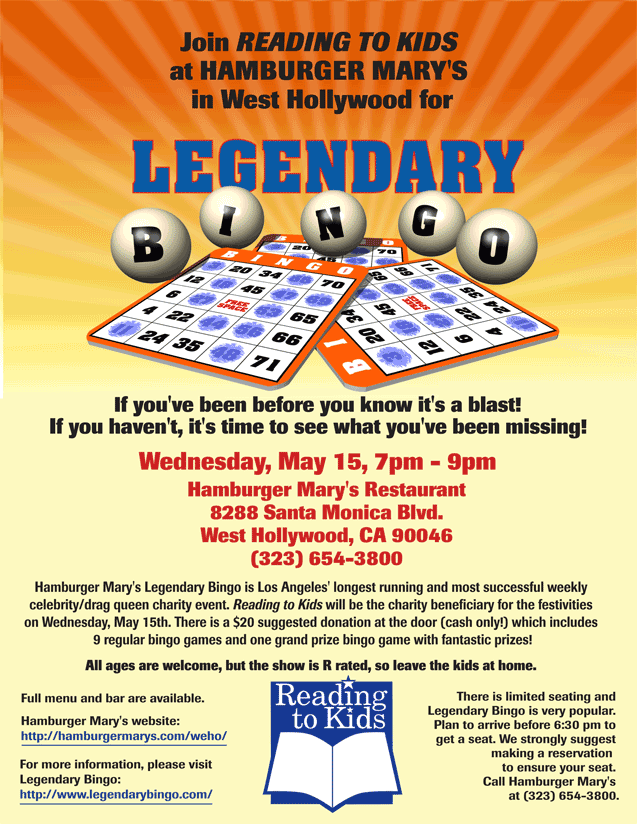 Please also print out the flyer and post it wherever many people are likely to see it, perhaps with a note that you are going and inviting others to join you.
_______________________________________________
We need YOUR help gathering prizes for this year's events!
Our events are more fun and raise more money if we have great prizes to award, raffle, and/or auction. Big prizes. Little prizes. Serious prizes. Silly prizes. We need them all! Check out our list of prizes from last year's Silent Auction for ideas.

If you have any prizes, or you know where to get them, let us know!

The fun starts this May with our annual Legendary Bingo night, and we'd love to have something fabulous for the grand prize winner -- anything unique or with an autograph is always welcome!

To help you get started, here is a generic donation letter to give to a manager, supervisor, or friend who may be able to donate a gift, product, or service, tips on how to best approach a business or person to donate to our events, and a donation form for the donor to complete.

In the past we have had gift certificates, products, services, and tickets to fun events. If you work at or have a connection with a restaurant, retail store, or for a company with products or services to offer, please help us by asking for a donation to our events.

Please also let Skylar know to whom you reach out so we don't accidentally duplicate Special Events Committee efforts in contacting businesses.
_______________________________________________
SAVE THE DATE: COMEDY NIGHT ON JUNE 18
On Tuesday, June 18th Reading to Kids is hosting our annual Benefit Comedy Night and Silent Auction at the Hollywood Improv.
Please mark your calendars for this hilarious evening featuring headliner Doug Benson! Doug has appeared on many programs, including Jimmy Kimmel Live, Comedy Central Presents, and Last Comic Standing, to name just a few. He also hosts his popular Doug Loves Movies and The Benson Interruption podcasts.

Joining Doug will be several other hilarious comedians hand-picked by the world famous Hollywood Improv. You won't want to miss out on this event, so keep your eyes peeled for more updates!
If you are interested in helping with the Silent Auction, please join the Reading to Kids Taskforce Special Events Committee, or call us at the Reading to Kids office for more details.
Anyone who would like to help is encouraged to join us, and we are especially interested in hearing from those volunteers who have helped us with past Comedy Nights.
_______________________________________________
LACMA EXHIBIT AT CHARLES WHITE ELEMENTARY
You won't want to miss Shinique Smith: Firsthand, LACMA's latest exhibition at Charles White Elementary School. Discover the unique work of New York-based artist Shinique Smith and her exposure to the world of fashion design through objects from LACMA's Costume and Textiles collection, new works, and student art.
After Saturday's reading clubs, visit the exhibit for free art-making workshops exploring collage and contribute to a collaborative sculpture. Please click here to find out more about the free family-friendly tours, surprising scavenger hunts, and creative art projects offered until 2pm on May 11th.
_______________________________________________
Thank you, and we look forward to seeing you on Saturday!