Dear Friends of Reading to Kids,
We have just 12 spots left for our May 11th "Fantasy, Folklore, and Fairytales" Reading Clubs. Spots are filling up faster than a hobbit at second breakfast, so if you want to join us for a morning filled with wonder, fun, and a dragon or two, sign up today!

Start spreading the word, and please take a moment to join our May 11th Facebook event.
If you're signed up but can't join us, please click here to cancel before 3 p.m. on May 10th so that someone else may take your place.
_______________________________________________
MAGNOLIA ELEMENTARY NEEDS YOUR HELP
THIS SATURDAY
Mr. Reyes, the principal at Magnolia Elementary, has asked for YOUR help this Saturday, May 4th.

Mr. Reyes is looking for 15-20 volunteers to help with kids activities (reading, arts and crafts, playground games) while their parents are participating in workshops. This is a wonderful way to spend even more time with these fantastic students.

The open house is from 8am-noon. Breakfast and lunch will be provided by the school for all of the volunteers. If you can make it (even for an hour or two), please email us back ASAP so we can forward your information on to Mr. Reyes.

Thank you for your support and commitment to the school communities we serve!
_______________________________________________
THANK YOU CAPITAL GROUP COMPANIES CHARITABLE FOUNDATION
We sincerely thank The Capital Group Companies Charitable Foundation for their generous $10,000 grant! Once again they have chosen to partner with us in bringing the love of reading to the thousands of children we serve each year, and we treasure their continued support.
We also send a very special thank you to Capital Group employee and Reading to Kids Taskforce member Dalet Brady for helping us earn this funding!
_______________________________________________
Join us on Wednesday, May 15th, for an evening of Legendary Bingo at Hamburger Mary's in West Hollywood! If you've been before you know it's not to be missed. If you haven't, you're in for a treat!
There is a $20 suggested donation at the door (cash only, please!) which includes 9 regular bingo games and one grand prize bingo game with fantastic prizes! Remember, the show is R rated and a ton of fun.
WHEN:   Wednesday, May 15th, 7pm - 9pm
WHERE: Hamburger Mary's Restaurant
              8288 Santa Monica Blvd.
              West Hollywood, CA 90046

Legendary Bingo is very popular and there is limited seating available. Plan to arrive before 7:00 p.m. to get a seat. We strongly suggest making a reservation (you must have a party of 8 or more) at Hamburger Mary's to ensure your seat. You can call Hamburger Mary's at (323) 654-3800.

For more details, visit our event on Facebook, and share it with your friends!
Please also click the image below for a flyer in .PDF format, and forward it to anyone you know who may be interested in going to our Legendary Bingo Night.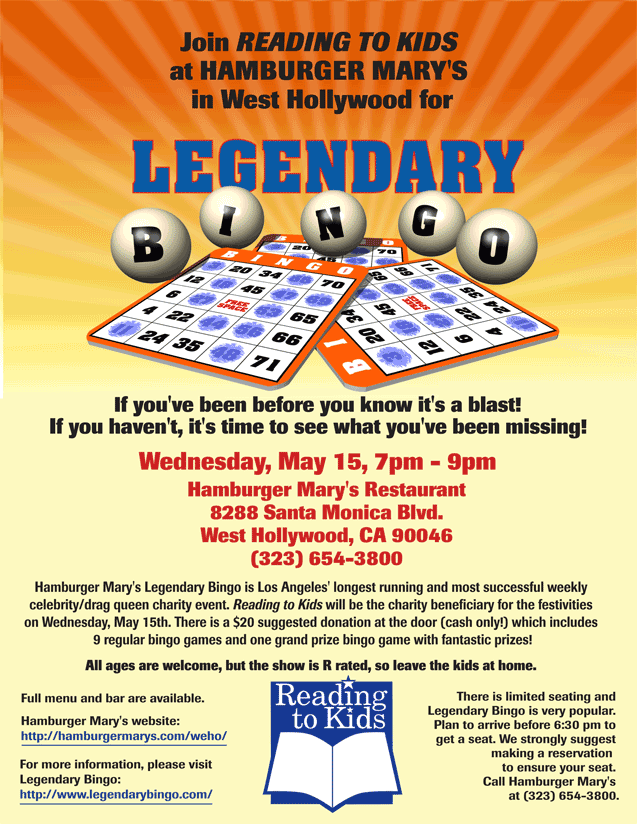 Please also print out the flyer and post it wherever many people are likely to see it, perhaps with a note that you are going and inviting others to join you.
_______________________________________________
This year's events are fast approaching, and we still need your help gathering prizes!
Our events are more fun and raise more money if we have great prizes to award, raffle, and/or auction. Big prizes. Little prizes. Serious prizes. Silly prizes. We need them all! Check out our list of prizes from last year's Silent Auction for ideas.

If you have any prizes, or you know where to get them, let us know!

The fun starts this May with our annual Legendary Bingo night, and we'd love to have something fabulous for the grand prize winner -- anything unique or with an autograph is always welcome!

To help you get started, here is a generic donation letter to give to a manager, supervisor, or friend who may be able to donate a gift, product, or service, tips on how to best approach a business or person to donate to our events, and a donation form for the donor to complete.

In the past we have had gift certificates, products, services, and tickets to fun events. If you work at or have a connection with a restaurant, retail store, or for a company with products or services to offer, please help us by asking for a donation to our events.

Please also let Skylar know to whom you reach out so we don't accidentally duplicate Special Events Committee efforts in contacting businesses.
_______________________________________________