Dear Friends of Reading to Kids,
Thank you for making our April reading clubs truly memorable! This month, 854 kids, 328 volunteers, 112 parents, and 21 teachers & staff joined us for a morning of "Amazing Animals and Interesting Environments."
For those of you who missed out on the fun, our May 11th "Fantasy, Folklore, and Fairytales" Reading Clubs are just around the corner! Please take a moment to join our May 11th Facebook event. After you join, remember to visit our website and sign up with us.
_______________________________________________
VOLUNTEERS NEEDED THIS WEEKEND
FOR LA TIMES FESTIVAL OF BOOKS
This Saturday and Sunday, April 20 & 21, Reading to Kids volunteers will be meeting and greeting all who drop by our Festival of Books booth on the USC campus.
We need volunteers for two Sunday shifts, so if you're interested in volunteering for about two hours, click here to see the available shifts, and reply to this email to claim your shift(s)!
_______________________________________________
VOLUNTEER RELATIONS COMMITTEE MEETING, APRIL 24
Do you have ideas on how to improve the volunteer experience at Reading to Kids, or motivation to help set new things in motion? If so, we can use your help and input at our next Volunteer Relations Committee meeting, which will be held at our offices on April 24th. The meeting will start at 6:30pm.
Dinner will not be provided, but you are welcome to grab some takeout from our local restaurants and join us at 6:00pm.

In the meantime, please visit our Facebook event where you can RSVP and spread the word!
_______________________________________________
ANNUAL TASKFORCE POTLUCK ON SUNDAY, APRIL 28
Want to become more involved? Each year, Reading to Kids hosts an all-Taskforce Potluck as an opportunity for our Taskforce committees to meet and talk about their plans for the year and to welcome new Taskforce members.

Whether you're currently serving on the Taskforce or just curious, we welcome you to drop by to meet fellow volunteers, committee chairs, and office staff.

This year our Annual Taskforce Potluck will be on Sunday, April 28th at Pan Pacific Park, 7600 Beverly Blvd, Los Angeles, CA, 90036 (just 3 miles north of Alta Loma Elementary).

We'll have a lunch/social hour from 1:00 p.m. to 1:45 p.m. and then meet from 1:45 p.m. to 3:00 p.m. We will start with a brief overview of each committee and then break out into smaller groups for committee meetings.

Please RSVP to our Facebook event listing by clicking here. While there, please also indicate what you plan to bring to the potluck (entree, appetizer, salad, dessert, or beverages). Please click here to learn more about the Taskforce prior to the potluck.
_______________________________________________
On Wednesday, May 15th mark your calendars to play Legendary Bingo at Hamburger Mary's in West Hollywood! If you've been before you know it's a blast. If you haven't, it's time to see what you've been missing!
There is a $20 suggested donation at the door (cash only, please!) which includes 9 regular bingo games and one grand prize bingo game with fantastic prizes! Remember, the show is R rated and a ton of fun.
WHEN: Wednesday, May 15th, 7pm - 9pm
WHERE: Hamburger Mary's Restaurant
8288 Santa Monica Blvd.
West Hollywood, CA 90046

For more details, visit our event on Facebook, and share it with your friends!
Please also click the image below for a flyer in .PDF format, and forward it to anyone you know who may be interested in going to our Legendary Bingo Night.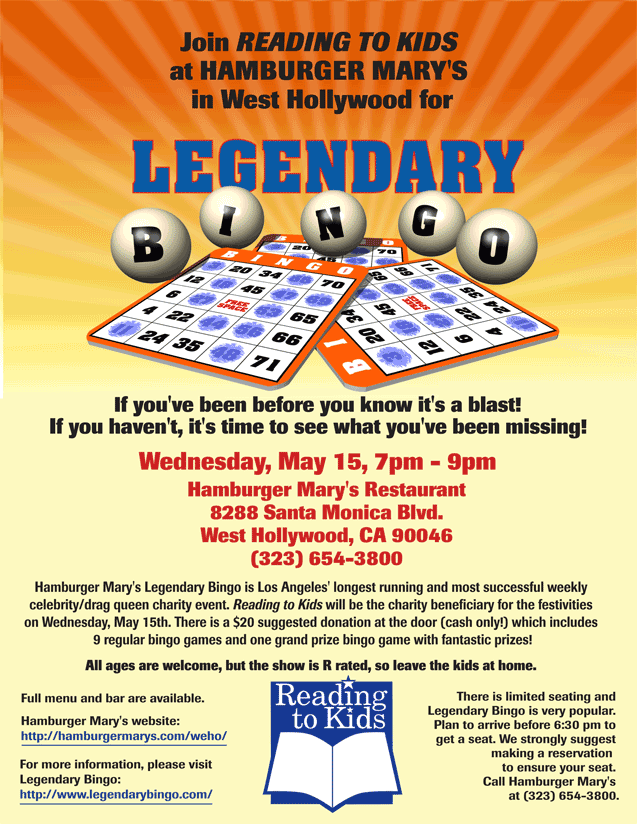 _______________________________________________
Thanks, and we hope you can join us at our next reading clubs (always the second Saturday of each month) on May 11th.