Dear Friends of Reading to Kids,
Our April 13th "Amazing Animals and Interesting Environments" Reading Clubs are just two days away! If you're planning to volunteer with us on the 13th, visit our website TODAY and sign up!

If you're signed up but can't join us, please click here to cancel before 3 p.m. tomorrow so that someone else may take your place.
_______________________________________________
SAVE THE DATE: ANNUAL TASKFORCE POTLUCK ON SUNDAY, APRIL 28
Want to become more involved? Each year, Reading to Kids hosts an all-Taskforce Potluck as an opportunity for our Taskforce committees to meet and talk about their plans for the year and to welcome new Taskforce members.

Whether you're currently serving on the Taskforce or just curious, we welcome you to drop by to meet fellow volunteers, committee chairs, and office staff.

This year our Annual Taskforce Potluck will be on Sunday, April 28th. The location is yet to be finalized, but will be announced shortly!

We'll have a lunch/social hour from 1:00 p.m. to 1:45 p.m. and then meet from 1:45 p.m. to 3:00 p.m. We will start with a brief overview of each committee and then break out into smaller groups for committee meetings.

Please RSVP to our Facebook event listing by clicking here. While there, please also indicate what you plan to bring to the potluck (entree, appetizer, salad, dessert, or beverages).
Please click here to learn more about the Taskforce prior to the meeting.
_______________________________________________
BENEFIT CONCERT AT UCLA TOMORROW NIGHT
The UCLA Chi Delta Theta sorority is very generously staging a free Reading to Kids benefit concert and raffle tomorrow night, and you are invited!
Click the image below to see a flyer with all the details.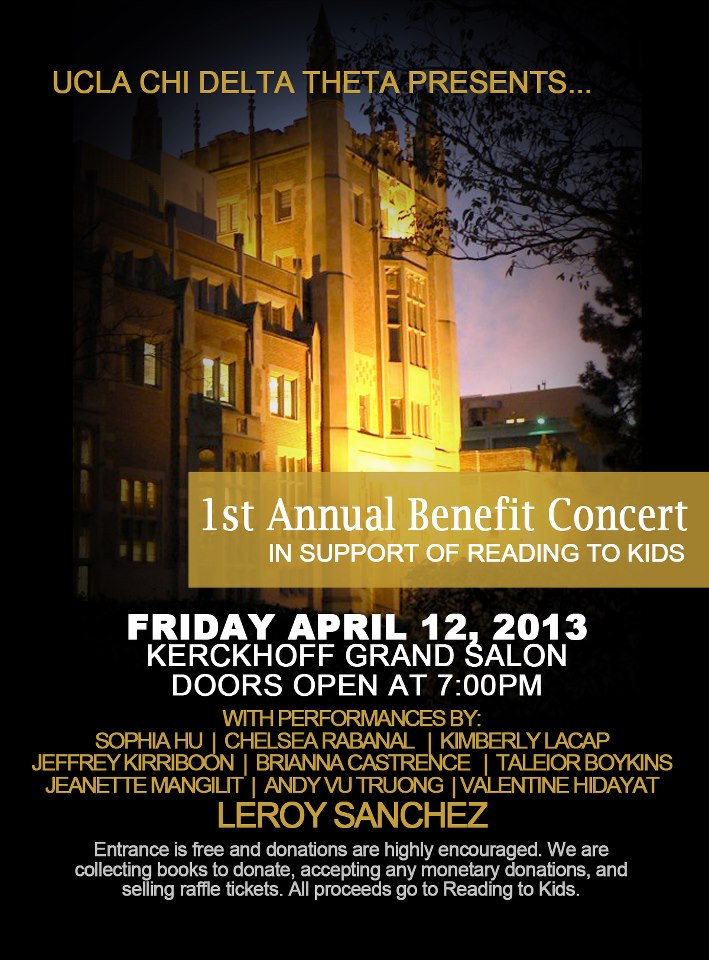 The concert and raffle will be
Friday, April 12th, from 7-10 pm in the Kerckhoff Grand Salon at UCLA
. The headliner is
Leroy Sanchez
, and the concert will feature nine other acoustic performances. During the concert, Chi Delta Theta sisters will be raffling off donated items, then donating to
Reading to Kids
the raffle funds and any new books attendees donate.
If you can be near UCLA tomorrow evening, please attend, and be sure to RSVP for the Facebook event to let your friends know you're attending!
_______________________________________________
INTERESTED IN THE VOLUNTEER RELATIONS COMMITTEE?
The Volunteer Relations Committee is looking for people to improve the volunteer experience at Reading to Kids. If you have ideas or motivation, we can use them at our next Volunteer Relations Taskforce Committee meeting which will be between April 22nd and April 28th.
To help decide the exact date and time, please email Nancy Lyon (Nancy.Lyon

readingtokids.org) your interest and available times during those days.
This can be a great way for you to get more involved with Reading to Kids by joining the Taskforce.
_______________________________________________
LACMA EXHIBIT AT CHARLES WHITE ELEMENTARY
You won't want to miss Shinique Smith: Firsthand, LACMA's latest exhibition at Charles White Elementary School. Discover the unique work of New York-based artist Shinique Smith and her exposure to the world of fashion design through objects from LACMA's Costume and Textiles collection, new works, and student art.
The exhibition is open to the public. Please click here to discover more about the free family-friendly tours, surprising scavenger hunts, and creative art projects offered.
_______________________________________________
Thank you, and we'll see you on Saturday!