Dear Friends of Reading to Kids,

Thanks to everyone who came out to volunteer at our College Spirit Day reading clubs on Saturday!  1,124 kids, 222 parents, and 521 volunteers joined us for a morning of reading fun.

With more than 60 colleges represented on Saturday, the College Spirit Day Competition was intense!  The Bruins ensured their victory by showing up with 95 volunteers in UCLA attire!  Stanford had the most statewide representation with 19 volunteers, while University of Michigan pulled together the most out-of-state support with 10 volunteers! 

Thank you to all the volunteers who showed up in their college attire to help get our kids excited about going to college!

ANNUAL FUND DRIVE UPDATE - THANK YOU!!!

THANK YOU to those who have sent in contributions to Reading to Kids for our 2008 Annual Fund Drive!  With your support, we can continue to help inspire children with a love of reading.  

We received donations from over 300 individuals on Saturday, bringing our total to over 700 donors and nearly $32,000!  Special thanks to Kirstin Harper-Smith, who raised $1,000 from friends & coworkers at Clark Construction.

The November reading clubs marked the end of our Annual Fund Drive.  That doesn't mean we stop accepting donations, but we will stop soliciting for funds at the reading clubs. 

If you have not yet had a chance to donate to Reading to Kids this year, please consider making a contribution today.  Donating is easy and any amount makes an impact.

                   Click here to make a donation.

For more information, please visit our Annual Fund Drive page at http://readingtokids.org/News/2008AnnualFundDrive.html or contact Jessica Tritsch at Jessica.Tritsch@readingtokids.org.

DECEMBER READING CLUBS
Readers & Santas Needed!

Click here to sign up for our "Winter Wonderlands" Reading Clubs on December 13th!

Our December Clubs will be a lot of fun!  We are planning visits by Santa, a raffle, and lots of great holiday crafts! 

We are looking for a volunteer Santa at each school along with a Santa's helper.  If you are interested, please contact Rachel.Zwass@readingtokids.org.



Have a great day!
  Jessica Tritsch, Nate Radomski & Rachel Zwass 
  Reading to Kids
  1600 Sawtelle Blvd, Suite 210
  Los Angeles, CA 90025
  (310) 479-7455
  (310) 479-7435 (FAX) 
  info@readingtokids.org
  www.readingtokids.org
  www.myspace.com/readingtokids  
  www.facebook.com/pages/Reading-to-Kids/22524072329 
  http://readingtokids.blogspot.com


LATEST READING TO KIDS STATISTICS

Through November 2008: 
1,499 people are current volunteers of Reading to Kids (volunteered at least once within the last six months) 

7,288 people are current subscribers to our email update list.
Since May 1999...
9,040 people have volunteered as readers with Reading to Kids; 
11,614 hardcover books have been donated to the schools' libraries;
66,519 books have been given directly to participating children for their home libraries; and volunteers have spent 73,332 hours volunteering at the reading clubs (for a "dollar value" of $1,333,585).
November 2008
Reading Club Statistics
School
Kids
Volunteers

Alta Loma

65

57

Esperanza 

173
84

Gratts 

135

52

Hoover 

152

81

Los Angeles

154

74

Magnolia 

228
78

Politi 

128

63

White 

92

32

TOTAL 

1,124

521

More ways to help . . .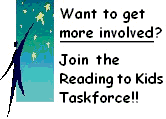 Click here for more
Taskforce information!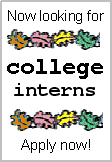 December Books. . .