Dear Friends of Reading to Kids,


We hope to see you all at our "Movies & Books" themed reading clubs on August 9th. Click here to sign up!

Our movie themed books include "The Ant Bully" by John Nickle in 2nd grade, "Horton Hears a Who" by Dr. Suess in 3rd grade, and "James and the Giant Peach" by Roald Dahl in 5th grade. Click here to see a full list of books along with discussion and craft ideas.

READING TO KIDS IS ON MYSPACE AND FACEBOOK

Reading to Kids has set up a page on MySpace to help promote our volunteer opportunities! If you are on MySpace, add us to your Friends list! Go to http://www.myspace.com/readingtokids and click on "Add to Friends."

We also have a Reading to Kids page on Facebook. If you are on Facebook, become a fan of Reading to Kids today!

Visit http://www.facebook.com/pages/Reading-to-Kids/22524072329, sign into your Facebook account, and become a fan.

Also, Reading to Kids has set up a blog: www.readingtokids.blogspot.com. Check out pictures from our 2008 Comedy Night and reading clubs. And feel free to leave a comment.

LEGENDARY BINGO AT HAMBURGER MARY'S
AUGUST 20th



Join us at Hamburger Mary's in West Hollywood for Legendary Bingo!





Hamburger Mary's Legendary Bingo is Los Angeles' longest running and most successful weekly charity event. Reading to Kids will be the charity beneficiary for the 7 p.m. seating (which ends at 8:30 p.m.) There is a $20 suggested donation at the door which includes 9 regular bingo games and one grand prize bingo game with fantastic prizes! The evening is hosted by Bingo-boy and sassy drag queen The Fabulous Belle Aire. For more information, please visit www.legendarybingo.com.

Date: Wednesday, August 20th, 2008
Time: 7:00 p.m.
Location: Hamburger Mary's West Hollywood (8288 Santa Monica Blvd.)
Suggested Donation: $20 at the door
Click here to let us know if you plan to attend.

Reading to Kids relies on the generosity of the Los Angeles community to support our reading clubs!

For a full list of Reading to Kids supporters, click here.





Have a great week!
Jessica Tritsch & Sarah Kolterman
Reading to Kids
1600 Sawtelle Blvd, Suite 210
Los Angeles, CA 90025
(310) 479-7455
(310) 479-7435 (FAX)
info@readingtokids.org
www.readingtokids.org
www.myspace.com/readingtokids
http://www.facebook.com/pages/Reading-to-Kids/22524072329)
http://readingtokids.blogspot.com/
August 2008
Reading Club Status
School
RSVPs
Capacity

Alta Loma

25

52

Esperanza

45
81

Gratts

32

73

Hoover

36

76

Los Angeles

40

71

Magnolia

16
22

Politi

30

52

White

23

44

TOTAL

247

471

More ways to help . . .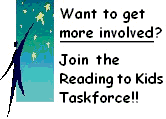 Click here for more
Taskforce information!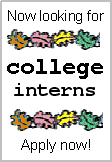 Click here for more
internship information.

August Books. . .