Dear Friends of Reading to Kids,


Thanks to all 406 volunteers who joined us Saturday to read to 1,026 kids at our "Independence and Growing Up" Reading Clubs!

We hope to see you all at our "Movies & Books" themed reading clubs on August 9th. Click here to sign up!

LEGENDARY BINGO AT HAMBURGER MARY'S
AUGUST 20th



Join us at Hamburger Mary's in West Hollywood for Legendary Bingo!





Hamburger Mary's Legendary Bingo is Los Angeles' longest running and most successful weekly charity event. Reading to Kids will be the charity beneficiary for the 7 p.m. seating (which ends at 8:30 p.m.) There is a $20 suggested donation at the door which includes 9 regular bingo games and one grand prize bingo game with fantastic prizes! The evening is hosted by Bingo-boy and sassy drag queen The Fabulous Belle Aire. For more information, please visit www.legendarybingo.com.

Date: Wednesday, August 20th, 2008
Time: 7:00 p.m.
Location: Hamburger Mary's West Hollywood (8288 Santa Monica Blvd.)
Suggested Donation: $20
RSVP: Click here

Reading to Kids relies on the generosity of the Los Angeles community to support our reading clubs!

For a full list of Reading to Kids supporters, click here.

Reading to Kids is seeking a full-time Program Coordinator. As one of two paid employees of the agency, the Program Coordinator will have an exceptional opportunity to work with a grassroots nonprofit organization. This position offers the opportunity to help direct the growth of Reading to Kids and to bring the joy of reading to many more children in Los Angeles.

Click here for the full Program Coordinator job description and information on how to apply.



Have a great week!
Jessica Tritsch & Sarah Kolterman
Reading to Kids
1600 Sawtelle Blvd, Suite 210
Los Angeles, CA 90025
(310) 479-7455
(310) 479-7435 (FAX)
info@readingtokids.org
www.readingtokids.org
www.myspace.com/readingtokids
http://www.facebook.com/pages/Reading-to-Kids/22524072329)
http://readingtokids.blogspot.com/
July 2008
Reading Club Statistics
School
Kids
Volunteers

Alta Loma

67

50

Esperanza

204
46

Gratts

152

58

Hoover

176

57

Los Angeles

144

66

Magnolia

86
42

Politi

102

45

White

95

40

TOTAL

1,026

404

More ways to help . . .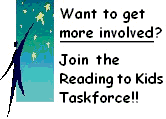 Click here for more
Taskforce information!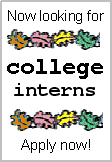 Click here for more
internship information.

July Books. . .