Dear Friends of Reading to Kids,


Thanks to everyone who has signed up for the April 12th "From the Earth to the Moon" Reading Clubs! We are almost filled to capacity!

There are few volunteer spots available, and we do anticipate more cancellations before Saturday, so if you have not signed up yet for the April reading clubs but would like to attend, check our website for openings before the 3 p.m. deadline on Friday, April 11th.

Date:

Tuesday, April 22, 2008

Time:

6:00 p.m. to 10:00 p.m.

Place:

Hollywood Improv

8162 Melrose Avenue

Los Angeles, CA 90046

Tickets:

$35 (includes dinner in

the showroom)

****Guests must be 18 and over.****

For more information and to buy tickets,

click here

.

VOLUNTEER AT THE FESTIVAL OF BOOKS AND CELEBRATELA

FESTIVAL OF BOOKS

Reading to Kids will be joining thousands of community members, hundreds of organizations, and scores of authors at the Los Angeles Times Festival of Books on April 26th and 27th.

We are assembling a team of people to volunteer at our booth. This will be a great opportunity to recruit volunteers, promote the organization, and connect with other organizations. Click here to see available shifts for the event. E-mail Jessica.Tritsch@readingtokids.org to sign up.

CELBRATELA



The Volunteer Center of Los Angeles-Assistance League of Southern California is organizing a 2008 CelebrateLA Volunteer Recognition Event at the Rose

Bowl Stadium in Pasadena on April 27th. This is the first year of this event, which is set up to recognize volunteers and give volunteer organizations an opportunity to reach out to community members.

We still need volunteers to help out with our booth at this event from 11:00 a.m. to 5:00 p.m. Click here to see available shifts. E-mail Jessica.Tritsch@readingtokids.org to sign up.



Join Reading to Kids volunteers at BIG SUNDAY, L.A.'s Annual Day of Service. Volunteers from all over Los Angeles will help out at more than 200 community sites all over the city on Saturday, May 3rd, and Sunday, May 4th.

Los Angeles Elementary and Magnolia Elementary will both be sites for this service event, and a group of Reading to Kids volunteers will be joining in the fun!

Create a Reading Garden at L.A. Elementary (Project #195)
Date: Saturday, May 3rd
Time: 9:00 am - 1:00 pm.
Details: Volunteers will be painting garden boxes, planting flowers, and planting trees to create a Reading Garden for the kids!
Sign Up: Click here

Have a Day of Blooming Together at the Great Magnolia Street School (Project #242)
Date: Sunday, May 4th
Time: 1:00 pm - 4:00 pm.
Details: Volunteers will be planting a garden in front of the school, decorating and delivering flower pots to local seniors with Alzheimer's Disease, making cards and bookmarks, and more! There will also be good food and live music!
Sign Up: Click here

Click here for more information on BIG SUNDAY events and to sign up.


Have a great day!
Jessica Tritsch & Sarah Kolterman
Reading to Kids
1600 Sawtelle Blvd, Suite 210
Los Angeles, CA 90025
(310) 479-7455
(310) 479-7435 (FAX)
info@readingtokids.org
www.readingtokids.org
www.myspace.com/readingtokids
www.facebook.com/group.php?gid=2254127481


April 2008
Reading Club Status
School
RSVPs
Capacity

Esperanza

63

65

Gratts

76

78

Hoover

73

73

Los Angeles

68

68

Magnolia

88
89

Politi

55

55

White

49

52

TOTAL

472

480

More ways to help . . .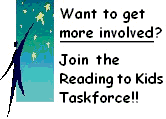 Click here for more
Taskforce information!
April Books. . .