Dear Friends of Reading to Kids,
Click here to submit your RSVP for our "Winter Holidays" Reading Clubs on December 9th. With a visit from Santa, a fun student raffle, holiday crafts, and holiday carols, this is a reading club you don't want to miss!



ORDER READING TO KIDS T-SHIRTS AND CANVAS TOTE BAGS NOW!
Reading to Kids will be printing T-shirts and canvas tote bags for sale at the December reading clubs.
We will be printing the Festival of Books T-shirt design (see picture below with model Mark May - the back has the logo and website). We will also be printing canvas tote bags with the Reading to Kids logo and website on them. Both will be sold at cost and available for pick up at the December reading clubs (or after). T-shirts are $8 and bags are $4 (prices may go down depending on quantity ordered).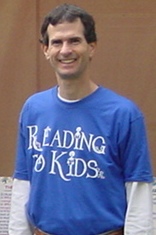 T-Shirts are from American Apparel, Short Sleeved, 100% cotton, Royal Blue. Sizes are Women's and Men's/Unisex: XS, S, M, L, XL.
If you would like to order t-shirts or bags, please e-mail Jessica.Tritsch@readingtokids.org with quantity and size by Monday, November 27th, at 5 p.m.

The November 11th reading clubs marked the official end to our 2006 Annual Fund Drive. (That does not mean that we will not graciously accept year-end donations!)
Thanks to all of your support, we have exceeded our 2006 goals of $30,000 from individuals and 500 total donors! We have received $31,440 from individuals and have 555 total donors!!! To see a list of 2006 donors, click here.
THANK YOU to everyone who participated in Reading to Kids' 2006 Annual Fund Drive! Your donations will help to expand our program to impact more children and communities!

READING TO KIDS WEBSITE MAINTENANCE
Reading to Kids will be taking the Thanksgiving holiday as an opportunity to do work on our website. You will not be able to sign up for the reading clubs from 4:00 p.m. Wednesday, November 22, to 12:00 p.m. Saturday, November 25.
Click here to sign up now!



ANNUAL HOLIDAY TASKFORCE MEETING AND POTLUCK
Join Reading to Kids at our Holiday Taskforce Potluck, Meeting, and Open House! Come and enjoy good company and conversation!
This will be a great opportunity to learn about the Reading to Kids Taskforce if you are interested in getting more involved with the management of Reading to Kids. To learn more about the Taskforce prior to the meeting, click here.
The event is a potluck, so please feel free to bring an entree, appetizer, salad, dessert, beverages or utensils.
The gathering will be at Los Angeles High School (4650 W. Olympic Blvd., Los Angeles, CA). We will be meeting in the faculty cafeteria, which is in the NE corner of campus (the corner of West Blvd. and Olympic). You can park on the blacktop or in the parking lot (enter from Rimpau Blvd.).
WHAT: Holiday Gathering and Open House
WHEN: Monday, December 11th
Social hour begins at 6:30pm.
Meeting begins at 7:30pm.
WHERE: Los Angeles High School
(4650 W. Olympic Blvd., Los Angeles, CA)
RSVP: Click here

If you have any questions, or if you would like additional information, please contact me at (310) 479-7455 or via e-mail at Jessica.Tritsch@readingtokids.org.
We hope to see you there!