Dear Friends of Reading to Kids,
In two days we'll hold our November 11th "Seasons & the Natural World" reading clubs, and we still need a few more volunteer readers this Saturday!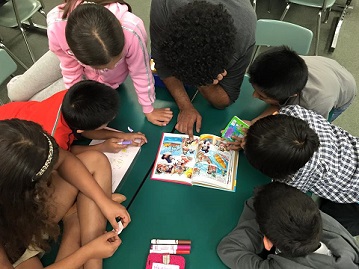 If we are full when you check our website, please keep checking back today and tomorrow for new spots to replace folk who need to cancel.
If you are signed up but know you can't join us, cancel your RSVP here immediately so someone else can read in your place!
November is also our
college spirit month
, when we count the college logos volunteers wear that morning to see which college shows the most spirit.
Will your school win the competition?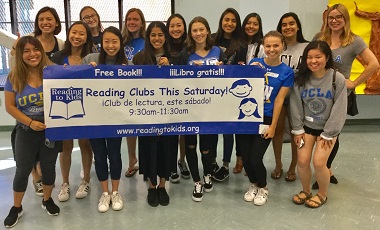 (Above image is from before the pandemic.
Click on it to see it full-sized!)
_______________________________________________
STEP IN TO A BIGGER VOLUNTEER ROLE
AT THIS SATURDAY'S READING CLUBS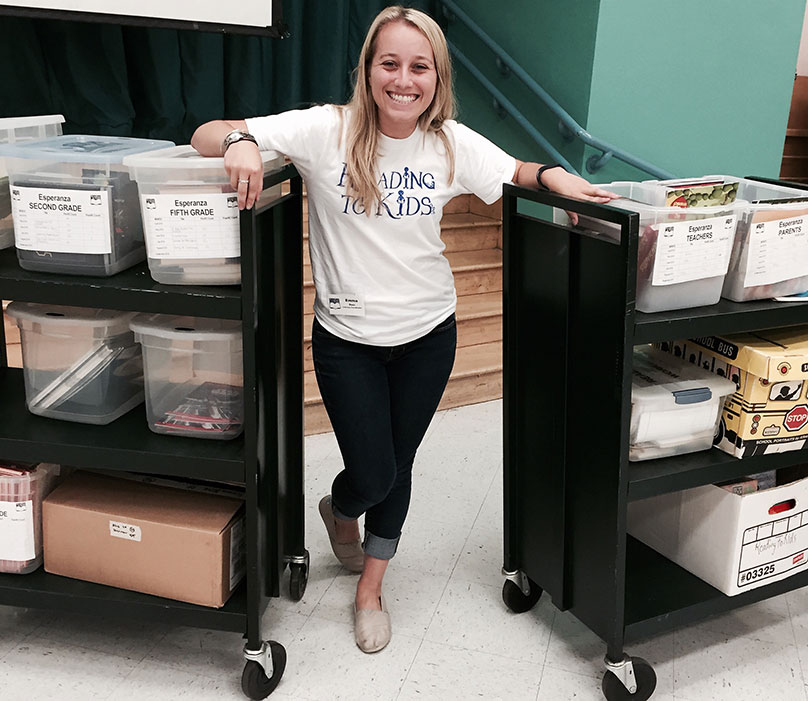 We also need more of our
experienced
volunteers to help in any of the following roles this Saturday, so please e-mail us at
info@readingtokids.org
if you can help:
- Training Coordinator at Alta Loma
- GLC at Alta Loma (3rd, 4th, or 5th) or MacArthur Park (5th)
- Check-in Helper at Alta Loma
- Site Operations Helper at any school!
If you can help in any of those roles, please visit our home page at
www.readingtokids.org
and submit your email address in the yellow box, as usual!
Then, e-mail us at info@readingtokids.org to tell us the above role you would like to take on to help create wonderful reading clubs!
_______________________________________________
READING TO KIDS
25TH ANNIVERSARY
PARTY PLANNERS WANTED
Our
Special Events Committee
is in the early planning stages of creating our 25th Anniversary party next year on May 11th!
Please e-mail us
at
info@readingtokids.org
if you would like to help plan that party!

_______________________________________________
SEVEN RUNNERS WANTED FOR THE
2024 LA MARATHON,
13.1 MILE CHARITY CHALLENGE,
OR 5K!
Do you know any runners? Are you a runner? Please forward this email to them and ask them to join Team Reading to Kids in the 2024 Los Angeles Marathon on Sunday, March 17th!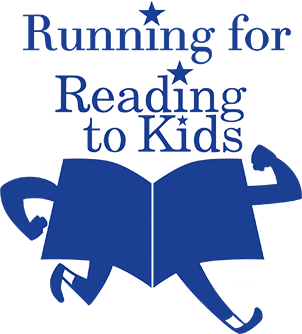 This is our 10th time running the marathon, and we're looking for at least two more marathon runners and five Charity Challenge runners (the last 13.1 miles of the course) to join us in one of the best marathons in the country.
If either of those distances is too daunting, you can join us in the LA Big 5K (that's just 3.1 miles) near Dodger Stadium the day before the marathon on Saturday, March 16, 2024.
You can share this Facebook group with any of your runner friends to encourage them to join our team!
If you or a runner you know is interested in becoming one of our fundraising runners or creating a fundraising team, please email Chris Martin at marathon@readingtokids.org!
IMPORTANT NOTE: To register to run on behalf of Reading to Kids, you MUST receive from us a special web address to use when registering on the Los Angeles Marathon website.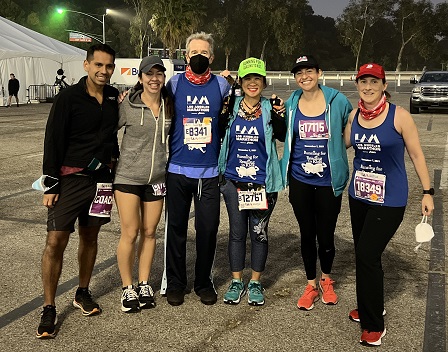 _______________________________________________
THANK YOU ECHO NORTHROP GRUMMAN
& THE KLEINER COHEN FOUNDATION

Join us in thanking the Employees Charity Organization of Northrop Grumman for their continued support of Reading to Kids, enabling all of us to share with children our love of reading!
Their recent $2,500 grant will go towards purchasing the hundreds of books we donate to our eight partner schools' libraries each year, and to the thousands of books we give to participating kids each month.
Our special thanks go to Reading to Kids volunteers and Northrop Grumman employees Janet Webb and Linh Dang for supporting us through their employer!
We also thank The Kleiner Cohen Foundation for its continuing support of Reading to Kids with their most recent $2,000 grant - the 20th year in a row the Foundation has financially supported us!

Grants such as these help all of us together inspire thousands of kids in Los Angeles as we fill the bookshelves in their homes and in their schools' libraries.
_______________________________________________