Dear Friends of Reading to Kids,
Even though it was a three-day weekend to observe Veterans Day, last Saturday 311 kids, 224 volunteers, 50 parents, and 30 teachers & staff helped to make our November 12th reading clubs a success!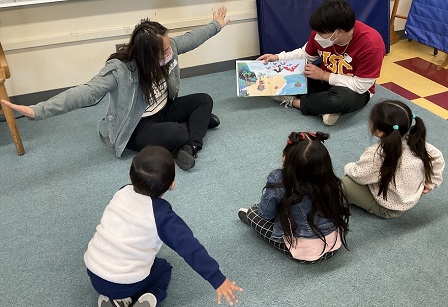 (Click on the above image to see it full size)
109 volunteers helped inspire college aspirations by wearing college logos from 43 different schools!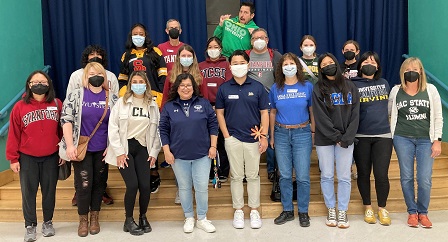 (Esperanza volunteers showing their college spirit. Click on the above image to see it full size)
UCLA showed the most spirit of local colleges with 26 volunteers wearing UCLA logos. The most spirit shown for a college located elsewhere in California went to Stanford with six volunteers wearing its logo, while the most spirit from an out-of-state college went to NYU with four volunteers wearing their logo. One volunteer wore the logo from Università degli Studi di Milano-Bicocca from Italy!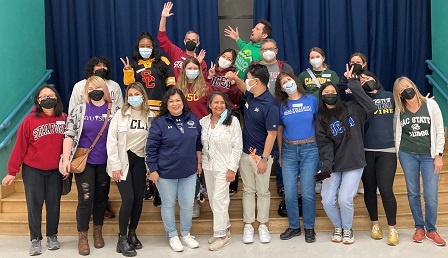 (Click on the above image to see it full size)
_______________________________________________
DECEMBER 10TH READING CLUBS:
SANTA CLAUS IS COMING TO TOWN
Please be sure to sign up for the next reading clubs!   Click here to submit your RSVP for our "Family & The Spirit of Giving" reading clubs on December 10th, then "join" the December 10th reading club event on Facebook and invite your friends!
Santas Needed!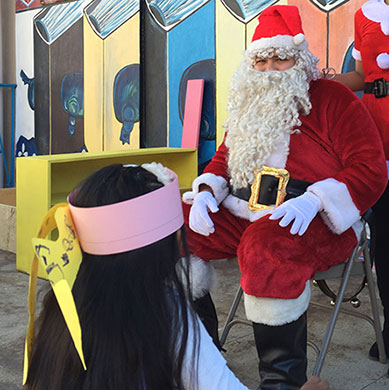 At least once in your life you should experience being Santa or one of his helpers - and here is your chance!
We need eight people willing to be Santa, Mrs. Claus, or an assisting "elf" at our reading clubs on December 10th. We've had Santas of all shapes, sizes, and gender, and we'll provide the full Santa suit.
Santa or his helpers do NOT need to be veteran Reading to Kids volunteers, so please ask your friends if they can be Santa, Mrs. Claus, or an elf on the 10th!
There's nothing better than seeing the students' excitement when Santa visits our reading clubs! If you can be Santa, Mrs. Claus, or an assisting "elf" on December 10th, please email us at info@readingtokids.org. You won't be able to read that day, but you'll see hundreds of smiling faces!
_______________________________________________
INTRODUCING OUR NEW LITERACY COORDINATOR,
DIEGO CRUZ!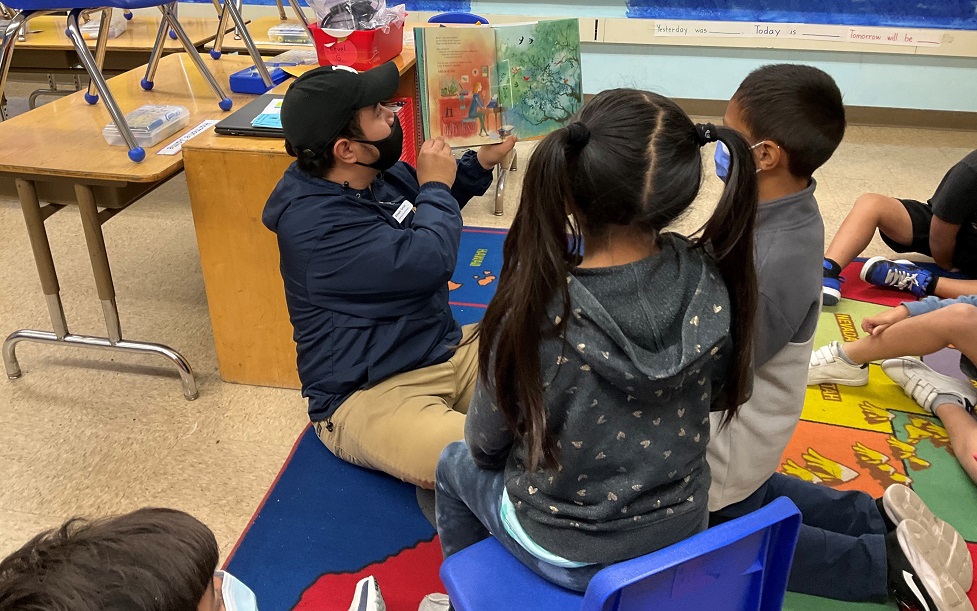 (Click on the above image to see it full size)
It is also our pleasure to announce that Diego Cruz joined us at Saturday's reading clubs as our new Literacy Coordinator!
Diego joins us as a Public Allies AmeriCorps Apprentice for the 2022-23 school year, and during his 10-month term with us he will focus on logistics and implementation of our reading clubs at all of our schools, as well as increasing kid, parent, and teacher participation each month.
Diego has an AA in Criminal Justice from Los Angeles Southwest College and was a youth group leader in high school. He is a native Spanish speaker and a child of immigrant parents. Diego is motivated to be a model for kids whose parents also immigrated.
Please welcome Diego as you meet him at the reading clubs and our offices!
_______________________________________________
ANNUAL FUND DRIVE UPDATE & LEADERS SO FAR:
DOUBLE YOUR DONATION FOR YOUR SCHOOL!

On Saturday we received another $4,710 from 51 donors towards our 2022 Annual Fund Drive!

The names of the new donors have already been added to our 2022 Annual Fund Drive page, and here are the school competition stats so far:

SCHOOL COMPETITION WINNERS!


Highest percentage of volunteers who donated at the Nov. 12th reading clubs:
1st: Los Angeles (a new leader with a remarkable 55%!)
2nd: Gratts (31%)
3rd: Esperanza (28%)

Highest dollar amount raised at the Nov. 12th reading clubs:
1st: Esperanza
2nd: Los Angeles
3rd: Gratts

Highest percentage of volunteers who have donated overall:
1st: MacArthur Park
2nd: Los Angeles (only 2% behind!)
3rd: Esperanza

Highest dollar amount raised overall:
1st: Esperanza
2nd: Los Angeles
3rd: Gratts

All of these Nov. 12th volunteer donations will be doubled or tripled by our matching donors at every school, and their offers still stand!

That's right, you can still double or triple your donation and easily change the above standings by donating this week!

FIRST FUNDRAISING ANGEL, MATTHEW JONES!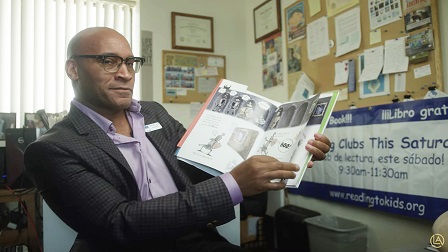 (Click on the above image to see it full size)
We also thank and congratulate
Matthew Jones
for being our first
2022 Annual Fund Drive Angel!
Matthew became a fundraising Angel through his
Facebook fundraiser
by gathering donations from at least 10 of his friends.
Thank you to Matthew and everyone else gathering donations for Reading to Kids!
We have so far raised $16,439 from 204 donors!
Our Annual Fund Drive lasts until December 31st, and our ambitious goal this year is to raise $60,000 from 600 donors.
Here's how you can help, with your donations counting towards the school competition:
1) Make a pledge to donate by check or donate online today by visiting our 2022 Annual Fund Drive. Contributions of any amount are greatly appreciated!
2) Show your support by asking friends and family to contribute! Visit our 2022 Annual Fund Drive page and look under the "Help us Fundraise!" header for resources, including information on creating your own personalized fundraising page on Facebook, our handy donor sheet for raising money with your friends and co-workers, tips for fundraising, and so much more.
Once they know about Reading to Kids, many of your friends and family will want to donate - we just need you to ask!
Also, if your workplace matches donations to nonprofits, please share with them your donation, and ask them to consider matching it. In this way you double your donation and share with others your enthusiasm for Reading to Kids!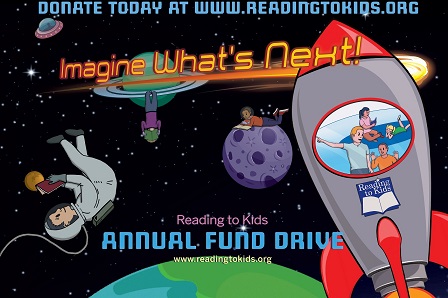 _______________________________________________
11 RUNNERS NEEDED FOR THE
2023 LA MARATHON,
13.1 MILE CHARITY CHALLENGE,
OR 5K!
Do you know any runners? Are you a runner? Please forward this email to them and ask them to join Team Reading to Kids in the 2023 Los Angeles Marathon on Sunday, March 19th!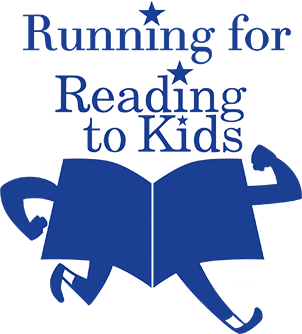 This is our 9th time running the marathon, and we're looking for at least four more marathon runners and seven Charity Challenge runners (the last 13.1 miles of the course) to join us in one of the best marathons in the country.
If either of those distances is too daunting, you can join us in the LA Big 5K (that's just 3.1 miles) near Dodger Stadium the day before the marathon on Saturday, March 18, 2023.
You can share this Facebook group with any of your runner friends to encourage them to join our team!
If you or a runner you know is interested in becoming one of our fundraising runners or creating a fundraising team, please email Chris Martin at marathon@readingtokids.org!
IMPORTANT NOTE: To register to run on behalf of Reading to Kids, you MUST receive from us a special web address to use when registering on the Los Angeles Marathon website.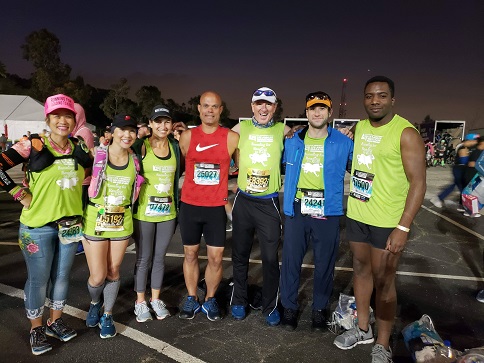 _______________________________________________