Dear Friends of Reading to Kids,
HELP! 135 MORE VOLUNTEERS NEEDED
FOR NOV. 12 TH IN-PERSON CLUBS!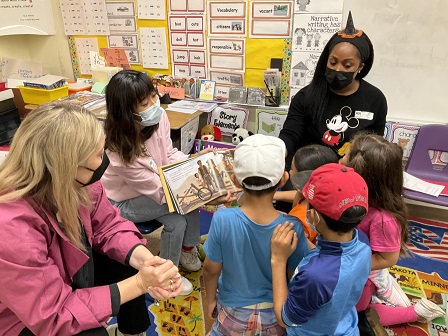 Now that our Halloween costumes are put away, it's time to look forward to our November 12th reading clubs in-person on our partner school campuses - and we need 135 more readers to join us!
Volunteers for our reading clubs must be fully vaccinated against COVID-19 and wear a mask while indoors on campus for the reading clubs. The kids will also be required to wear masks while indoors.
Here are 5 super-helpful things you can do right now!
If you haven't already, please visit our website now and sign up.


Publish to your Facebook feed and share with your friends our November 12th Facebook Event to encourage them to volunteer!


Whether or not you can volunteer on the 12th, Tweet @readingtokids, post, and message your friends and followers. Here's a sample post you can use:

"My favorite volunteer organization, Reading to Kids, needs more volunteers for their November 12th reading clubs. The theme is "Seasons & the Natural World", and every participant will wear masks while indoors. Join me at ### Elementary School for a fantastic morning of reading to elementary school kids near downtown LA. To join me, sign up online today at www.readingtokids.org."

If you write your own post, please be sure to include the following two things:

- The reading clubs are Saturday morning, November 12th, near downtown LA
- Volunteers must sign up online by 3pm on Friday, Nov. 11th, at www.readingtokids.org

If you have people in mind who you think would really like to read with us, tag them in your post. It will alert them to the reading clubs and show up in their friends' news feeds.


Copy from our message template at http://www.readingtokids.org/News/SampleVolRecruit.pdf to encourage people you know to sign up to read with us!


Print out this flyer at http://readingtokids.org/ProMaterials/VolunteerTearOffFlyer.pdf and post it somewhere others will see it. Make it a personal and fun social event by including the school at which you'll be reading or encouraging them to read at your favorite of our eight partner schools!
November is our
college spirit month
, when we count the college logos volunteers wear that morning to see which college shows the most spirit.
Will you recruit the most volunteers from your school and win the competition?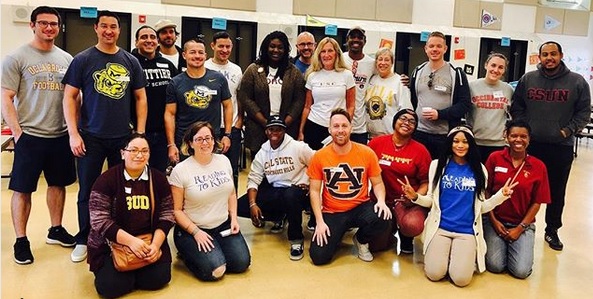 (Above image is from before the pandemic.
Click on it to see it full-sized!)
_______________________________________________
PLEASE STEP UP TO A BIGGER VOLUNTEER ROLE
AT OUR NOV. 12TH READING CLUBS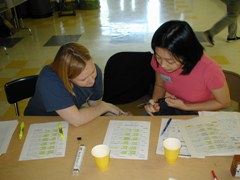 Now that we have
returned to in-person, on campus reading clubs
, we need experienced volunteers to
help train new and returning volunteers, be a GLC, or especially to be a second or third Site Coordinator
at any of our schools.
If you can help in any of those roles, please visit our home page at
www.readingtokids.org
and submit your email address in the yellow box, as usual!
Then, e-mail us at info@readingtokids.org to tell us the above role you would like to take on to help create wonderful, in-person reading clubs again!
_______________________________________________
READING TO KIDS AMBASSADORS
NEEDED NEXT WEEK!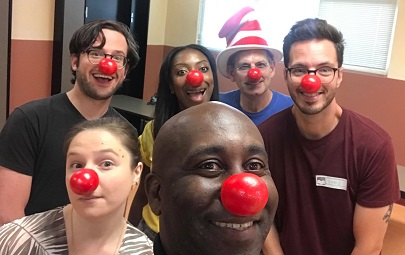 Next week for an hour or two during the school day we need your help conducting quick classroom walk-throughs or handing out flyers to encourage kids to come to our November 12th reading clubs.
This can be a lot of fun and we'll provide everything you need. Please reply to
info@readingtokids.org
or call the office at
(310) 479-7455
if you can be an Ambassador for an hour or two next week!
_______________________________________________
11 RUNNERS NEEDED FOR THE
2023 LA MARATHON,
13.1 MILE CHARITY CHALLENGE,
OR 5K!
Do you know any runners? Are you a runner? Please forward this email to them and ask them to join Team Reading to Kids in the 2023 Los Angeles Marathon on Sunday, March 19th!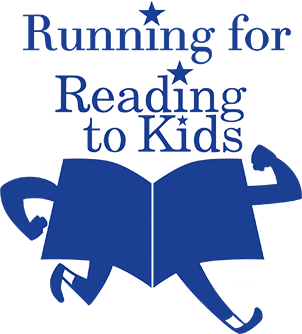 This is our 9th time running the marathon, and we're looking for at least four more marathon runners and seven Charity Challenge runners (the last 13.1 miles of the course) to join us in one of the best marathons in the country.
If either of those distances is too daunting, you can join us in the LA Big 5K (that's just 3.1 miles) near Dodger Stadium the day before the marathon on Saturday, March 18, 2023.
You can share this Facebook group with any of your runner friends to encourage them to join our team!
If you or a runner you know is interested in becoming one of our fundraising runners or creating a fundraising team, please email Chris Martin at marathon@readingtokids.org!
IMPORTANT NOTE: To register to run on behalf of Reading to Kids, you MUST receive from us a special web address to use when registering on the Los Angeles Marathon website.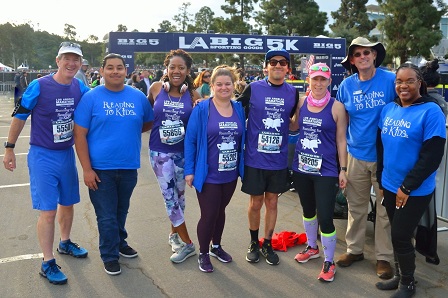 _______________________________________________