Dear Friends of Reading to Kids,
Final call! We have until 3pm today to find just 11 more volunteers to RSVP for tomorrow's in-person, on campus reading clubs!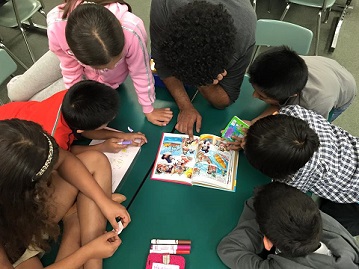 (Above image is from before the pandemic.)
Volunteers for our reading clubs must be fully vaccinated against COVID-19 and wear a mask while indoors on campus for the reading clubs. The kids will also be required to wear masks while indoors.
NOTE: Sign up only if you can join us on the school campus for which you RSVP. Click here for a map to our partner schools.
We also need help in any of the following roles, so please reply to this email if you can help:
- Training Coordinator at Alta Loma or White
- Check-in Helper at Los Angeles, Politi, or White
- GLC at Alta Loma, Gratts, Los Angeles, MacArthur Park, Magnolia, or White
_______________________________________________