Dear Friends of Reading to Kids,
OUTDOOR MOVIES NEXT TWO SATURDAYS
WITH READING TO KIDS!
JACKIE BROWN & THE BIRDS
AT THE HOLLYWOOD FOREVER CEMETERY

This Saturday, July 23rd join fellow Reading to Kids volunteers as we watch a screening of Jackie Brown at the Hollywood Forever Cemetery!
We're also getting together the following Saturday to watch Alfred Hitchcock's classic The Birds on Saturday, July 30th, also at the Hollywood Forever Cemetery!
The cemetery gates open at 7:15pm for either show, and each movie starts around 8:45pm. We can all sit together on the grassy field under the stars.
General admission tickets are $22 each, and you can purchase them at these links for either Jackie Brown or The Birds. You can also purchase parking options at either link. These shows sell out quickly, so buy your tickets early!
After you have bought your tickets, send to info@readingtokids.org your name, the movie you are attending, and your cell phone number - we can then add you into our group text so we can easily find each other at the cemetery either evening.
Please also RSVP at our Facebook event and share it with friends to help spread the word!
_______________________________________________
AUGUST 13TH READING CLUBS ON ZOOM,
RSVPS TO OPEN NEXT WEEK
We are eager for next month's virtual reading clubs on August 13th, but first need to recruit enough teachers to be Zoom hosts for them.
As soon as we confirm enough teacher hosts, you can then submit your RSVP for those "Arts & Creativity" reading clubs!
Our August reading clubs are smaller, so be sure to sign up as soon as we open the RSVPs for them next week to help keep students reading throughout the summer!
(We are working with LAUSD on how and when we can return to on-campus, in-person reading clubs, but we know for at least August we'll remain Zoom-only.)
OPERATIONS VOLUNTEERS WANTED!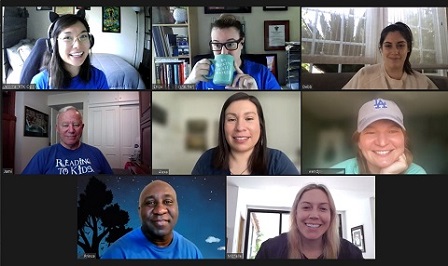 For our virtual reading clubs we would like experienced volunteers to be a second or third virtual Site Coordinator in our Zoom reading clubs for any of our schools.

Being a Site Coordinator guarantees you a (non-reading) spot at our next reading clubs, so please e-mail us at info@readingtokids.org if you can help us create wonderful reading clubs!
_______________________________________________
SAVE THE DATE: DECADE 5 MULTIMEDIA EVENT / 50TH BIRTHDAY CELEBRATION ON 9/10/22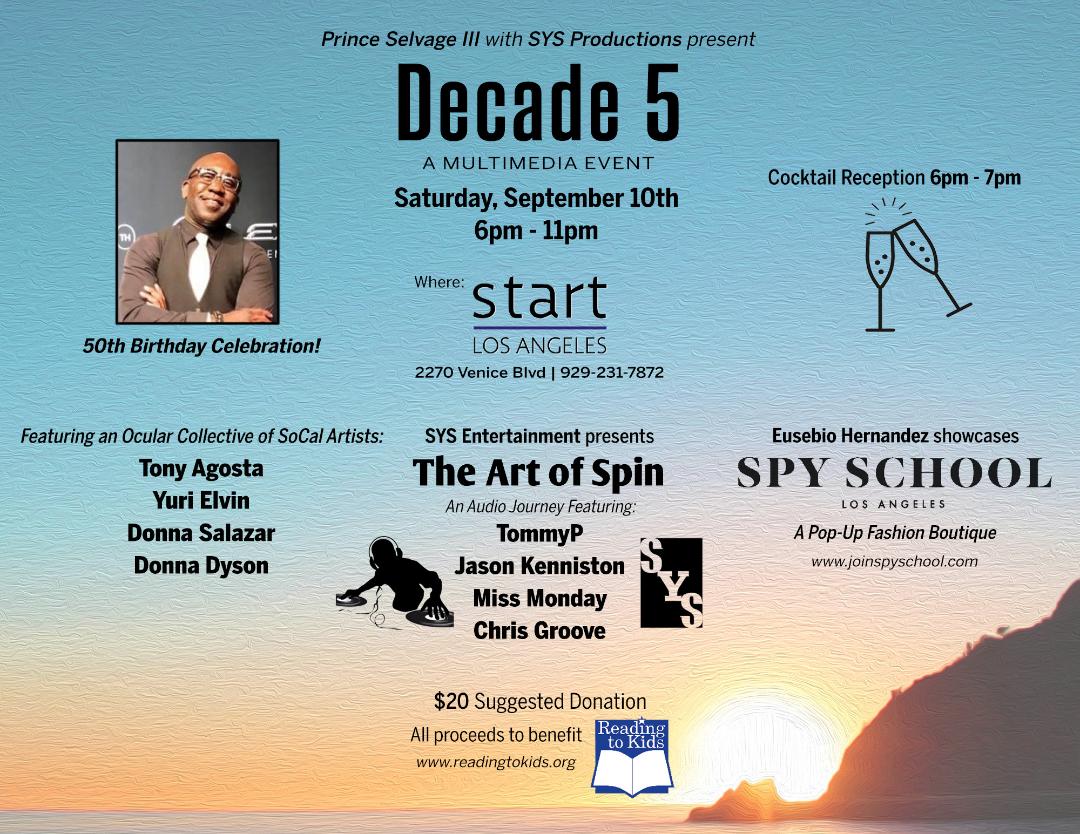 On Saturday, September 10th, one of our most dedicated volunteers, Prince Selvage III, is turning 50 years old, and he is holding his 50th birthday celebration as a multimedia event and fundraiser for Reading to Kids!
His event will be in the evening (after our September reading clubs) from 6pm to 11pm and will feature art, music, and fashion in a gallery setting!
Attendees will view the works of four talented artists while enjoying beats and grooves by a rotating roster of four of LA's finest DJs! Experience a special pop-up fashion boutique with the unique brand that is "SPY SCHOOL Los Angeles"!
WHEN: Saturday, September 10th, 6pm - 11pm
WHERE: START Los Angeles gallery
2270 Venice Boulevard
Los Angeles, CA 90006
startlosangeles.com
Cost: $20 suggested donation, with all proceeds benefiting Reading to Kids!
Stay tuned for more details!
_______________________________________________
Thanks, and please keep checking www.readingtokids.org next week for when we can open the RSVPs for our August 13th Zoom reading clubs!