The Festival of Books is this weekend, April 23-24, on the University of Southern California campus. It's our first time back since 2018!
Please join us in our booth to share your enthusiasm and Reading to Kids knowledge with other book lovers!
Click here to see all available shifts. If you're interested in volunteering, reply or e-mail info@readingtokids.org.
Our booth (#133) will be located on Trousdale, just north of Tommy Trojan. Come visit us!
_______________________________________________
MAY 14TH READING CLUBS ON ZOOM,
RSVPS TO OPEN NEXT WEEK
We are eager for next month's virtual reading clubs on May 14th, but first need to recruit enough teachers to be Zoom hosts for them.
As soon as we confirm enough teacher hosts, you can then submit your RSVP for those always popular "Fantasy, Folklore, & Fairytales" reading clubs!
(We are also working with the LAUSD about when we may be able to return to in-person reading clubs on their campuses.)
It's back! On Wednesday, May 25th, join Reading to Kids for Legendary Bingo back in person at Hamburger Mary's in West Hollywood!
The drinks are strong, the drag queen bingo is "R" rated, and seating is limited, so be sure to reserve your seat in advance!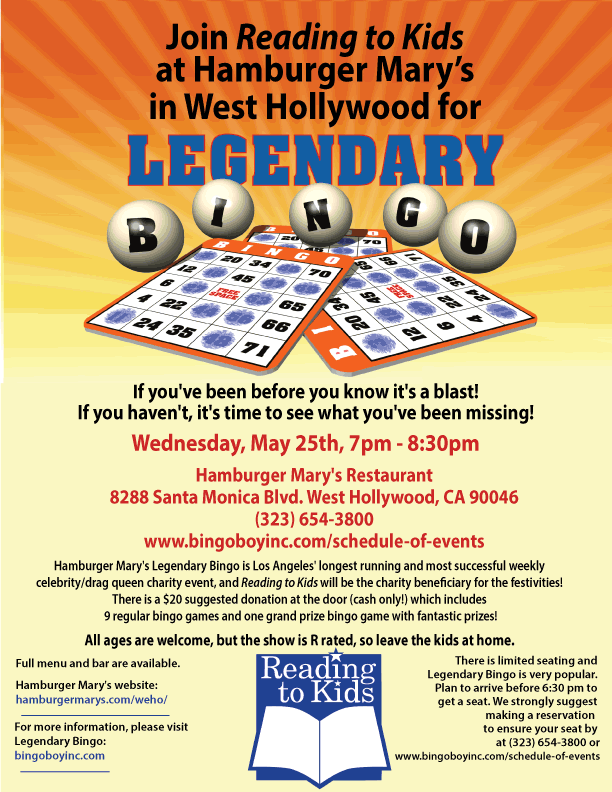 If you've been before you know it's a blast. If you haven't, click here for a video of one of our previous winners to see what you've been missing!
Please click the image above for a flyer in .PDF format and forward it to anyone you know who may be interested in going to our Legendary Bingo Night. You can also print out the flyer and post it wherever many people are likely to see it, perhaps with a note that you are going and inviting others to join you.
WHEN: Wednesday, May 25, 7pm - 8:30pm
WHERE: Hamburger Mary's Restaurant
8288 Santa Monica Blvd.
West Hollywood, CA 90046
(323) 654-3800
bingoboyinc.com/schedule-of-events/
Cost: $20 suggested donation (cash only, please!), which includes 9 regular bingo games and one grand prize bingo game with fantastic prizes!
Legendary Bingo is very popular and there is limited seating available. Plan to arrive before 7:00 p.m. to get a seat. We strongly suggest making a reservation at bingoboyinc.com/schedule-of-events/ or (323) 654-3800 to ensure your seat.
All proceeds go to Reading to Kids. For more details, visit our May 25th Bingo event on Facebook and invite your friends!
HELP US FIND MORE BINGO PRIZES!
You can also help us gather more prizes for the bingo winners! To help you get started, here is information about Reading to Kids you can share with potential donors (such as where you work or shop), as well as a donation form for them to complete.
_______________________________________________
We were able to earn this year's $20,000 grant because Capital Group Companies employee and Reading to Kids Taskforce Member Dalet Brady serves on our Curriculum Committee. Thank you, Dalet, for your own 18 years of support and service to the children of our partner schools!
_______________________________________________
Thanks, and we hope to see you soon at any of the above events!