It's back! Next Friday, October 29th, join Reading to Kids for Virtual Legendary Bingo on Zoom!
Click their link above to see a video on their website of how it works. Virtual bingo lasts about an hour, and just like our past bingo events at Hamburger Mary's, virtual drag queen bingo is "R" rated - so put the kids in another room with a good book while you play and win! Join us for outrageous fun!
Tickets to play four games of virtual bingo are just $25, with only 60 tickets available - so click this link to buy your ticket today!

We'll also have a virtual costume party competition for those who choose to wear a costume, as well as exciting auction items to bid on, such as valuable and hard-to-find Disneyland/California Adventure One-Day Park Hopper tickets - with all proceeds benefiting Reading to Kids.

To help recruit players, please also visit our October 29th Bingo event on Facebook and invite your friends!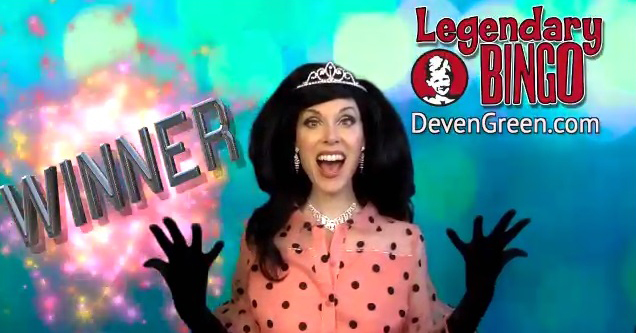 HELP FIND MORE BINGO PRIZES!
You can also
help us gather more prizes
for the bingo winners! Since this is virtual bingo, we are looking for
items we can mail or send via email, such as $25 or $50 gift cards.
We also enjoy awarding
gift certificates
,
gift bags
, and
autographed
items! Anything
unique
is great, too!
To help you get started, here is
information about Reading to Kids
you can share with potential donors (such as where you work or shop), as well as a
donation form
for them to download and fill out.
If you work at or have a connection with products or services to offer, please help us by asking for a donation to our events.
_______________________________________________
NOVEMBER 13TH READING CLUBS ON ZOOM,
RSVPS TO OPEN NEXT WEEK
We are eager for next month's virtual summer reading clubs on November 13th and continue to recruit teachers to be Zoom hosts for every grade.
Next week we will email how you can submit your RSVP for those "Seasons & the Natural World" reading clubs! Or, just keep checking our website!
(We are also in regular communication with the principals about when we may be able to return to in-person reading clubs on their campuses.)
_______________________________________________
SUPPORT OUR
2021 MARATHON RUNNERS
HELP US HAND OUT WATER DURING THE RACE!
Help represent Reading to Kids during the Los Angeles Marathon on November 7th by handing out water to the runners!
Our group will be at Water Station Mile 5 at Glendale Blvd., between Bellevue and Kent St. in Echo Park, on Sunday, November 7th from 5am - 11am.
Click this link to sign up. Our group is Reading to Kids and our shift location should be listed in green. Click the box to the green J05 Water Station Mile 5 shift, complete the form, and sign up to volunteer!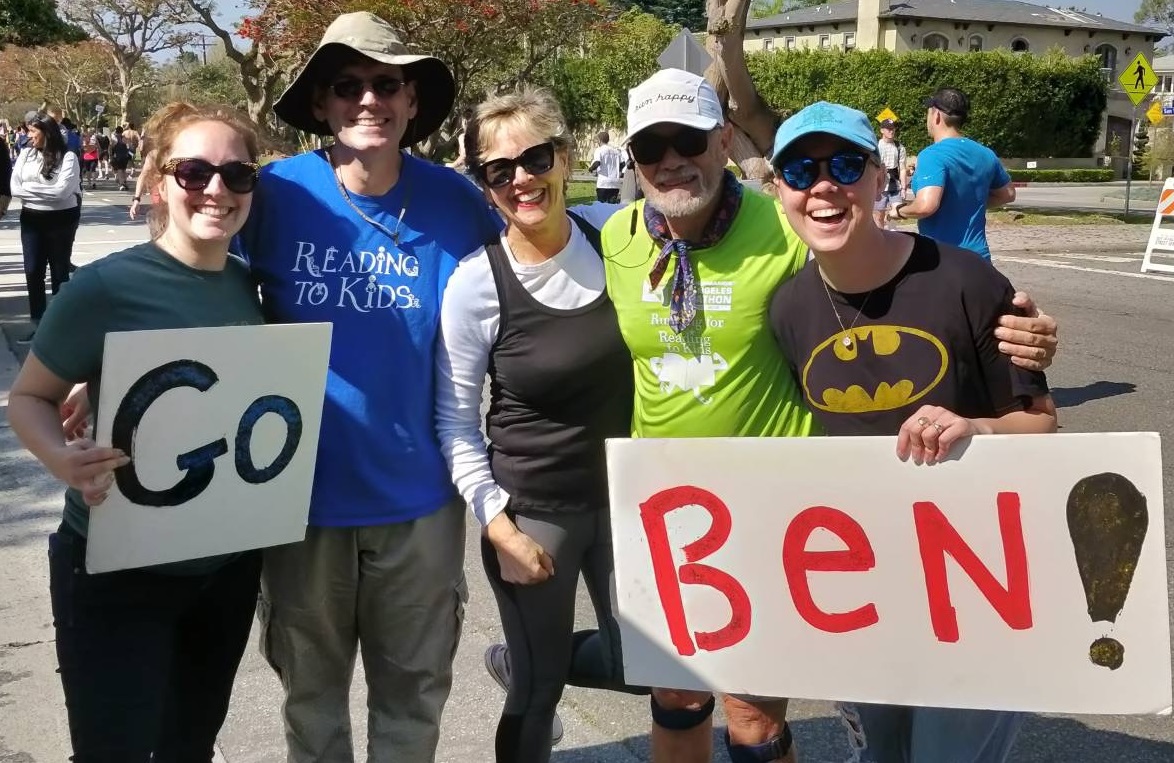 If you can't join us at the above, then donate your support!
Our 2021 runners have until November 7th to reach their $10,000 fundraising goal! If you can donate a buck a mile to your favorite runner, you'll help fuel them towards the finish line!

With every mile they train and every dollar they raise, these valiant souls help you inspire kids with a love of reading.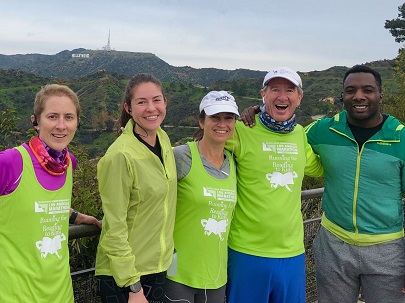 NINE RUNNERS NEEDED FOR THE
2022 LA MARATHON,
13.1 MILE CHARITY CHALLENGE,
OR 5K!
Do you know any runners? Are you a runner? Please forward this email to them and ask them to join Team Reading to Kids in the 2022 Los Angeles Marathon on Sunday, March 20th!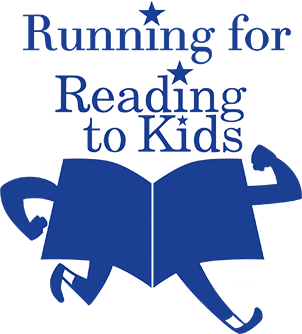 We're looking for at least three more marathon runners and six Charity Challenge runners (the last 13.1 miles of the course) to join us in one of the best marathons in the country.
If either of those distances is too daunting, you can join us in the LA Big 5K (that's just 3.1 miles) near Dodger Stadium the day before the marathon on Saturday, March 19, 2022.
You can share this Facebook group with any of your runner friends to encourage them to join our team!
If you or a runner you know is interested in becoming one of our fundraising runners or creating a fundraising team, please email Chris Martin at marathon@readingtokids.org!
IMPORTANT NOTE: To register to run on behalf of Reading to Kids, you MUST receive from us a special web address to use when registering on the Los Angeles Marathon website.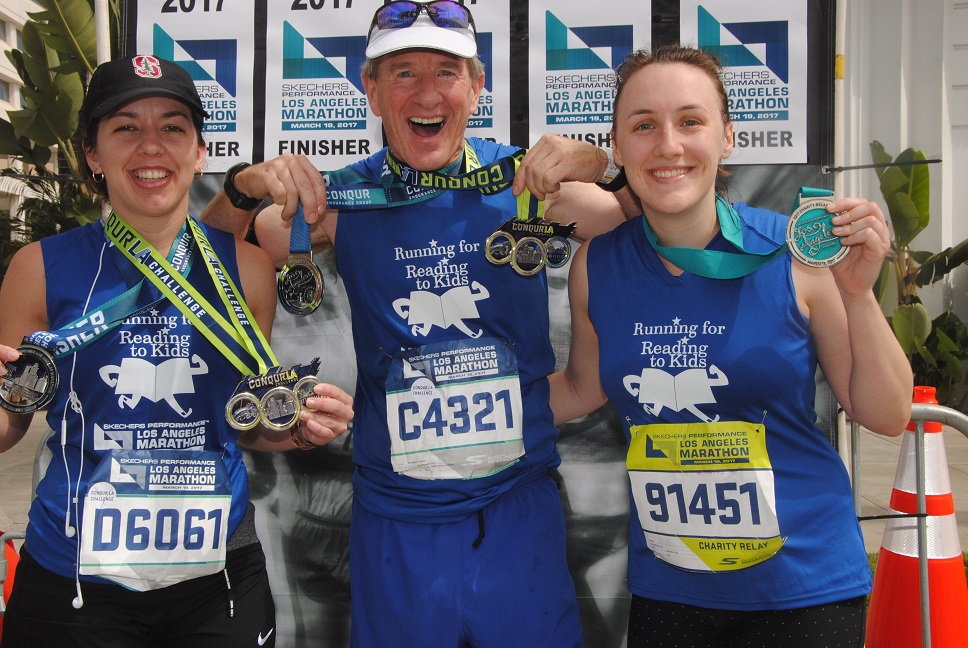 _______________________________________________
ANNUAL FUND DRIVE CURRENT LEADERS -
DOUBLE YOUR DONATION FOR YOUR SCHOOL!
Our 2021 Annual Fund Drive is off and running with $6,010 donated from 45 donors!
Those who have donated can see their names listed on our 2021 Annual Fund Drive page. If you have not yet donated, please donate today so we can add your name there, too.
Here are the school competition stats so far:
SCHOOL COMPETITION LEADERS!
Highest dollar amount raised so far:
1st: Esperanza ($1,195!)
2nd: White ($375)
3rd: Los Angeles ($175)
All of these donations will be doubled by the below
matching donors at every school,
and their offers still stand!
That's right, anyone can double your donation and change the above standings by donating this week! Just donate via our Annual Fund Drive page and indicate your school in the notes or comments field of your donation!
Alta Loma:
Jordan Neysmith matching up to $1,000 combined donations
Esperanza:
Jill Durkin matching up to $1,500 combined donations
Gratts:
Bernice Hernandez matching up to $1,000 combined donations
Los Angeles:
Sean Morris matching up to $250 combined donations
MacArthur Park:
Mary Abdo matching up to $500 combined donations
Magnolia:
An anonymous donor matching up to $1,000 combined donations
Politi:
An anonymous donor matching up to $250 combined donations
White:
Robyn Chew matching up to $1,000 combined donations
Help us reach the above matches by donating today!
Our overall goal by the end of the year is to raise $60,000 from 600 donors.
Here's how you can help, with your donations being counted towards the school competition:
1) Make a pledge to donate by check or donate online today by visiting our 2021 Annual Fund Drive. Contributions of any amount are greatly appreciated!
2) Show your support by asking friends and family to contribute! Visit our 2021 Annual Fund Drive page and look under the "Help us Fundraise!" header for resources, including information on creating your own personalized fundraising page on Facebook, our handy donor sheet for raising money with your friends and co-workers, tips for fundraising, and so much more.
Once they know about Reading to Kids, many of your friends and family will want to donate - we just need you to ask!
Also, if your workplace matches donations to nonprofits, please share with them your donation, and ask them to consider matching it. In this way you double your donation and share with others your enthusiasm for Reading to Kids!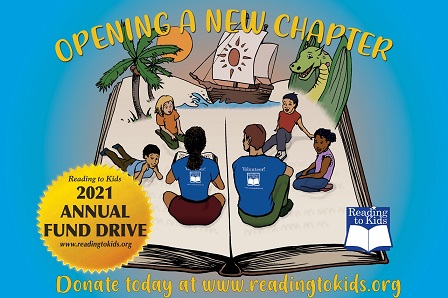 _______________________________________________
Thanks, and we hope to see you at any or all of the above!