Dear Friends of Reading to Kids,
Do you follow us on Twitter? Did you know we have been tweeting about our read-aloud books, interesting literacy milestones and events, Reading to Kids news, and our volunteers?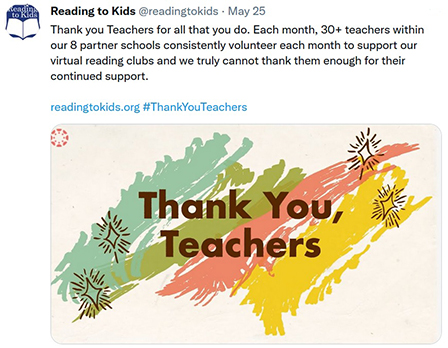 Join us and help spread the word by tweeting about @readingtokids!
_______________________________________________
JUNE 12TH READING CLUBS RSVPS
TO OPEN NEXT THURSDAY, JUNE 3RD
We have already recruited 23 Zoom teacher hosts for next month's virtual reading clubs on June 12th!
Next Thursday, June 3rd, at about 11am we will open the RSVPs at www.readingtokids.org for those "Friendship & Fun" reading clubs!
Our summer reading clubs are also smaller, so mark your calendars for July 10th and August 14th, too. Help us keep students reading throughout the summer!
OPERATIONS VOLUNTEERS NEEDED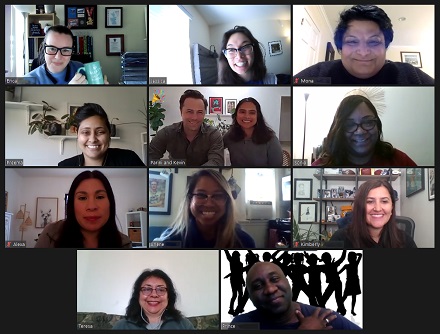 For our virtual reading clubs we need experienced volunteers to
help train volunteers to use Zoom or be a second or third virtual Site Coordinator
in our Zoom reading clubs for any of our schools.
Being a Site Coordinator guarantees you a (non-reading) spot at our next reading clubs, so please e-mail us at
info@readingtokids.org
if you can help us create wonderful reading clubs!
_______________________________________________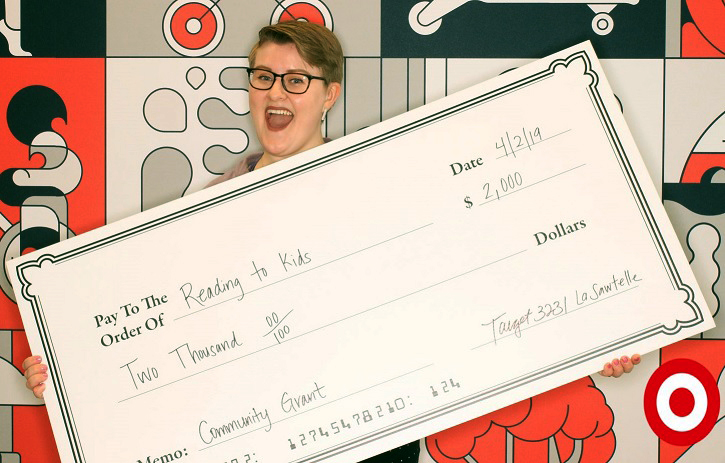 Did you know Reading to Kids receives about half of our funding from corporation and foundation grants? For example, over the last five years alone eight of our volunteers helped us receive $160,000 in grants from their employers!
Please check to see if your employer offers grants that Reading to Kids can apply to and let us know at info@readingtokids.org! You may help us buy thousands of books for kids!
_______________________________________________
Thanks, and we share our appreciation to all our veterans this Memorial Day weekend.