Tonight
we're playing
Legendary Bingo
at
Hamburger Mary's
in West Hollywood!
We need more bingo players, so whether or not you can go, please share our May 2nd Bingo event on Facebook by tagging and inviting your friends!
Please also click the image below for a flyer in .PDF format, and forward it to anyone you know who may be interested in going to our Legendary Bingo Night. You can also print out the flyer and post it wherever many people are likely to see it, perhaps with a note that you are going and inviting others to join you.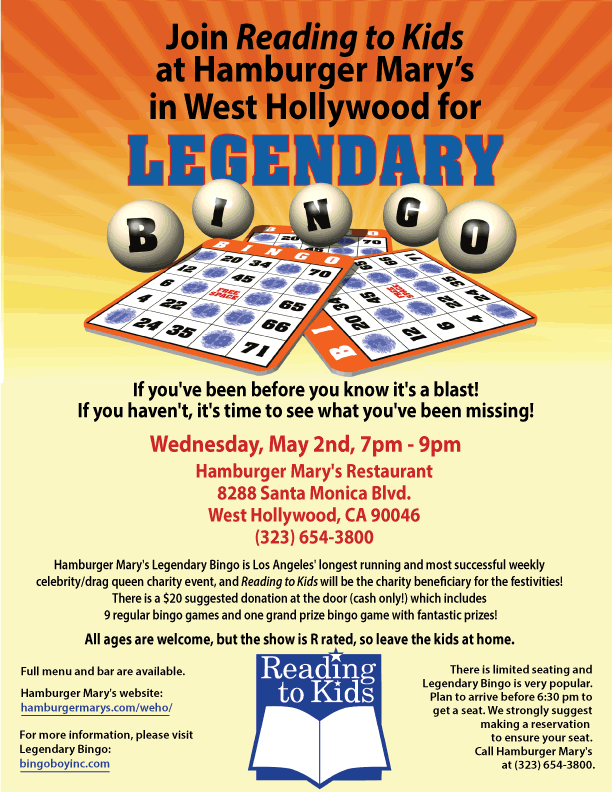 WHEN:   Tonight, May 2, 7pm - 9pm
WHERE: Hamburger Mary's Restaurant
              8288 Santa Monica Blvd.
              West Hollywood, CA 90046
              (323) 654-3800
Cost:  $20 suggested donation (cash only, please!), which includes 9 regular bingo games and one grand prize bingo game with fantastic prizes!
Legendary Bingo is very popular and there is limited seating available. Plan to arrive before 7:00 p.m. to get a seat. We strongly suggest making a reservation (you must have a party of 4 or more) at Hamburger Mary's to ensure your seat.
_______________________________________________
RSVP, RECRUIT, & HELP AT THE
MAY 12TH READING CLUBS
_______________________________________________
BE A SCHOOL AMBASSADOR NEXT WEEK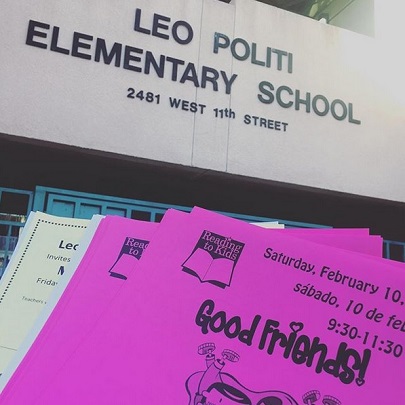 _______________________________________________
_______________________________________________