Dear Friends of Reading to Kids,
We're looking for another 178 readers to join the book party and sign up here for our March 10th "Music & Celebrations" reading clubs!

Spread the word by also joining our March 10th Facebook event to invite your friends to the celebration, too.
Talented musicians will be sharing the gift of music with students at each of our eight schools. Click here to find out who will be performing at your school!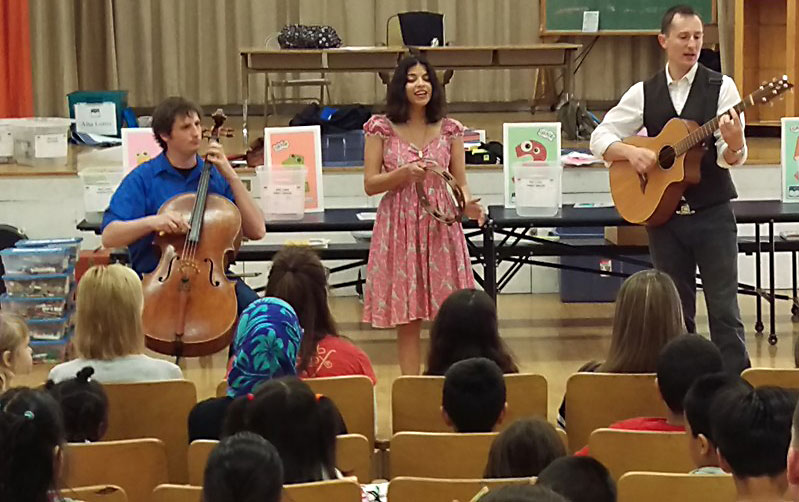 We still need a few more musicians, so if you or someone you know can share the gift of music on the 10th, please contact us at info@readingtokids.org.
_______________________________________________
READ ACROSS AMERICA NEXT FRI. 3/2 AT
LOS ANGELES ELEMENTARY
OR ASPIRE JUANITA TATE ACADEMY
In celebration of Dr. Seuss's birthday, the week of Feb. 26 - March 2 is Read Across America Week. One of our partner schools, Los Angeles Elementary, and another school near the 110 at Slauson, Aspire Juanita Tate Academy, are holding events next Friday, March 2nd, and they need our help!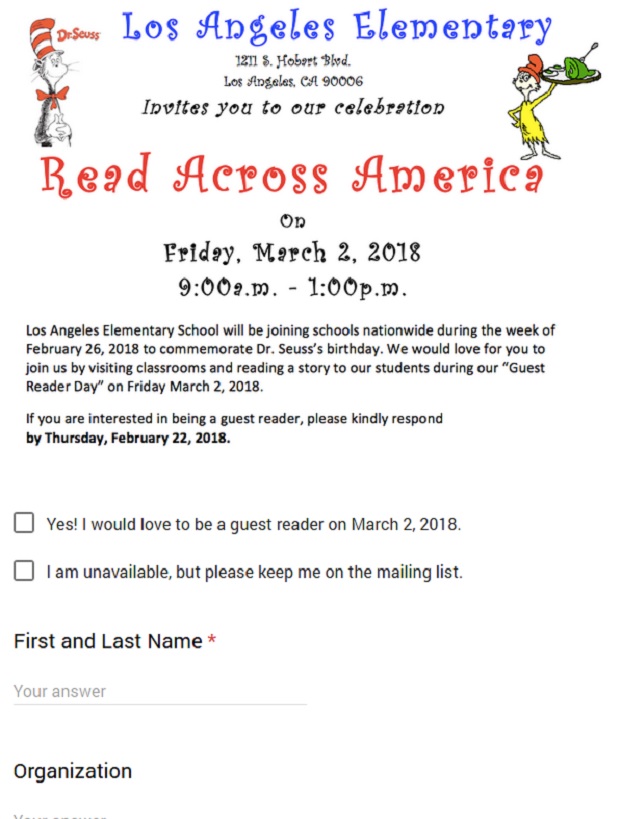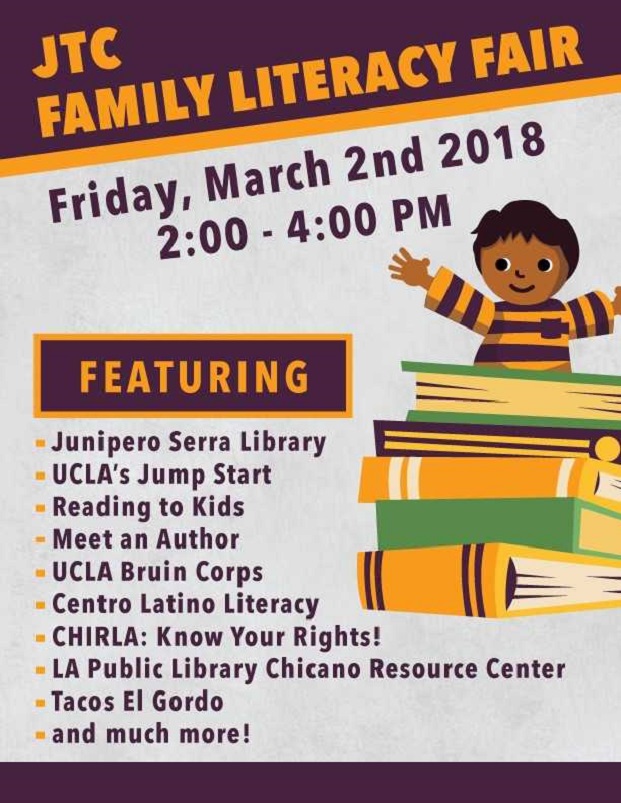 Interested in volunteering? To be a guest reader at Los Angeles Elementary next Friday, March 2, click either the above image on the left or this link to register with them. For more info., call Ms. Jasso at (323) 734-8233 or email her at jacqueline.jasso@lausd.net.
To be a guest reader in our booth at the Aspire Juanita Tate Academy Literacy Fair next Friday, March 2, please email us at info@readingtokids.org. We'll then put you in contact with Anna Ramirez, their librarian.
Click the images above for more information about Los Angeles and Aspire Juanita Tate Academy Elementary.
Both schools can really use you, our experienced Reading to Kids volunteers, to show the kids and other volunteers how reading aloud is done!
_______________________________________________
CAN'T RUN 26 MILES?
THEN DONATE TO SUPPORT OUR
MARATHON RUNNERS!
HAND OUT WATER DURING THE RACE!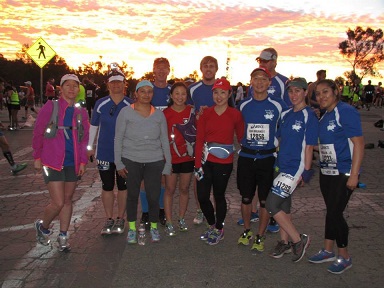 Please support Team Reading to Kids as they run the Skechers Performance Los Angeles Marathon on March 18th!
So far they have raised $7,072 while training for hundreds of miles. They have until March 18th to reach their $20,000 fundraising goal! If you can donate a buck a mile to your favorite runner, you'll help fuel them towards the finish line!

With every mile they train and every dollar they raise, these valiant souls help you inspire kids with a love of reading.
HAND OUT WATER DURING THE RACE!
Help represent Reading to Kids during the marathon by handing out water to the runners! You get a free LA Marathon t-shirt, too, as explained at their volunteer FAQ.
Our group will be at Water Station Mile 5 at Glendale Blvd., between Bellevue and Kent St. in Echo Park, on Sunday, March 18th from 5am - 11am.
Click this link to sign up. Our group is Reading to Kids and our shift location should be listed in green. Click the box to the green J05 Water Station Mile 5 shift, complete the form, and submit!
_______________________________________________
PLEASE HELP US FIND
BINGO PRIZE & AUCTION ITEMS
Our next Legendary Bingo fundraiser at Hamburger Mary's in West Hollywood is set for May 2nd, and we need your help gathering prizes for the bingo winners! Please help support this and other future fundraisers (including our silent auctions) by helping us gather prize donations.
To help you get started, here is information about Reading to Kids to share with potential donors, as well as a donation form for them to complete.
We especially enjoy awarding gift certificates, amusement park and theater tickets, gift bags, and autographed items! Anything unique is great, too! If you work at or have a connection with products or services to offer, please help us by asking for a donation to our events.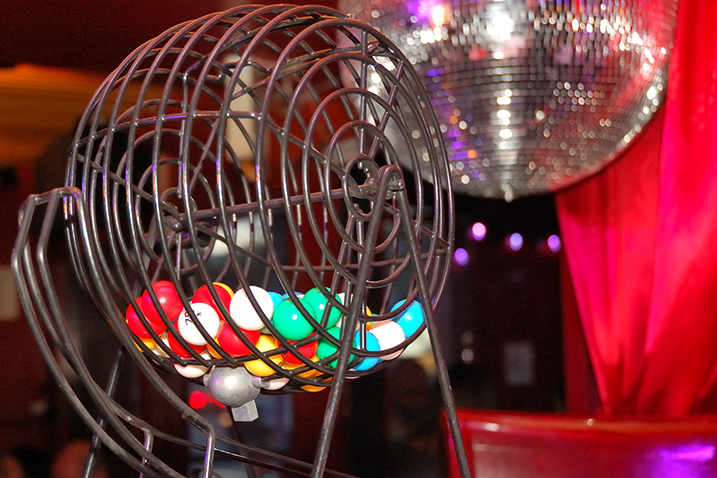 For details on any of our events, check out our handy calendar on our website!
_______________________________________________
Thanks, and please sign up today for our March 10th "Music and Celebrations" reading clubs!