It was a blast heading back to school and welcoming 1,026 kids, 478 volunteers, 160 parents, and 29 teachers & staff to our September reading clubs!
Here's a photo of our MacArthur Park volunteers after Saturday's clubs!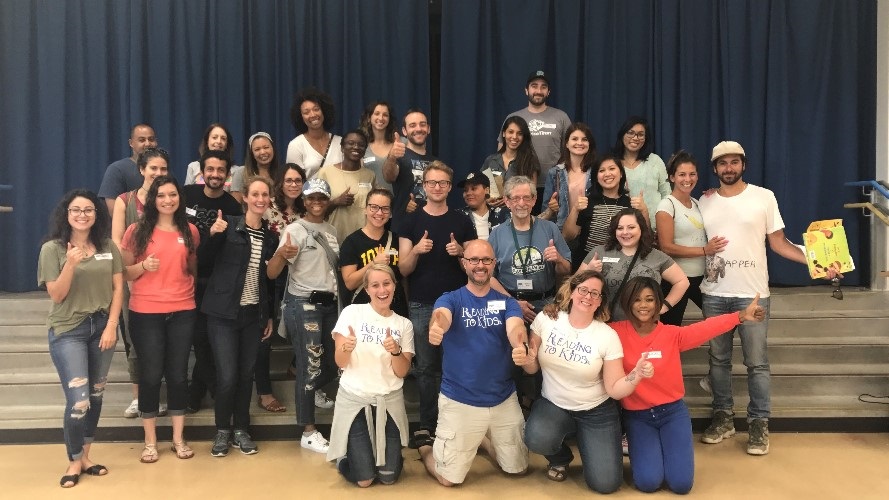 Of the 31 volunteer groups who participated, we especially thank the Junior League of Los Angeles for bringing 64 volunteers!
OCTOBER 8TH READING CLUBS
+ MAGICIANS
Please be sure to sign up for the next reading clubs! Submit your RSVP here for our "Halloween, Magic, and Monsters" reading clubs on October 14th.
Our October reading clubs are
even more popular than September
, so sign up now and tell your coworkers, family and friends about your favorite volunteer opportunity! To help with that, after you
sign up
, please join our
October 14th Facebook event
, too.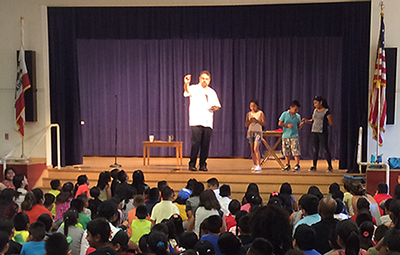 We will have magicians performing at each of our eight schools, and encourage all volunteers to dress up in school-appropriate Halloween costumes!
_______________________________________________
BEACH BONFIRE THIS SATURDAY,
HAPPY HOUR & BINGO!
For details on each of the events below, check out our handy calendar on our website.

This Sat. Sept. 16 – Beach Bonfire from 1-9pm at Dockweiler State Beach. We'll be soaking up the last bit of summer with sun, sand, and a bonfire as the sun sets!


Next Wed. Sept 20
–
Happy Hour Mixer
from 6-8 pm at The Prince Restaurant & Bar, 3198 1/2 W 7th Street, Los Angeles, CA 90005 (at the corner of 7th St. & Catalina Street). Valet Parking is only $2.
Click here for the Meetup
! Occasionally the Prince closes for filming, so if it is closed when we arrive, we will move to the HMS Bounty, just around the corner!
LEGENDARY BINGO WED. OCTOBER 4TH -
PLEASE SHARE OUR FLYER!
On Wednesday, October 4th, join Reading to Kids for Legendary Bingo at Hamburger Mary's in West Hollywood!
The drinks are strong, the drag queen bingo is "R" rated, and seating is limited, so be sure to reserve your seat in advance!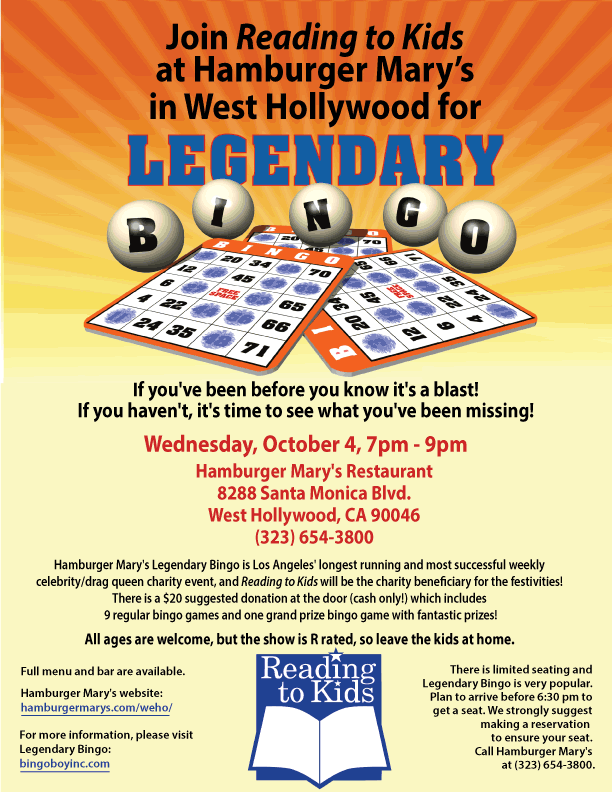 If you've been before you know it's a blast. If you haven't, click here for a video of one of our previous winners to see what you've been missing!
Please click the image above for a flyer in .PDF format, and forward it to anyone you know who may be interested in going to our Legendary Bingo Night. You can also print out the flyer and post it wherever many people are likely to see it, perhaps with a note that you are going and inviting others to join you.
WHEN: Wednesday, October 4, 7pm - 9pm
WHERE: Hamburger Mary's Restaurant
8288 Santa Monica Blvd.
West Hollywood, CA 90046
(323) 654-3800
Cost: $20 suggested donation (cash only, please!), which includes 9 regular bingo games and one grand prize bingo game with fantastic prizes!
Legendary Bingo is very popular and there is limited seating available. Plan to arrive before 7:00 p.m. to get a seat. We strongly suggest making a reservation (you must have a party of 4 or more) at Hamburger Mary's to ensure your seat.
All proceeds go to Reading to Kids. For more details, visit our Oct. 4th Bingo event on Facebook and invite your friends!
HELP FIND MORE BINGO PRIZES & A CELEBRITY!
You can also
help us gather more prizes
for the bingo winners! To help you get started, here is
information about Reading to Kids
you can share with potential donors, as well as a
donation form
for them to complete.
A fantastic prize you can buy for us is a copy of Drag Queen Bingo: The Home Game! Please let us know if you are willing to buy a copy for $30 and donate it as a prize for our bingo winners!
We'd also like to have a celebrity host as a bingo caller. Please reply to this email if you can personally reach out to any celebrities who would like to help your favorite good cause!
_______________________________________________
5 MORE MARATHON RUNNERS NEEDED
Do you know any runners? Are you a runner? Please forward this email to them and ask them to join Team Reading to Kids in next year's 2018 Skechers Performance Los Angeles Marathon on Sunday, March 18th!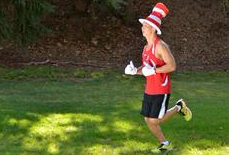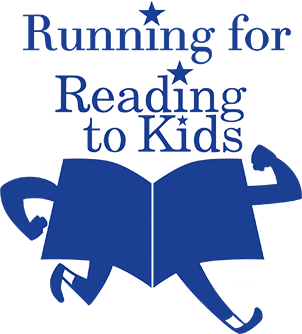 We're looking for five more full marathon runners and two Stadium vs. The Sea Charity Challenge runners (approx. 13 mile course) to join us in one of the best marathons in the country. You can share this Facebook group with any of your runner friends to encourage them to join our team!
Runners can run either the full marathon or the Stadium vs. The Sea Charity Challenge, and the dollars raised will go to support our monthly reading clubs.
If you or a runner you know is interested in becoming one of our fundraising runners or creating a fundraising team, please email Chris Martin at marathon@readingtokids.org!
IMPORTANT NOTE: To register to run on behalf of Reading to Kids, you MUST receive from us a special web address to use when registering on the Skechers Performance Los Angeles Marathon website.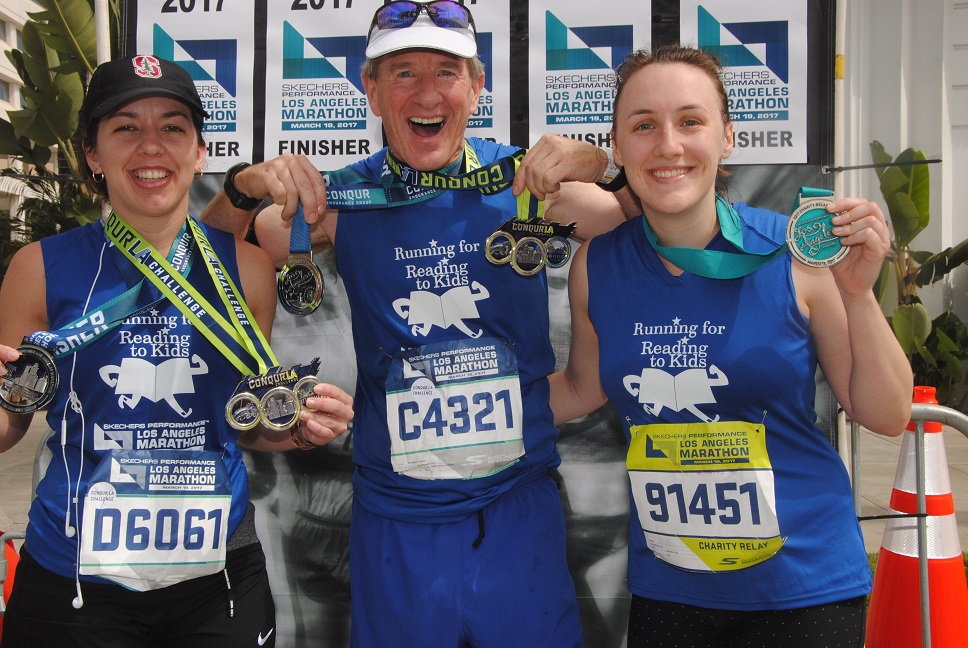 _______________________________________________
READING TO KIDS ON THE RADIO
THIS WEEKEND
Reading to Kids Managing Director Charlie Orchard was a recent guest on the Openline radio program with host (and Reading to Kids volunteer) Tami Heide!
Here's where you can hear their chat about books and Reading to Kids this weekend:
93.1 JACK FM /KCBS FM and 94.7 the WAVE/KTWV FM at 6 AM this Saturday, 9/16
101.1 KRTH FM at 5 AM this Sunday, 9/17
106.7 KROQ FM and 97.1 Amp Radio/KAMP FM at 6 AM this Sunday, 9/17
We also plan to post the interview on our website, once we receive a copy of it.
_______________________________________________
Thanks, and please sign up and recruit for our October 14th reading clubs!