This can be a lot of fun and we'll provide everything you need. Please reply to this email or call the office at
if you can be an Ambassador.
Reading to Kids is hiring a Literacy Coordinator through AmeriCorps for a 12 month position starting in August! The position is posted on our website, where you can read it by clicking on the Literacy Coordinator button below Latest News.

Please also share the above link to the position with anyone you think would be a good fit, especially if they have volunteered with us as readers or other roles.
Join
Reading to Kids
for
Legendary Bingo
at
Hamburger Mary's
in West Hollywood!
The drinks are strong, the drag queen bingo is "R" rated, and seating is limited, so be sure to reserve your seat in advance!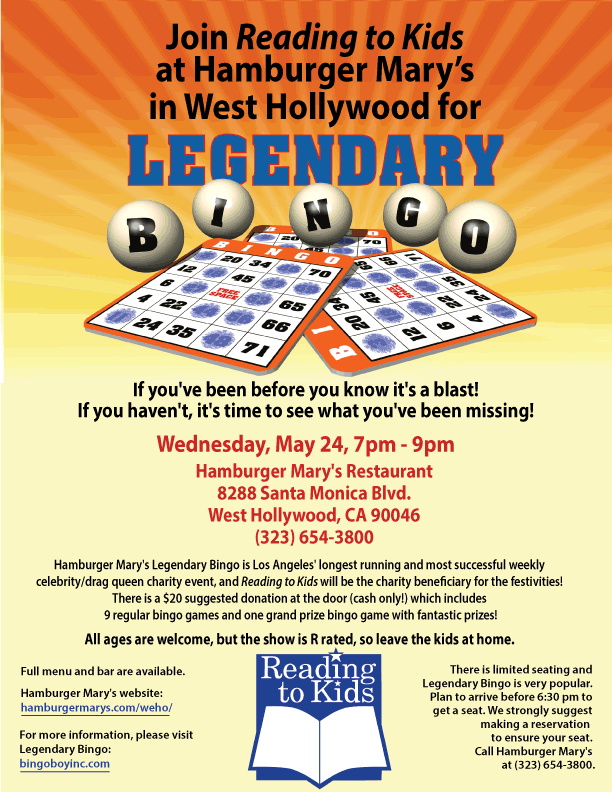 If you've been before you know it's a blast. If you haven't, click here for a video of one of our previous winners to see what you've been missing!

Please click the image above for a flyer in .PDF format, and forward it to anyone you know who may be interested in going to our Legendary Bingo Night. You can also print out the flyer and post it wherever many people are likely to see it, perhaps with a note that you are going and inviting others to join you.

WHEN: Wednesday, May 24, 7pm - 9pm
WHERE: Hamburger Mary's Restaurant
8288 Santa Monica Blvd.
West Hollywood, CA 90046
(323) 654-3800
Cost: $20 suggested donation (cash only, please!), which includes 9 regular bingo games and one grand prize bingo game with fantastic prizes!

Legendary Bingo is very popular and there is limited seating available. Plan to arrive before 7:00 p.m. to get a seat. We strongly suggest making a reservation (you must have a party of 4 or more) at Hamburger Mary's to ensure your seat.

All proceeds go to Reading to Kids. For more details, visit our May 24th Bingo event on Facebook and invite your friends!

HELP FIND MORE BINGO PRIZES & A CELEBRITY!

You can also help us gather prizes for the bingo winners! To help you get started, here is information about Reading to Kids you can share with potential donors, as well as a donation form for them to complete.

A fantastic prize you can buy for us is a copy of Drag Queen Bingo: The Home Game! Please let us know if you are willing to buy a copy for $30 and donate it as a prize for our bingo winners!



We'd also like to have a

celebrity host as a bingo caller

. Please contact us at

info@readingtokids.org

if you can personally reach out to any celebrities who would like to help your favorite good cause!

_______________________________________________

HARRY POTTER 3 AT THE HOLLYWOOD BOWL
WITH READING TO KIDS ON JULY 8TH

On Saturday, July 8th (after our July reading clubs), join fellow Reading to Kids volunteers as we watch a screening of Harry Potter and the Prisoner of Azkaban at the Hollywood Bowl - with the soundtrack performed live by the L.A. Philharmonic!

We'll start at 5pm with a picnic in area 13 across the street from the Bowl. At 7:30pm we'll head to our seats towards the back of the bowl in section V1. The movie begins at 8pm.

Tickets are $17 each. E-mail Chris Martin at chrisp90038@yahoo.com to purchase before he sells out!

Please also RSVP to our Facebook event, and you can click the images below for details and a map.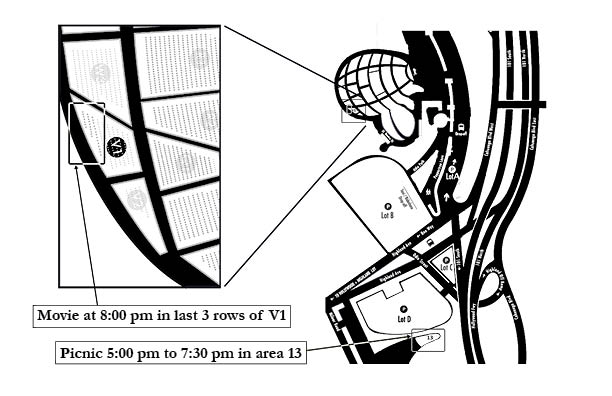 _______________________________________________
Thanks, and don't forget to sign up to join us for May 13th!