At our November 12th reading clubs we'll be celebrating college spirit, so dig out your college sweatshirt or hat and wear your colors with pride. We always look forward to seeing which college brings the most spirit. If you would like to organize a group from your university or alumni organization, please e-mail us at info@readingtokids.org or call (310) 479-7455. Sign up now to ensure your spot by clicking here to RSVP. We expect a lot of new volunteers in November, so please sign up early! Then help spread the word by also joining our November 12th Facebook Event.
_______________________________________________
LEGENDARY BINGO THIS WEDNESDAY!
This Wednesday, October 19th we're playing Legendary Bingo at Hamburger Mary's in West Hollywood!
If you've been before you know it's a blast. If you haven't, click here for a video of one of our winners last year to see what you've been missing!
There is a $20 suggested donation at the door (cash only, please!) which includes 9 regular bingo games and one grand prize bingo game with fantastic prizes! Remember, the show is R rated and a ton of fun.
WHEN: Wednesday, October 19th, 7pm - 9:00pm
WHERE: Hamburger Mary's Restaurant
8288 Santa Monica Blvd.
West Hollywood, CA 90046
(323) 654-3800

Legendary Bingo is very popular and there is limited seating available. Plan to arrive before 7:00 p.m. to get a seat. We strongly suggest making a reservation (you must have a party of 4 or more) at Hamburger Mary's to ensure your seat.
All proceeds go to Reading to Kids. For more details, visit our Bingo event on Facebook and invite your friends!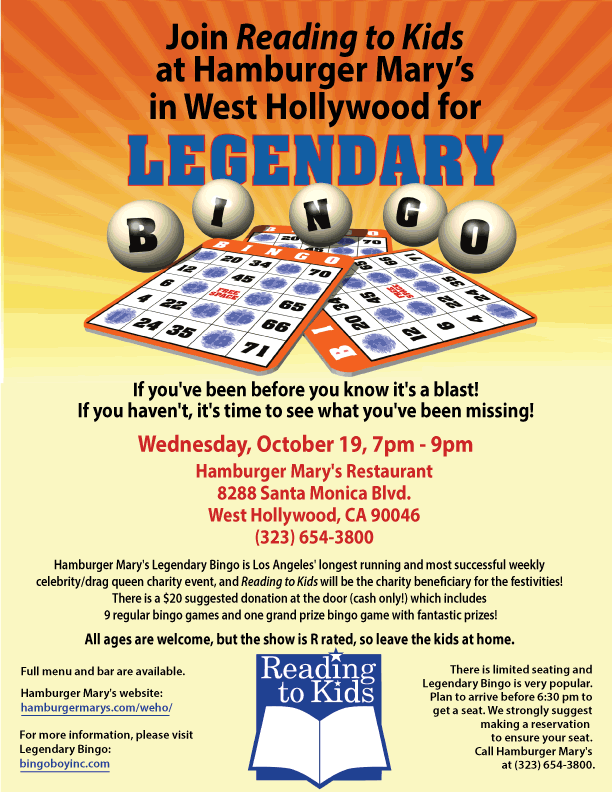 Please click the image above for a flyer in .PDF format, and forward it to anyone you know who may be interested in going to our Legendary Bingo Night. You can also print out the flyer and post it wherever many people are likely to see it, perhaps with a note that you are going and inviting others to join you. Be there or be square!
_______________________________________________
COLLEGE LOGO ITEMS NEEDED FOR NOV. 12TH READING CLUBS
As we mentioned above, November is our college spirit month, and we want to give each child who attends something small with a college insignia on it.
If you can obtain college-related items, stickers are always a hit with the younger kids. For the older kids we like to give them pins/buttons, pens, pencils, notebooks, etc. But really, anything with a college logo will help plant the seeds of college interest.
If you work at or have a connection with a college, please help us by asking for a donation of items with that college's insignia. If you like, you can click this link for a request letter/email you can send. Great sources of items with your college's logo are the athletic department and the bookstore!
To "sponsor" one grade at one school, we need about 40 of one item. To sponsor all of one grade at all 8 schools, then we need about 300 of one item. And anything in between would be very helpful!
_______________________________________________
ANNUAL FUND DRIVE LAUNCHED!
SCHOOL COMPETITION WINNERS!
We extend a huge thank you to everyone who has already donated to our 2016 Annual Fund Drive, including 107 volunteers who collectively donated $3,524 this past Saturday! The October reading clubs were a great kickoff to the Annual Fund Drive, which goes on through the end of the year. You can donate any time!

School Competition Winners


Highest percentage of volunteers who donated at the Oct. 8th reading clubs:
1st: Politi Elementary (40%!)
2nd: Gratts Elementary & MacArthur Park Elementary (tied)

Highest dollar amount raised at the Oct. 8th reading clubs:
1st: Esperanza Elementary
2nd: MacArthur Park Elementary

Our overall goal by the end of the year is to raise $50,000 from 500 donors.

Here's how you can help, with your donations also counting towards the school competition:

1) Make a pledge to donate by check or donate online today by visiting our 2016 Annual Fund Drive. Contributions of any amount are greatly appreciated!

2) Show your support by asking friends and family to contribute! Visit our 2016 Annual Fund Drive page and look under the "Help us Fundraise!" header for resources, including information on creating your own personalized fundraising page, our handy donor sheet for raising money with your friends and co-workers, tips for fundraising, and so much more.

Once they know about Reading to Kids, many of your friends and family will want to donate - we just need you to ask!

Also, if your workplace matches donations to nonprofits, please share with them your donation, and ask them to consider matching it. In this way you double your donation and share with others your enthusiasm for Reading to Kids!

_______________________________________________
CRAFTS & CURRICULUM MEETING SUNDAY, 10/23
On Sun. Oct. 23, join the Curriculum Committee at Noon in the Reading to Kids offices to help create the activity and craft guides for the November books! Our address is 1600 Sawtelle Blvd, Suite 210, Los Angeles, CA 90025.

For details on all our events and more, check out our calendar!
_______________________________________________
Thanks, and we hope to see you at our upcoming events!