This month, 418 kids, 182 volunteers, 70 parents, and 19 teachers & staff helped to make our August 13th reading clubs our biggest August in six years!
Missed out on the fun? Sign up today for our September 10th reading clubs before they fill up!
At Esperanza Elementary we had another volunteer reach our
100th reading clubs
milestone!
Cliff Marcus
read his 100th time with us on Saturday, becoming our 16th volunteer to participate for 100 Saturday mornings!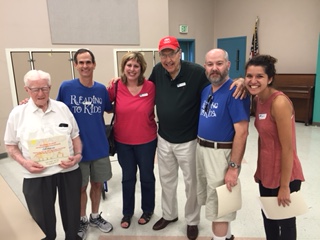 Cliff (left) is pictured next to fellow 100+ reading clubs volunteers
Mark May
(Esperanza Site Coordinator),
Cathy Ostiller
,
Jim Ostiller
,
David Rickard
(180th reading club), and
Kaitlin Schluter
(30th reading club and Esperanza Site Coordinator).
_______________________________________________
We will need hundreds of volunteers for our September reading clubs, so please tell everyone you know about your favorite volunteer opportunity!
To get started, sign up with us today. Then join our September 10th Facebook event so your friends will see that you will be attending.
Tweet @readingtokids, post to Facebook, and email your friends, letting them know that we still need more volunteers.
Make sure to tell your friends and family:
1) The reading clubs are the morning of September 10th near Downtown LA
2) Volunteers must sign up online at www.readingtokids.org
3) The school at which you will be reading
You can also help us by printing out this flyer and posting it at coffee shops, the gym, your office, or favorite community bulletin board.
_______________________________________________
READING TO KIDS AMBASSADORS NEEDED!
Want to see the kids before September? The new school year just started, so we have many opportunities for you to help us promote Reading to Kids at our partner schools as a Reading to Kids Ambassador.
There are three different ways you can help out: Kindergarten Orientations, Teacher Breakfast Deliveries, and Back-to-School-Nights.
We'll supply everything you need, including what to say at the Kindergarten Orientations. Although it's great if you can speak Spanish (even a little), all of our parent materials are bilingual, and there's always someone who can translate for you at the school.
These events set the course for the rest of the year and are a wonderful way to interact with the kids, parents, and teachers.
If you are interested in being an Ambassador, please e-mail us at info@readingtokids.org or call (310) 479-7455.
_______________________________________________
BACK-TO-SCHOOL SUPPLIES NEEDED
FOR SEPTEMBER
For our September 10th reading clubs we are gathering school supplies to give away to each kid who attends that morning.
If you happen to have the following laying around (or want to pick some up at back-to-school sales), these are the specific items we are looking for:
NEW
Spiral notebooks
Colorful 2-pocket folders (e.g. Pee Chee folders)
3-ring binders
3-ring pencil pouches
Large erasers
Mechanical pencils (especially "fun" ones)
Stores such as Office Depot, Staples and Target are promoting great back-to-school specials. If you're going to be there anyway, why not pick up a folder or ten?
Please email us at info@readingtokids.org or call us at (310) 479-7455 if you have any supplies to donate. September is always a fun month, and made much more so with the giveaways!
_______________________________________________
UCLA VOLUNTEER DAY CAPTAINS NEEDED AT
ESPERANZA ON MONDAY, 9/19
One of our long-time volunteers, Rachel Corell, also volunteers with the UCLA Volunteer Center. This year they have selected one of our partner schools, Esperanza Elementary, as a service site on Monday, September 19! On that day, 100 Bruins will swarm the school to paint, learn, and play with the K-5 schoolchildren.
Rachel needs about 10-15 volunteer leaders to help guide the new UCLA students on some easy painting and interactive projects. The timeline is about 8am-1pm and includes breakfast, lunch, snacks, a volunteer shirt, some swag, and lots of thanks.
You do NOT have to be a UCLA student or graduate to help. If you're interested in volunteering, visit http://volunteerday.ucla.edu/leadership/ and sign up to be a Task Captain. Be sure to write "RC @ Esperanza" in the Zip Code/Area question to be matched to Rachel's site.
Principal Brad Rumble is excited to invite all of us to his school. If you have questions, please email Rachel at rachelcorell@gmail.com.
_______________________________________________
Thanks, and we hope to see you and your friends for our September 10th reading clubs!