Dear Friends of Reading to Kids,
Be a hero and join us for our "Fantasy, Folklore, & Fairytales" reading clubs on May 14th, the last big reading clubs of the school year!
We have just 9 days to find 84 more readers, so click here and submit your RSVP today.

Please also help recruit more volunteers by joining our May 14th Facebook event. You can then invite your Facebook friends, too.
(If you have signed up and can't make it, please cancel to make room for another volunteer.)
_______________________________________________
BE A SCHOOL AMBASSADOR NEXT WEEK
Next week between 7:30am and 2:30pm we need your help conducting quick classroom walk-throughs to encourage kids to come to our May 14th reading clubs.
This can be a lot of fun, and we'll provide everything you need. Please e-mail
info@readingtokids.org
or call
(310) 479-7455
if you can be an Ambassador.
_______________________________________________
JOIN US JUNE 1ST FOR LEGENDARY BINGO
Mark your calendars to play Legendary Bingo at Hamburger Mary's in West Hollywood! If you've been before, you know it's a blast. If you haven't, it's time to see what you've been missing!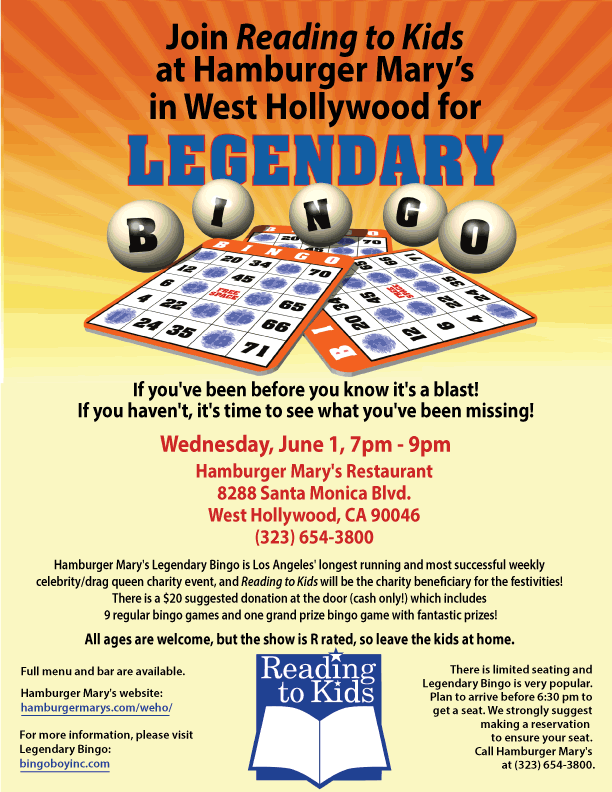 Click the image above for a flyer in .PDF format, and forward it to anyone you know who may be interested in going to our Legendary Bingo Night.
There is a $20 suggested donation at the door (cash only, please!) which includes 9 regular bingo games and one grand prize bingo game with fantastic prizes! Remember, the show is R rated and a ton of fun.
WHEN: Wednesday, June 1st, 7pm - 9:00pm
WHERE: Hamburger Mary's Restaurant
8288 Santa Monica Blvd.
West Hollywood, CA 90046

For more details, visit our Bingo event on Facebook and invite your friends!
Please also help us gather prizes for the bingo winners! To help you get started, here is information about Reading to Kids to share with potential donors, as well as a donation form for them to complete.
_______________________________________________
KNOW SOMEONE FAMOUS? COMEDIANS AND CELEBRITIES WANTED
If you personally know or have a solid connection to a well-known, headliner comedian who would be interested and available in performing for a Comedy Night fundraiser for us this year, please email us at info@readingtokids.org.
We'd also like to have a celebrity host for either our Comedy Night or as a bingo caller for our annual Legendary Bingo Nights on June 1st or October 19th. Please email us at info@readingtokids.org if you can personally reach out to any celebrities who would like to help your favorite good cause!
_______________________________________________
Thank you for your support!