Dear Friends of Reading to Kids,
We're still looking for another 150 more volunteers for our "Friendship & Family" reading clubs on February 13th. Please sign up today, then also join our February 13th Facebook event to share with your friends. Help recruit the volunteers we need!
_______________________________________________
DONATE TO SUPPORT OUR MARATHON RUNNERS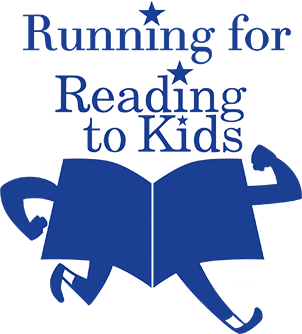 Please support Team Reading to Kids as they run the Skechers Performance Los Angeles Marathon on February 14th (Valentine's Day)!
Over the next two weeks they need your help to raise $7,250 more towards their overall goal of $13,600. If you can donate a buck a mile to your favorite runner, you'll help fuel them towards the finish line!

With every mile they train and every dollar they raise, these valiant souls help you inspire kids with a love of reading.
_______________________________________________
During the week of February 8th, for an hour or two between 7:30am and 2:30pm, we need your help conducting quick classroom walk-throughs to encourage kids to come to our February 13th reading clubs.
Please reply to
info

readingtokids.org
or call the office at
(310) 479-7455
if you can be an Ambassador.
_______________________________________________
BENEFIT CONCERT FOR READING TO KIDS
SAT. FEBRUARY 20TH
On Saturday, Feb. 20th Reading to Kids volunteer Candice Courtney and fellow singers Carrie Wade, Jaq Mackenzie, and Ainjel Emme are performing together as Girl Power - a benefit concert with proceeds supporting Reading to Kids!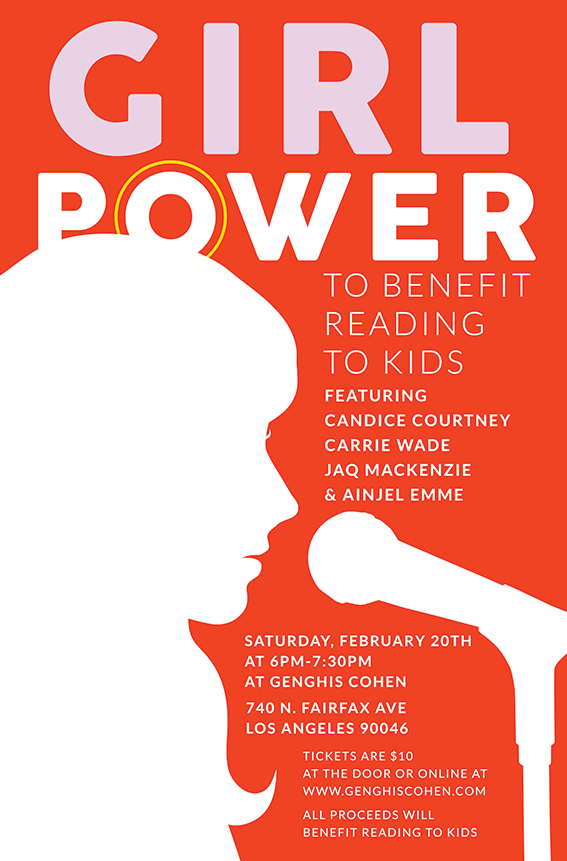 Join us for New York-style Sichuan Chinese food and playful cocktails as we enjoy their live music in an intimate space. Click the image above to see a flyer with all the details that you can share with your friends! You can also print out the flyer and post it wherever many people are likely to see it!
WHEN: Saturday, February 20, 6pm - 7:30pm
WHERE: Genghis Cohen Restaurant and Bar
740 N. Fairfax Avenue
Los Angeles, CA 90046
(323) 653-0640
Cost: $10, with tickets available at the door and (soon) online here.
All proceeds go to Reading to Kids. Please share your interest by visiting our Girl Power Reading to Kids Benefit Concert event on Facebook and inviting your friends!
_______________________________________________
We look forward to seeing you at all of our upcoming events!