Our December 12th reading clubs are this Saturday, and we need your help to make sure we have enough volunteers!
We currently need 143 more volunteers to bring the spirit of giving to an expected 1,200 plus kids eager to see Santa visit the schools!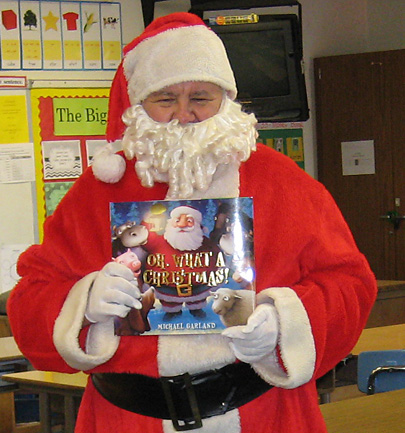 Here are 5 easy things you can do right now to help!
If you haven't already, please visit our website now and sign up.


"Join" our December 12th Facebook Event to let your friends know the fun you'll be up to on the 12th!


Tweet, post, pin, and tumble to all your friends and followers that we need more volunteers. Here's a sample post you can use:

"Santa + reading to excited kids + holiday spirit = the best way to spend your Saturday morning! My favorite volunteer organization, Reading to Kids, is looking for more volunteers for their reading clubs this Saturday. The theme is "The Spirit of Giving", and the kids are eager to see Santa when he visits the reading clubs that day.

Join me at ### Elementary School for a fun, heartwarming morning of reading to elementary school kids near downtown LA. To join me, sign up online before 3pm Friday at www.readingtokids.org."

If you write your own post, please be sure to include the following two things:

- The reading clubs are the morning of December 12th (this Saturday) near downtown LA
- Volunteers must sign up online at www.readingtokids.org before 3pm this Friday

If you have people in mind who you think would really like to read with us, tag them in your post. It will alert them to the reading clubs and show up in their friends' news feeds.


Copy from our email template at http://www.readingtokids.org/News/SampleVolRecruitEmail.pdf to encourage people you know to sign up to read with us!


Print out this flyer at http://readingtokids.org/ProMaterials/VolunteerTearOffFlyer.pdf and post it somewhere others will see it. Make it a personal and fun social event by including the school at which you'll be reading or encouraging them to read at Esperanza, Gratts, Los Angeles, Magnolia, Politi, or White Elementary!
Please help Reading to Kids bring joy to children this Saturday by inviting your friends, family and colleagues!