Our biggest reading clubs of the year are only 9 days away, and we need YOUR help to recruit another 168 readers!
To get started, sign up today. Then join our October 10th Facebook Event so your friends will see that you will be attending.
Please also start emailing and posting on your Twitter/Facebook/Instagram/ etc. that we need more volunteers.
Make sure to tell your friends and family:
1) The reading clubs are the morning of October 10th near Downtown LA
2) Volunteers must sign up online at www.readingtokids.org
3) The school at which you will be reading
Please also print out this flyer and post it in heavily populated locations such as coffee shops, the gym, your office or other various community centers. Make it a personal and fun social event by including the school at which you'll be reading. You can also use this easy email template to reach out to your friends and co-workers.
Together let's show the kids at our schools how much fun reading can be!
If you signed up for the reading clubs but can't join us, please cancel your RSVP so that another volunteer can read with us!
October means
magicians
! As in years past, all reading clubs will host a magician that we know the kids are eagerly anticipating. At these October reading clubs, feel free to wear fun, school-appropriate
Halloween costumes
, too!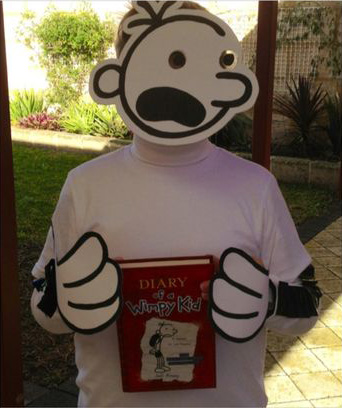 _______________________________________________
BRING YOUR GROUP TO READING TO KIDS
Would your co-workers love to join you at the reading clubs? Is your campus group looking for a fun volunteer opportunity? Does your alumni organization need an event to attend together? If the answer to any of these questions is yes, it is time to sign them up for Reading to Kids!
Reading to Kids Volunteer Groups recruit volunteers for the reading clubs. In addition to a fantastic volunteer experience, groups who regularly recruit and bring volunteers are thanked on our website as "Friends & Supporters."
For example, we had 97 members of Junior League of Los Angeles (a few pictured below) join us on September 12th. 10 members of Stanford Alumni CSC and 8 members of CAA also joined us at Esperanza and Politi, respectively.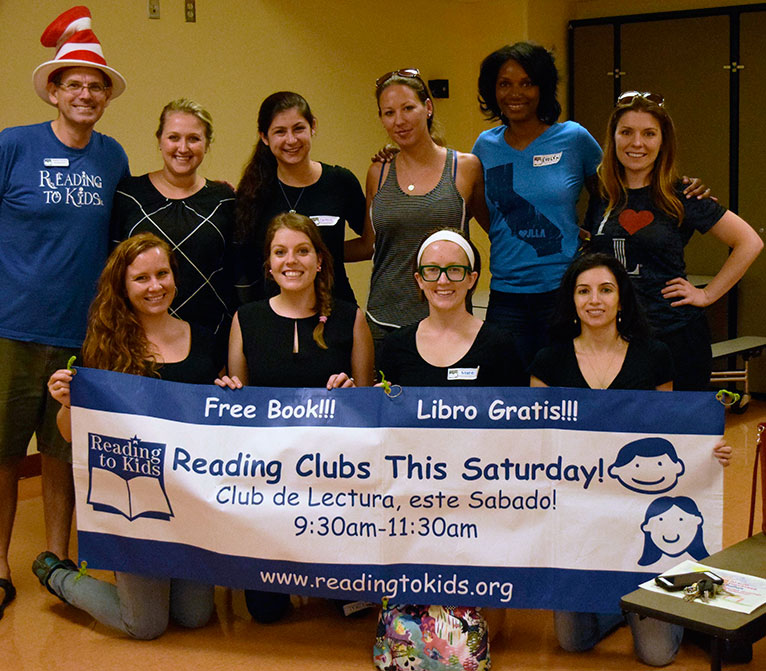 If you have a connection with a business, alumni association, campus group, or other organization whose members might enjoy volunteering with Reading to Kids, start recruiting now!
To sign up your group with Reading to Kids, e-mail us at info@readingtokids.org or call (310) 479-7455, and we'll get your group started!
_______________________________________________
CROSSWORDS LA TOURNAMENT NEEDS YOUR HELP SAT., OCT. 24

Crossword puzzle lovers from everywhere will be converging at the Crosswords LA tournament on Saturday, October 24 – with proceeds benefiting Reading to Kids!
The tournament will be held at the Fowler Museum at UCLA (in the Harry and Yvonne Lenart Auditorium), and Crosswords LA needs our volunteers to help! They need volunteers to set up portions of the event, greet and sign in contestants, and collect puzzle papers.
This tournament raises money for Reading to Kids, so if you can volunteer with them for either the full day or a half day, please e-mail us at info@readingtokids.org. Full day volunteers (8:30am – 4:45pm) get a free lunch! Let's show our volunteer spirit by supporting their efforts to help us!
_______________________________________________
JOIN US NOVEMBER 4TH FOR LEGENDARY BINGO
Mark your calendars for Legendary Bingo at Hamburger Mary's in West Hollywood!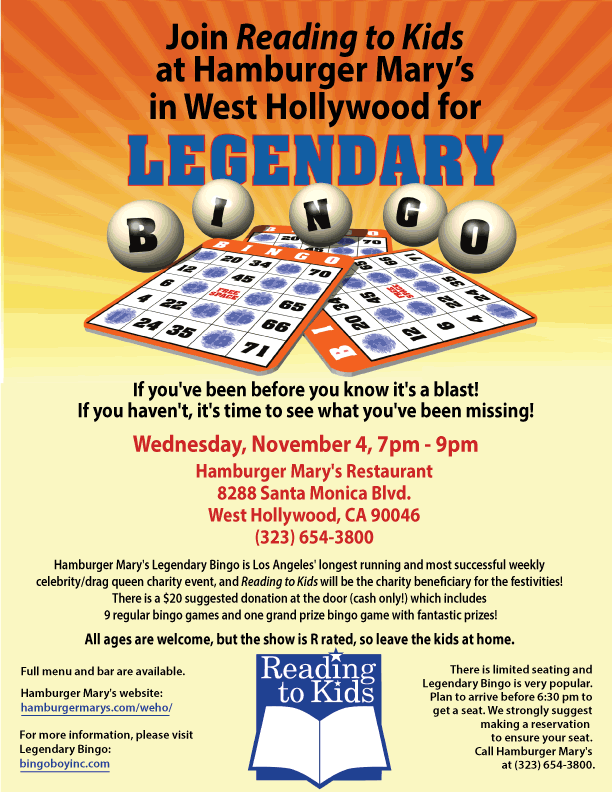 When
: Wednesday, November 4, 7 to 9 p.m.
Where
: Hamburger Mary's Restaurant
8288 Santa Monica Blvd.
West Hollywood, CA 90046
Cost:
$20 suggested donation (cash only, please!), which includes 9 regular bingo games and one grand prize bingo game with fantastic prizes!
For more details, visit our
Bingo event on Facebook
and invite your friends!
You can also help us gather prizes for the bingo winners! To help you get started, here is information about Reading to Kids you can share with potential donors, as well as a donation form for them to complete.

We'd also like to have a celebrity host as a bingo caller. Please reply if you can personally reach out to any celebrities who would like to help your favorite cause.

_______________________________________________
Join Team Reading to Kids in the 2016 Skechers Performance Los Angeles Marathon! Be a part of team Reading to Kids as you run in one of the best marathons in the country on Sunday, February 14th (Valentine's Day).
You can run either the full marathon or a half-marathon, and the dollars you raise will go to support our monthly reading clubs.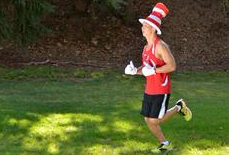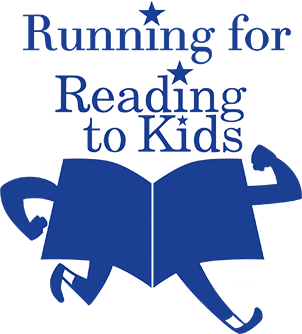 If you or a runner you know is interested in becoming one of our fundraising runners or creating a fundraising team, please email Chris Martin at marathon

readingtokids.org for all the details.
IMPORTANT NOTE: To register to run on behalf of Reading to Kids, you MUST receive from us a special web address to use when registering on the Skechers Performance Los Angeles Marathon website.
_______________________________________________
Thanks, and please help us find the volunteers we need signed up for the 10th!