Dear Friends of Reading to Kids,
Our October reading clubs are traditionally our largest of the year, so we'll need your help to recruit 318 more volunteers over the next two weeks!
If you haven't already, please join our October 10th Facebook Event. It really helps us when you do because your friends can see you're attending the reading clubs. Help us spread the word by inviting them to join! After you join, don't forget to go to our website and sign up with us.
It would also be a huge help if you printed out this flyer and posted it at your work or favorite community bulletin board. Please also use our convenient email template (in PDF) to recruit volunteers! You are our super recruiters who make good reading clubs happen!
October means
magicians will be performing
for the kids and volunteers! At these October reading clubs, feel free to wear fun, school-appropriate
Halloween costumes
, too!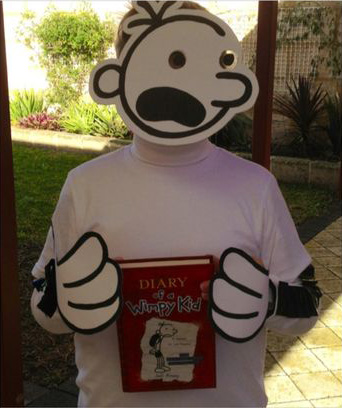 _______________________________________________
BRING YOUR GROUP TO READING TO KIDS
Would your co-workers love to join you at the reading clubs? Is your campus group looking for a fun volunteer opportunity? Does your alumni organization need an event to attend together? If the answer to any of these questions is yes, it is time to sign them up for Reading to Kids!
Reading to Kids Volunteer Groups recruit volunteers for the reading clubs. In addition to a fantastic volunteer experience, groups who regularly recruit and bring volunteers are thanked on our website as "Friends & Supporters."
For example, we had 97 members of Junior League of Los Angeles (a few pictured below) join us on September 12th. 10 members of Stanford Alumni CSC and 8 members of CAA also joined us at Esperanza and Politi, respectively.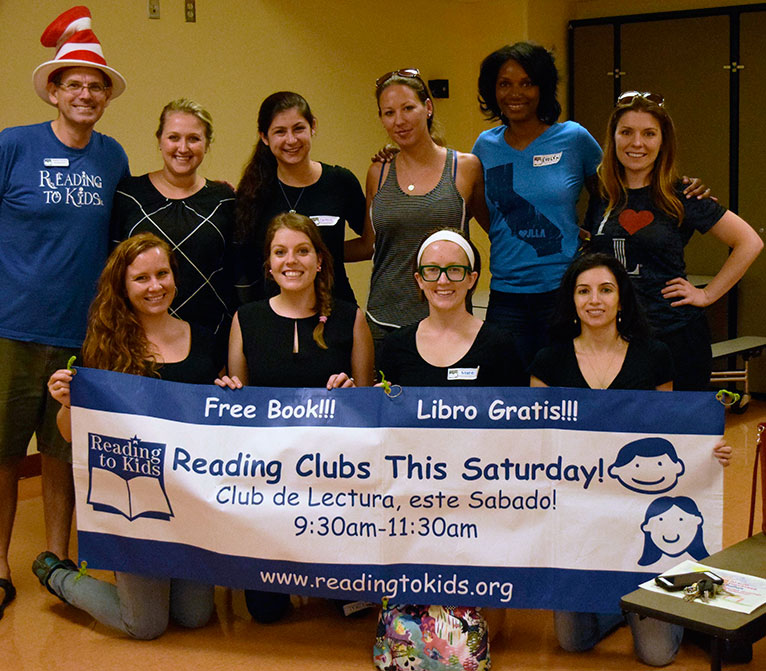 If you have a connection with a business, alumni association, campus group, or other organization whose members might enjoy volunteering with Reading to Kids, start recruiting now!
To sign up your group with Reading to Kids, e-mail us at info@readingtokids.org or call (310) 479-7455, and we'll get your group started!
_______________________________________________
INTRODUCING OUR NEW PROGRAM COORDINATOR
TIARA JOHNSON
It is our pleasure to welcome our new Program Coordinator, Tiara Johnson!
Tiara is a UC Berkeley graduate with a BA in Political Economy, Education concentration. She worked as a Program Coordinator and Program Manager at Young Entrepreneurs at Haas, and was a Lead Instructor for the Berkeley Business Academy for Youth. She spent time as an Education Policy Intern at the Brookings Institution in Washington, DC, and has worked as a Literacy Specialist and Tutor with middle school students.
Please introduce yourselves to Tiara as you meet her at the reading clubs, events, committee meetings, and at El Cholo.
_______________________________________________
CROSSWORDS LA TOURNAMENT NEEDS YOUR HELP SAT., OCT. 24

Crossword puzzle lovers from everywhere will be converging at the Crosswords LA tournament on Saturday, October 24 – with proceeds benefiting Reading to Kids!
The tournament will be held at the Fowler Museum at UCLA (in the Harry and Yvonne Lenart Auditorium), and Crosswords LA needs our volunteers to help! They need volunteers to set up portions of the event, greet and sign in contestants, and collect puzzle papers.
This tournament raises money for Reading to Kids, so if you can volunteer with them for either the full day or a half day, please e-mail us at info@readingtokids.org. Full day volunteers (8:30am – 4:45pm) get a free lunch! Let's show our volunteer spirit by supporting their efforts to help us!
_______________________________________________
Please join us in thanking the wonderful Lex Babiarz as she spends her last day tomorrow with Reading to Kids! That's Lex on the left in the above image with Lindsay Rapkin and Jessica at Politi.
Over the 2014-15 school year Reading to Kids had the great fortune to have Lex work with us first as an AmeriCorps VIP Fellow Literacy Coordinator for 11 months, then as a Program Coordinator for the last six weeks. Much of our success this past year was due to her tireless efforts and dedication!
Tiara, Emma, and I will miss seeing Lex every day and will always appreciate her wisdom and wit!
_______________________________________________
Thanks in advance for helping us find more volunteers for these next reading clubs!