Dear Friends of Reading to Kids,
We've had a few spots open up at all of our schools for this Saturday's Back to School Fun reading clubs. Please sign up and join us!
If you signed up for the reading clubs but can't join us, please cancel your RSVP so that another volunteer can read with us!
_______________________________________________
INTRODUCING EMMA REES,
OUR NEW LITERACY COORDINATOR
It is our pleasure to announce that we have a new full-time person working with us in the Reading to Kids offices!
Emma Rees joins us as an AmeriCorps VIP Fellow for the 2015-16 school year. During her 11-month term with us she will focus on increasing the quality of our volunteer experience, coordinating the monthly reading clubs at all of our schools, and volunteer recruitment.
Emma graduated from UC Riverside with a BA in History and a Minor in Political Science. She served as both President and Vice President of Membership for Delta Gamma sorority, and raised awareness and funds for Service for Sight, an organization dedicated to supporting the blind and visually impaired. She also worked as a camp counselor for five summers.
Please welcome Emma as you meet her at the reading clubs, committee meetings, and in our offices!
_______________________________________________
CROSSWORDS LA TOURNAMENT
ON SAT., OCT. 24TH
It's back! Crossword puzzle lovers from everywhere will be converging at the Crosswords LA tournament on Saturday, October 24 – with proceeds benefiting Reading to Kids!
The tournament will again be held at the Fowler Museum at UCLA, in the Harry and Yvonne Lenart Auditorium. Join them for a really fun day with puzzles of all levels and great prizes for the winners!
What: One day, Five puzzles, Prizes, and Lunch with a crossword–themed snack included!
When: Sat. Oct. 24th, 2015, 10:00 a.m. to 4 p.m.
Where: The Fowler Museum at UCLA
Cost: $50 in advance for competitors ($75 for a team of two), $35 for non-competitors.
Visit crosswordsla.com for more information or to sign up, and feel free to also check out their Facebook page!
_______________________________________________
Join Team Reading to Kids in the 2016 Skechers Performance Los Angeles Marathon! Be a part of team Reading to Kids as you run in one of the best marathons in the country on Sunday, February 14th (Valentine's Day).
You can run either the full marathon or a half-marathon, and the dollars you raise will go to support our monthly reading clubs.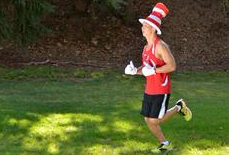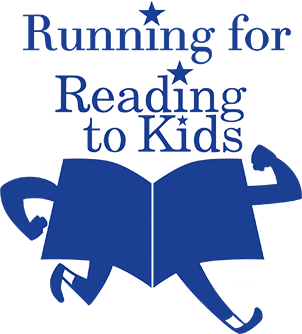 If you or a runner you know is interested in becoming one of our fundraising runners or creating a fundraising team, please email Chris Martin at marathon

readingtokids.org for all the details.
IMPORTANT NOTE: To register to run on behalf of Reading to Kids, you MUST receive from us a special web address to use when registering on the Skechers Performance Los Angeles Marathon website.
_______________________________________________
JOIN US NOVEMBER 4TH FOR LEGENDARY BINGO
Mark your calendars to play Legendary Bingo at Hamburger Mary's in West Hollywood! If you've been before, you know it's a blast. If you haven't, it's time to see what you've been missing!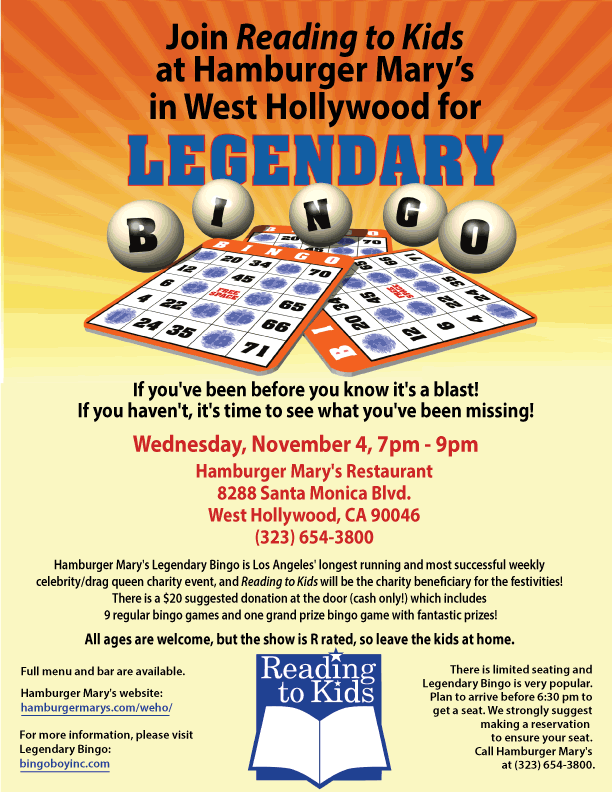 There is a $20 suggested donation at the door (cash only, please!) which includes 9 regular bingo games and one grand prize bingo game with fantastic prizes! The show is R-rated and a ton of fun!
WHEN: Wednesday, November 4th, 7pm - 9pm
WHERE: Hamburger Mary's Restaurant
8288 Santa Monica Blvd.
West Hollywood, CA 90046

For more details, visit our Bingo event on Facebook and invite your friends!
You can also help us gather prizes for the bingo winners! To help you get started, here is information about Reading to Kids you can share with potential donors, as well as a donation form for them to complete.

We'd also like to have a celebrity host as a bingo caller. Please reply if you can personally reach out to any celebrities who would like to help your favorite good cause!

_______________________________________________
Remember, you can always check out our calendar on our website for other ways to get more involved.

Thanks, and we hope to see you this Saturday!