Dear Friends of Reading to Kids,
Our March 14th reading clubs are this Saturday! If you want to volunteer but we are full, keep checking back for more openings until 3pm tomorrow.
As we do every March, we have talented, generous musicians joining us at each school. Click here to find out who will be performing at your school.
If you're signed up but can't join us, please click here to cancel before 2pm tomorrow so someone else may take your place.
_______________________________________________
DONATE & SUPPORT TEAM READING TO KIDS AT THE ASICS LA MARATHON
The ASICS LA Marathon is this Sunday, March 15th, and Team Reading to Kids (who was featured on KTLA News last Friday) needs your support!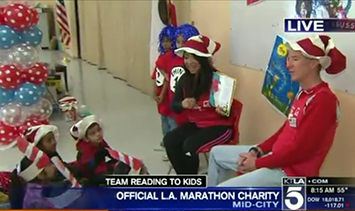 Encourage them by donating to their fundraising pages as they strive towards raising money for Reading to Kids! They have already raised more than $11,000 towards their overall goal of $13,000.
You can also cheer them on during the marathon at our course support booth (located at San Vicente Blvd. and 17th St.) on Sunday, March 15th from 8:30am - 1:30pm.
_______________________________________________
READ ALOUD TO KIDS
AT THE FESTIVAL OF READERS
On Saturday, March 21st from 10am - 2pm, Friends of the Family presents their annual Festival of Readers at LA Mission College in Sylmar - and they would like our volunteers to read aloud to attending children!
Throughout the morning you'll read aloud to small groups of kids, then lead them in brief crafts projects (30 minute versions of our reading clubs). We'll supply everything you need. Please help support this festival!
To volunteer, please contact Carrie Core, Festival of Readers Coordinator, at carrie@fofca.org or (510) 825-5205.
_______________________________________________
DOMA'S JESUS CHRIST SUPERSTAR
TICKETS 33% OFF
WATCH WITH READING TO KIDS ON MARCH 27TH

One of our favorite supporters, DOMA Theatre Company, is offering Reading to Kids volunteers 33% off General Admission (a $10 savings) to their current production, Jesus Christ Superstar, the famous rock opera by Andrew Lloyd Webber!
Enter promo code "READINGTOKIDS" when purchasing tickets at domatheatre.com. This offer is valid subject to availability of tickets
If you'd like to see the show with other
Reading to Kids
volunteers, join us for the
Friday, March 27th 8pm show
. You can
RSVP at our Facebook event
to see who else is going.
Be sure to buy your tickets early before they sell out!
Thank you, DOMA Theatre Company!
_______________________________________________
Thanks, and we hope to you Saturday morning.