Dear Friends of Reading to Kids,
We are just two days away from our last reading clubs of 2014! Join us in bringing holiday cheer to our students along with Santa and his elves, and help send each child home for Winter Break with the gift of a new book in her hands.
This Saturday's reading clubs are almost full, but we expect more spots to open up from now until RSVPs close at 3 PM tomorrow. If we are full, please check back often to sign up.
If you're signed up but can't join us, please cancel your RSVP as soon as possible so that someone else may take your place.
_______________________________________________
2014 ANNUAL FUND DRIVE UPDATE:
FINAL MONTH!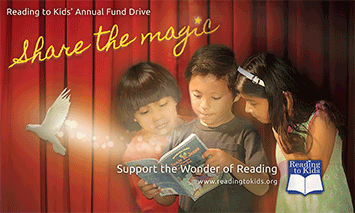 December is the final month of our 2014 Annual Fund Drive, our most important fundraiser of the year! Click the above link to see how we are doing so far, and help us reach our fundraising goal with a donation by cash, check, or credit card.
SCHOOL COMPETITION UPDATE!
Highest percentage of volunteers who have donated:
1st: Charles White Elementary
2nd: Los Angeles Elementary
Highest dollar amount raised:
1st: Esperanza Elementary
2nd: Alta Loma Elementary
Special thanks to Janet Webb and Nicholas Jones for collecting corporate donations!
Donations you gather from others and bring to the reading clubs this Saturday will count toward your school - so download our handy donor sheet for raising money with your friends and co-workers, and bring glory and honor to your school!
Here's how you can help, with your donations also counting towards the school competition:
1) Donate by check or online today. Contributions of any amount are greatly appreciated!
2) Ask friends and family to contribute! We've made it super simple - just print out our donor sheet and start asking, or spend a few minutes personalizing and sending our sample email.

3) Double your donation! Ask your employer to match your donation to Reading to Kids and double your impact.

____________________________________
COMMENT ON FLUOR'S BLOG AND
HELP US WIN $10,000!
This past summer, Reading to Kids was selected as one of 15 U.S. finalists for Fluor's Global Community Project Fund, and your votes helped us win a $10,000 grant!
As part of that project, 13 Fluor employees read aloud to children at Magnolia Elementary on November 8th, while another Fluor employee talked to parents about the importance of science and technology-based fields of study.
You can help Reading to Kids win an additional $10,000 Best-In-Class award from Fluor - here's how:
Go to Reading to Kids volunteer and Fluor employee Jinhwa Chun's blog. Use the GlobalCommunityProjectFund link in the upper right to submit your comments or questions about our project's progress.

At the end of the year, an additional $10,000 "Best-in-Class" award will go to the benefiting organization of the project that demonstrated the most progress, employee support, impact, and visibility in their local community and beyond.
Please show Fluor your enthusiasm for Reading to Kids! Your comment may be featured on the blog, where you can also see inspiring photos from the November reading clubs.
_______________________________________________
Join Team Reading to Kids in the 2015 ASICS LA Marathon! Be a part of team Reading to Kids as you run in one of the best marathons in the country on Sunday, March 15th.
You can run either the full marathon or a half-marathon, and the dollars you raise will go to support our monthly reading clubs.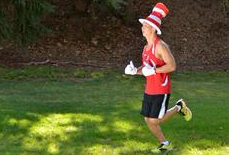 If you or a runner you know is interested in becoming one of our fundraising runners or creating a fundraising team, email Chris Martin at marathon

readingtokids.org for more information.
IMPORTANT NOTE: To register to run on behalf of Reading to Kids, you MUST receive a special code BEFORE registering on the ASICS LA Marathon website.
_______________________________________________