Dear Friends of Reading to Kids,
This Saturday we are celebrating "Independence and Growing Up" at our July 12th Reading Clubs. The reading clubs are currently full, but spots will open up from now until the RSVPs close at 3pm tomorrow. Please check back often to sign up.
If you're signed up but can't join us, please cancel your RSVP as soon as possible so that someone else may take your place.
_______________________________________________
Two weeks ago we announced that thanks to your online votes, Fluor awarded us a $10,000 grant from their 2014 Global Community Project Fund!
Fluor's grant will help us host a "Wonders of Science and Technology"-themed Reading Club on November 8th (also our annual College Spirit Month). Fluor volunteers will join us that morning as we read to the children and discuss the importance of science and technology-based fields of study.
Reading to Kids volunteer and Fluor employee Jinhwa Chun has begun blogging about this project. Please check out her blog for some fun pictures as she encourages her fellow employees to volunteer with us!
At the end of the year we are also eligible to win an additional $10,000 Best-in-Class award from Fluor. That award will go to the project that demonstrates the most progress, Fluor employee support, impact, and visibility in the community.
_______________________________________________
DORIAN'S DESCENT TICKETS 50% OFF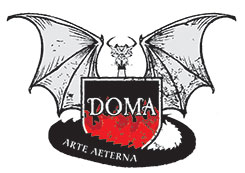 You may recall that back on April 29th DOMA Theatre Company generously supported us by sponsoring our 15th Anniversary Celebration, Comedy Night & Silent Auction.
They are offering to Reading to Kids supporters 50% off General Admission to their current production, Dorian's Descent, a new musical interpretation of The Picture of Dorian Gray by Oscar Wilde, running through July 20th.
Shows are Fridays and Saturday at 8pm or Sundays at 3pm. Just enter promo code "READINGTOKIDS" when you purchase tickets through either of the above websites.
This offer is valid subject to availability of tickets, and the show is at the MET Theatre, 1089 N. Oxford Avenue, Los Angeles, CA 90029.
Thank you, DOMA Theatre Company!
_______________________________________________
LITERACY COORDINATOR POSITION AVAILABLE
Reading to Kids is hiring two Literacy Coordinators for 11 month positions starting in September! The positions are posted on our website, where you can read them by clicking on the Literacy Coordinator button below Latest News.

Please also share the above link to the positions with anyone you think would be a good fit, especially if they have volunteered with us as readers or other roles.
_______________________________________________
Thanks, and we'll see many of you on Saturday!