Dear Friends of Reading to Kids,
We had a legendary time at this past Saturday's "Fantasy, Folklore, and Fairytales" Reading Clubs! 832 kids, 370 volunteers, 29 teachers, and 51 parents joined us on Saturday - our largest May in 4 years.
We had also had a very special reader at Los Angeles Elementary - click this link to see a tweet and photo of Miss California Brandy Fisher with the Los Angeles volunteers and the 2nd grade book!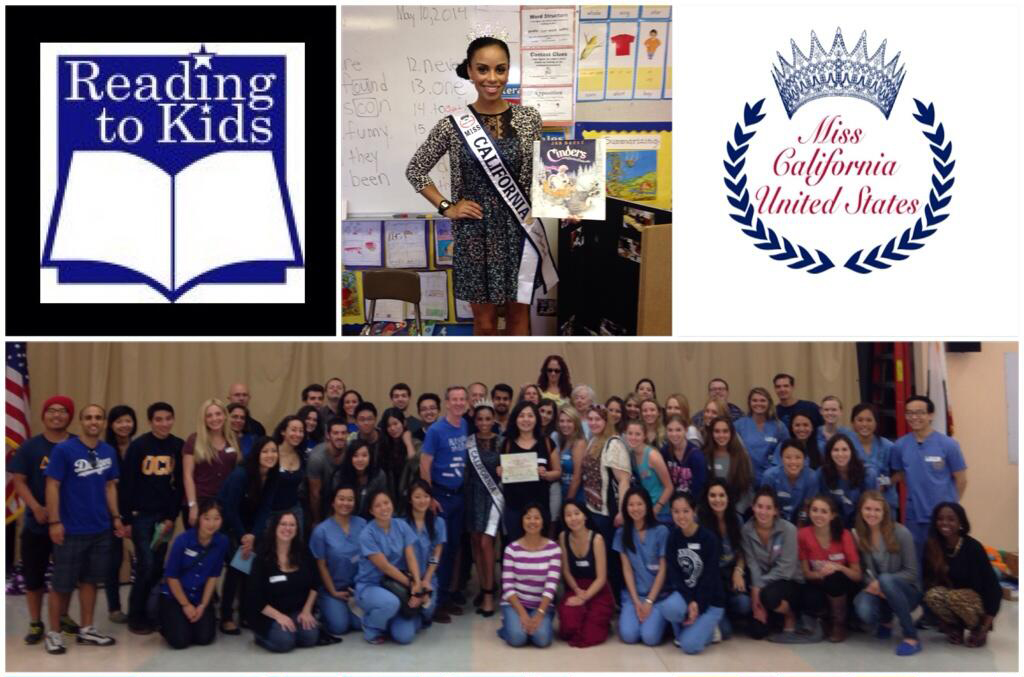 If you weren't able to make it last Saturday, we hope you can join us for our June 14th "Super Heroes and Super People" Reading Clubs!
Be sure to sign up early, then please visit and join our Facebook event so your friends will see that you're attending and you can invite them to join you!
_______________________________________________
It is our pleasure to thank the Employees Community Fund of Boeing California for their generous $5,000 grant! Once again they have chosen to partner with us in sharing the love of reading with thousands of LAUSD children, and we value their financial and volunteering support.
We also send a very special thank you to Boeing employee and Reading to Kids Taskforce member Courtney Smythe for helping us earn this funding!
_______________________________________________
JOIN US JUNE 11TH FOR LEGENDARY BINGO
On Wednesday, June 11th mark your calendars to play Legendary Bingo at Hamburger Mary's in West Hollywood! If you've been before you know it's a blast. If you haven't, it's time to see what you've been missing!
There is a $20 suggested donation at the door (cash only, please!) which includes 9 regular bingo games and one grand prize bingo game with fantastic prizes! Remember, the show is R rated and a ton of fun.
WHEN: Wednesday, June 11th, 7pm - 9pm
WHERE: Hamburger Mary's Restaurant
8288 Santa Monica Blvd.
West Hollywood, CA 90046

Legendary Bingo is very popular and there is limited seating available. Plan to arrive before 7:00 p.m. to get a seat. We strongly suggest making a reservation (you must have a party of 6 or more) at Hamburger Mary's to ensure your seat. You can call Hamburger Mary's at (323) 654-3800.
For more details, visit our Bingo event on Facebook and share it with your friends!
Please also click the image below for a flyer in .PDF format, and forward it to anyone you know who may be interested in going to our Legendary Bingo Night.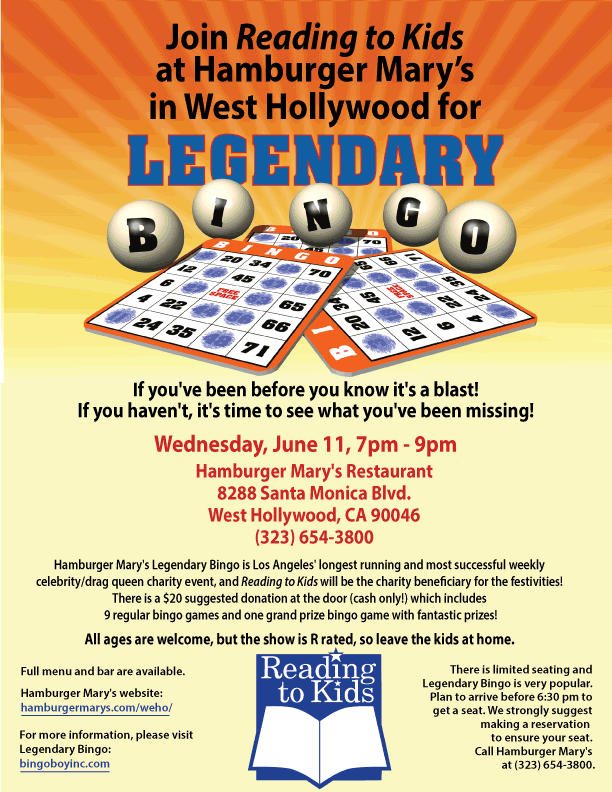 Please also print out the flyer and post it wherever many people are likely to see it, perhaps with a note that you are going and inviting others to join you. Be there or be square!
_______________________________________________
It's time for Dodger baseball with your fellow Reading to Kids volunteers! Join us to meet other volunteers, enjoy a summer evening, and cheer a great game against the Colorado Rockies!

Where: Dodger Stadium, Section 48
When: 6/18/14, 7:10pm
Price: Tickets only $10 each

Mail checks to:
Rachel Harter
P.O. Box 804
Verdugo City, CA 91046
Or, find Rachel at Los Angeles Elementary School during the June 14th Reading Clubs or at El Cholo afterwards. Send your questions to Rachel at Rachel.Harter

readingtokids.org.

To see who else is attending, you can RSVP through either our Facebook event or Rachel's Evite.

Get your tickets from Rachel before she sells out, and we hope to see you there!
_______________________________________________
Thanks, and we hope to see you at our June 14th Reading Clubs!