Dear Friends of Reading to Kids,
Our "Fantasy, Folklore, and Fairytales" Reading Clubs are this Saturday and we need your help in recruiting 43 more volunteers, especially at Politi, Gratts, and White! These are the last big reading clubs before the kids go on summer vacation and we want to make sure they have a fun and meaningful time.
If you have not already done so, please visit our website now and sign up.
Please also encourage your friends, co-workers and family to sign up by asking them to join you at your school. You can do that by sharing our Facebook event and guiding them to also sign up on our website.
If you use Facebook or Twitter, please post that we need more volunteers. We've provided a sample post below, but in whatever you post please be sure to include the following two things:

- The reading clubs are this Saturday morning, May 10th, near downtown LA
- Volunteers must sign up online at www.readingtokids.org

Sample Post:

"Do you like fantasy, folklore, or fairy tales? My favorite volunteer organization, Reading to Kids, is looking for more volunteers this Saturday for their May 10th reading clubs. The theme is "Fantasy, Folklore, and Fairytales", and the kids are eager to hear exciting stories and do crafts.

Join me at ### Elementary School for a fun, heartwarming morning of reading to elementary school kids near downtown LA. To join me, sign up online today at www.readingtokids.org."


If you have people in mind who you think would really like to read with us, tag them in your post. It will alert them to the reading clubs and show up in their friends' news feeds.
Please use our super-handy email template (in PDF) to encourage people you know to sign up to read with us!
You can also print out this flyer and post it at your work or favorite community bulletin board. Make it a personal and fun social event by including the school at which you'll be reading!
_______________________________________________
JOIN US JUNE 11TH FOR LEGENDARY BINGO
On Wednesday, June 11th mark your calendars to play Legendary Bingo at Hamburger Mary's in West Hollywood! If you've been before you know it's a blast. If you haven't, it's time to see what you've been missing!
There is a $20 suggested donation at the door (cash only, please!) which includes 9 regular bingo games and one grand prize bingo game with fantastic prizes! Remember, the show is R rated and a ton of fun.
WHEN: Wednesday, June 11th, 7pm - 9pm
WHERE: Hamburger Mary's Restaurant
8288 Santa Monica Blvd.
West Hollywood, CA 90046

For more details, visit our Bingo event on Facebook and share it with your friends!
Please also click the image below for a flyer in .PDF format, and forward it to anyone you know who may be interested in going to our Legendary Bingo Night. Be there or be square!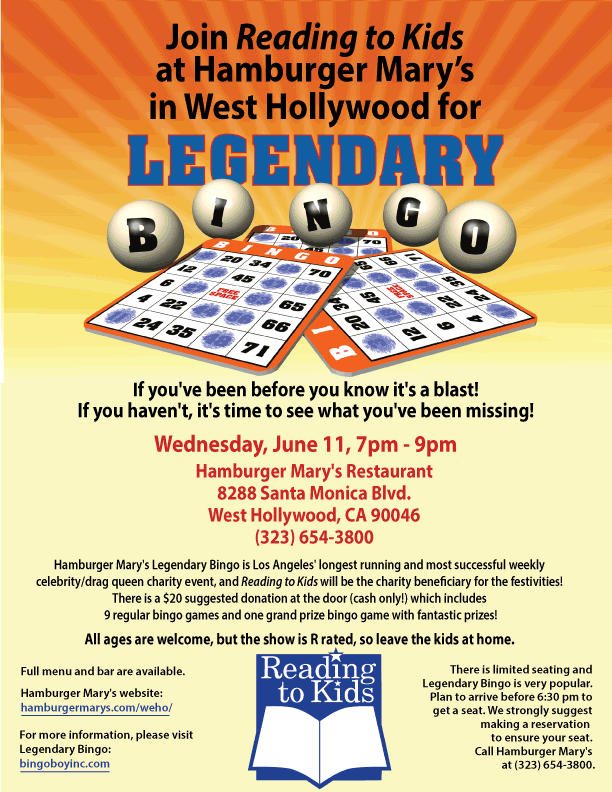 _______________________________________________
It's time for Dodger baseball with your fellow Reading to Kids volunteers! Join us to meet other volunteers, enjoy a summer evening, and cheer a great game against the Colorado Rockies!

Where: Dodger Stadium, together on the 3rd base side
When: 6/18/14, 7:10pm
Price: Tickets only $10 each

Mail checks to:
Rachel Harter
P.O. Box 804
Verdugo City, CA 91046
Or, find Rachel at Los Angeles Elementary School during the May 10th Reading Clubs or at El Cholo afterwards. Send your questions to Rachel at Rachel.Harter

readingtokids.org.

To see who else is attending, you can RSVP through either our Facebook event or Rachel's Evite.

We hope to see you there!
_______________________________________________
FREE POLITI CONSERVATION ART SHOW TOMORROW
Tomorrow, May 9th, from 4:30–7:30 p.m. you are invited to celebrate the fifth year of the Conservation Art Show at Politi Elementary School! This event showcases the science illustration and habitat restoration work that students at both Politi Elementary and Dorsey High School have worked on throughout the school year.
There will be lots of hands-on activities for the whole family, including paper-making, tours of the schoolyard habitat, and art/science projects in which to participate. This year, the Politi Science Illustrators' ambitious studies had them thinking like architects and exploring patterns in nature, from the spots on a leopard's coat to animal courtship displays to how ocean tides work.
_______________________________________________
Thanks, and we hope to see you this Saturday!