Dear Friends of Reading to Kids,
Our "Fantasy, Folklore, and Fairytales" Reading Clubs are just nine days away on May 10th, and we are still on the search for 160 more volunteers! We hope you can join us by signing up here.
Please be sure to spread the word to your family and friends, and don't forget to join our May 10th Facebook event.

(If you have already signed up but won't be able to make it, please cancel your RSVP to make room for another volunteer.)
_______________________________________________
THANK YOU COMICS, BIDDERS,
& DOMA THEATRE COMPANY!
Our many thanks to you to all who supported our 15th Anniversary Celebration, Comedy Night & Silent Auction this past Tuesday!
Whether you donated or bought an auction item, helped with the planning and logistics, or just sat back and enjoyed the show, you helped us celebrate 15 years of spreading the joy of literacy to LAUSD children!
Lamb Chop was unable to join us Tuesday night because she was stuck at an airport in the Midwest, so the evening was hosted by the wonderfully funny Patrick Keane! Thank you for filling in so very well, Patrick!
We also extend very special shouts out to our line-up of great comedic talent – Fred Stoller, Dwayne Perkins, Jason Collings, Matt Kirshen, and Flip Schultz! If you enjoyed their performances and/or want to thank them for donating their time and jokes to create such a fantastic evening, click their links above to drop each a note!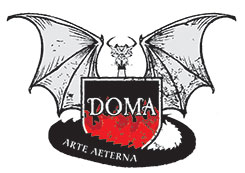 Finally, we especially wish to thank DOMA Theatre Company for their additional generosity during the festivities.
They are offering to Reading to Kids supporters 50% off General Admission to their next production, Dorian's Descent, a new musical interpretation of The Picture of Dorian Gray by Oscar Wilde, premiering May 30th.
Just enter promo code "READINGTOKIDS" when you purchase tickets through either of the above websites. This offer is valid subject to availability of tickets.
Thank you, DOMA Theatre Company!
_______________________________________________
JOIN US JUNE 11TH FOR LEGENDARY BINGO
On Wednesday, June 11th mark your calendars to play Legendary Bingo at Hamburger Mary's in West Hollywood! If you've been before you know it's a blast. If you haven't, it's time to see what you've been missing!
There is a $20 suggested donation at the door (cash only, please!) which includes 9 regular bingo games and one grand prize bingo game with fantastic prizes! Remember, the show is R rated and a ton of fun.
WHEN: Wednesday, June 11th, 7pm - 9pm
WHERE: Hamburger Mary's Restaurant
8288 Santa Monica Blvd.
West Hollywood, CA 90046

For more details, visit our Bingo event on Facebook and share it with your friends!
Please also click the image below for a flyer in .PDF format, and forward it to anyone you know who may be interested in going to our Legendary Bingo Night. Be there or be square!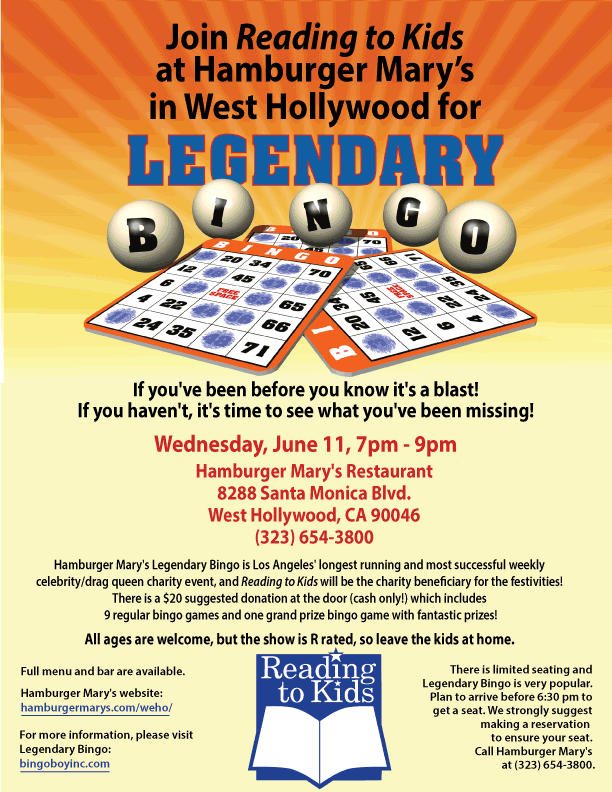 _______________________________________________
It's time for Dodger baseball with your fellow Reading to Kids volunteers! Join us to meet other volunteers, enjoy a summer evening, and cheer a great game against the Colorado Rockies!

Where: Dodger Stadium, together on the 3rd base side
When: 6/18/14, 7:10pm
Price: Tickets only $10 each

Mail checks to:
Rachel Harter
P.O. Box 804
Verdugo City, CA 91046
Or, find Rachel at Los Angeles Elementary School during the May 10th Reading Clubs or at El Cholo afterwards. Send your questions to Rachel at Rachel.Harter

readingtokids.org.

To see who else is attending, you can RSVP through either our Facebook event or Rachel's Evite.

We hope to see you there!
_______________________________________________
Thanks, and we look forward to seeing you at the reading clubs on May 10th!