Dear Friends of Reading to Kids,
Our thanks go out to everyone who made last Saturday's reading clubs such a success. Even though it was the first day of Spring Break, we had 916 kids, 419 volunteers, 76 parents, and 26 teachers and staff join us for a fun and meaningful morning of reading!
If you weren't able to make it last Saturday, we hope you can join us for our May 10th "Fantasy, Folklore, and Fairytales" Reading Clubs! Please visit our website to sign up.
_______________________________________________
CELEBRATE OUR 15TH ANNIVERSARY WITH LAMB CHOP AT OUR COMEDY NIGHT & SILENT AUCTION!
Did you know that this May Reading to Kids turns 15?!
Way back in 1999 we started with 20 children and eight volunteers, and now we average 876 children and 367 volunteers every month!
If you have ever volunteered with us, or are a supporter of children's literacy, please help us celebrate our quinceañera on Tuesday, April 29th at our 15th Anniversary Celebration, Comedy Night & Silent Auction at the Hollywood Improv!
This hilarious evening will be hosted by Mallory Lewis and Lamb Chop! See the puppet you grew up watching as she helps us celebrate with some of her naughtier "After Dark" material!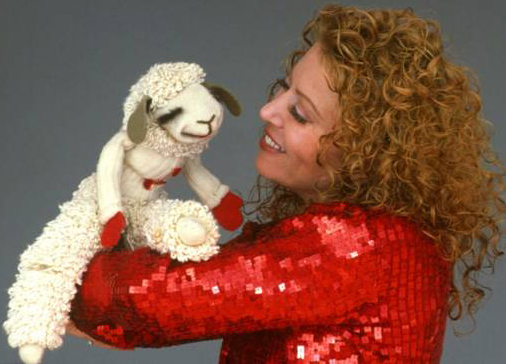 Tickets are on sale for just $20, with appetizers and dinner available for additional purchase from the new Roadhouse LA at the Improv's showroom menu! The always-lively Silent Auction will run from 6:30-7:30 pm, with winners announced just before the comedy show starts at 8:00pm. The show will end at 9:30pm.
Joining Lamb Chop will be a handful of comedians hand-picked by the world famous Hollywood Improv.
You won't want to miss out on this event and opportunity to celebrate 15 years of Reading to Kids with returning volunteers you may not have seen in years!
_______________________________________________
On Facebook we have a Reading to Kids Comedy Night and Silent Auction event, and it would really help if you replied to it that you are going.
(You have bought your tickets, right?)
When you reply to our Facebook event, please also use the "Invite" button in the upper right to share the event and help us publicize this fun celebration of our 15th anniversary.
If you can't join us for Comedy Night, please still share the above event with your Facebook friends and encourage them to go and tell you all about it. Every ticket you help us sell furthers our cause!
Please also click the image below for a flyer in .PDF format, and forward it to anyone you know who may be interested in going to our Comedy Night.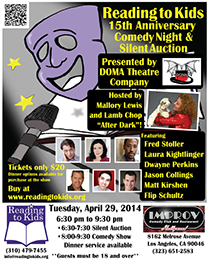 Please also print out the above flyer and post it wherever many people are likely to see it. Our Comedy Night makes a great night out with friends and co-workers!
_______________________________________________
MORE COMEDY NIGHT SILENT AUCTION
ITEMS WANTED
Become a Reading to Kids hero and help us gather the most interesting and exciting items ever for our Silent Auction!
We've posted just the first 10 Silent Auction items so far with more to come, and we are looking for more unique, inventive items!
Please see the Want to help? area of our 15th Anniversary Celebration, Comedy Night & Silent Auction webpage for links to a donation letter, donation form, and tips on how to best approach a business or person to donate to our Silent Auction. We thank you in advance!
In the past we have had gift certificates, products, services, and tickets to fun events. If you work at or have a connection with a restaurant, retail store, or for a company with products or services to offer, please help us by asking for a donation to our Silent Auction.
_______________________________________________
FREE POLITI WILDSIDE GARDEN TOUR
Across the greater Los Angeles area, schools are finding innovative ways to connect students to the natural world right on their campuses. On Saturday, April 26, 2014 from 10:00 a.m. to 4:00 p.m. all are invited to see this for themselves. The free Wildside Garden Tour 2014 is sure to give you ideas and hope.

Highlights of the tour include Leo Politi Elementary, where Los Angeles Audubon Society's Leo Politi Education Program has become a national model for on-campus outdoor learning, and Walgrove Elementary School, where 25,000 square feet of asphalt have been removed and replaced with native habitat.

You can visit the schools at your own pace for self-guided tours of their outdoor instructional spaces. What a great way to spend a Saturday!
_______________________________________________
Thanks, and we hope to see you on April 29th at Comedy Night!