Dear Friends of Reading to Kids,
Our "Amazing Animals and Interesting Environments" Reading Clubs are just over 2 weeks away on April 12th! We hope you will take a moment to sign up today to join us for a fun morning of volunteering.
We still need 199 volunteers to read to hundreds of excited kids, so be sure to spread the word amongst your family, friends, and coworkers by joining our Facebook event!
_______________________________________________
BUY YOUR TICKETS NOW TO JOIN LAMB CHOP AT OUR 15TH ANNIVERSARY CELEBRATION,
COMEDY NIGHT & SILENT AUCTION ON APRIL 29TH!
This year Reading to Kids turns 15 years old, and we'd like you to help us celebrate our quinceañera on Tuesday, April 29th at our 15th Anniversary Celebration, Comedy Night & Silent Auction at the Hollywood Improv!
This hilarious evening will be hosted by internationally-known Mallory Lewis and Lamb Chop! See the puppet you grew up watching as she helps us celebrate with some of her naughtier "After Dark" material!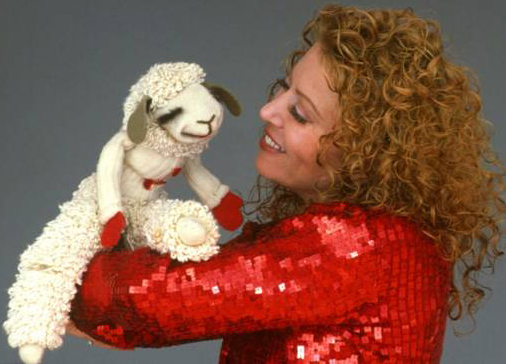 Tickets are on sale for just $20, with appetizers and dinner available for additional purchase from the new Roadhouse LA at the Improv's showroom menu! The always-lively Silent Auction will run from 6:30-7:30 pm, with winners announced just before the comedy show starts at 8:00pm. The show will end at 9:30pm.
Joining Lamb Chop will be a handful of hilarious comedians hand-picked by the world famous Hollywood Improv. You won't want to miss out on this event and opportunity to celebrate 15 years of Reading to Kids with returning volunteers you may not have seen in years!
If you are interested in helping with the Silent Auction, please join the Reading to Kids Taskforce Special Events Committee, or call us at the Reading to Kids office for more details.
Anyone who would like to help is encouraged to join us, and we are especially interested in hearing from those volunteers who have helped us with past Comedy Nights.
_______________________________________________
SHOP ON AMAZON? USE AMAZON SMILE TO HELP READING TO KIDS
Are you looking for an easy way to help Reading to Kids? When you shop on Amazon Smile, they will donate 0.5% of your purchases to Reading to Kids! All you have to do is choose Reading to Kids as your charity when you log on.
Also, through March 31st Amazon Smile will donate an extra $5 to us when you purchase an eligible item.
_______________________________________________
COMEDIANS AND A CELEBRITY WANTED
We need a well-known, headliner comedian for our April 29th Benefit Comedy Night! If you personally know a headliner comedian who would be interested and available for this event at the Hollywood Improv on April 29th, please email us at info

readingtokids.org.
We'd also like to have a celebrity host as a bingo caller for our annual Legendary Bingo Night on June 11th. Please email us if you can personally reach out to any celebrities who would like to help your favorite good cause!
_______________________________________________
BUY A COOL BOOK SHIRT & EARN $$ FOR
READING TO KIDS - ENDS THIS SATURDAY!
Looking for a cool new shirt to wear when reading to kids? Out of Print Clothing sells high-quality shirts, tote bags, and other items that feature the covers of iconic and often out-of-print book covers.

Through this Saturday, Out of Print Clothing is offering free standard shipping and 30% of their proceeds to Reading to Kids!
All you have to do is enter coupon code READINGTOKIDS at checkout, then scroll up to the shipping section and click on Free Shipping.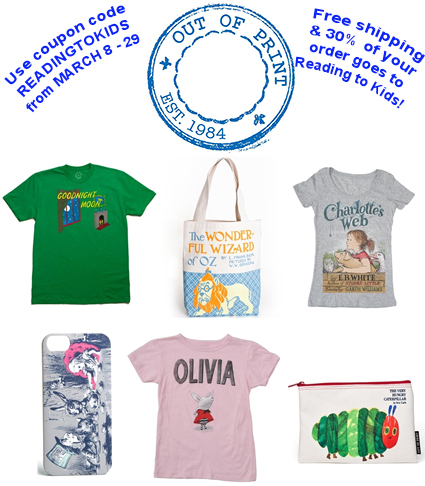 Their shirts and other items make great gifts for yourself and others, and through this Saturday, they also benefit Reading to Kids!
_______________________________________________
Thanks, and we hope to see you at the reading clubs!