Our February 8th Reading Clubs are just over 9 days away, and we need you to sign up and help celebrate a morning of "Friendship and Family"!

We still need 72 more volunteers for the 8th, so please take a moment to join our February 8th Facebook Event. Your friends will see that you're attending the reading clubs, and you can help spread the word by inviting them to join, too. After you join, be sure to go to our website and sign up with us.
_______________________________________________
SCHOOL AMBASSADORS NEEDED NEXT WEEK
Next week is the week before our February Reading Clubs, and we can use your help to do the following at each school:
- Distribute teacher letters
- Distribute Classroom Sign-In Posters
- Conduct quick classroom walk-throughs to encourage kids to come to the reading clubs that Saturday
We'll supply everything you need, so we just need volunteers (ideally in pairs) who can go to a school or two between 7:30am - 2:30pm as a Reading to Kids Ambassador.
This is a wonderful way to interact with the kids and teachers. The more we publicize, the more children and parents we can continue to serve!
Please reply to info

readingtokids.org or call the office at (310) 479-7455 if you can be an Ambassador.
_______________________________________________
RUN THE ASICS LA MARATHON WITH READING TO KIDS -
SIGN UP DEADLINE IS TOMORROW!
Do you have friends on Facebook who post about their latest running achievements or goals? Encourage them to join Team Reading to Kids in the 2014 ASICS LA Marathon!
They can be a part of the inaugural group to run for Reading to Kids in one of the best marathons in the country. They can run either the full marathon or a half-marathon, and the dollars they raise will go to support our monthly reading clubs. Our runners have even started to train together.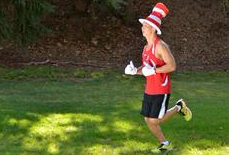 If you or a runner you know is interested in becoming one of our fundraising runners or creating a fundraising team, before tomorrow's deadline please email Chris Martin at marathon

readingtokids.org for all the details.
IMPORTANT NOTE: to register to run on behalf of Reading to Kids, you MUST receive a special code BEFORE registering on the ASICS LA Marathon website by tomorrow's January 31st deadline.
_______________________________________________
Every March, musicians visit each school and perform for the kids. We have had a variety of performers from country singers to Korean drumming troupes to marching bands and electric violin players!
If you or someone you know would like to share the gift of music with the kids and volunteers at our March 8th Reading Clubs, please email us at info

readingtokids.org.
_______________________________________________
We've started planning this year's fundraising events, and we need your help gathering prizes!
Our events are more fun and raise more money if we have great prizes to award, raffle, and/or auction. Big prizes. Little prizes. Serious prizes. Silly prizes. We need them all! Check out our list of prizes from last year's Silent Auction for ideas.
If you have any prizes, or you know where to get them, let us know! We'd love to have something fabulous for the Silent Auction or for our grand prize Bingo winner -- anything unique or with an autograph is always welcome!
To help you get started, click these links for tips on how to best approach a business or person to donate to our events, and a donation form for the donor to complete.
In the past we have had gift certificates, products, services, and tickets to fun events. If you work at or have a connection with a restaurant, retail store, or for a company with products or services to offer, please help us by asking for a donation to our events.
Please also let us know to whom you reach out so we don't accidentally duplicate Special Events Committee efforts in contacting businesses.
_______________________________________________
Thanks, and we look forward to seeing you at our February 8th Reading Clubs!