Dear Friends of Reading to Kids,
Last Saturday we enjoyed our biggest December reading clubs in five years and the third biggest December we have ever had! 1,333 kids turned out to read a story, get a free book, and see Santa and his helpers this past Saturday! 461 volunteers, 108 parents, and 27 teachers & staff helped us spread "The Spirit of Giving" as we gave away our 121,854th book to a child!
Our special thanks to all of our St. Nicks and elves for bringing special cheer to the reading clubs! We have already started posting on Facebook the first of our Santa photos from Saturday. Hundreds of kids had their photos taken with Santa at our reading clubs.
The Santa suits worn on Saturday were generously provided by the Pasadena Jaycee's Operation Santa. If you want to wear the red suit yourself and make Christmas Eve special for some lucky children in need, please click here to sign up!
The Spirit of Giving extends throughout the year at
Reading to Kids
.
Sign up
now before the spots fill up for our "Discovery and Adventure" reading clubs on
January 11th
!
_______________________________________________
A SPECIAL MESSAGE FROM
VOLUNTEER SOYOON CHOO
Last month I posted to the Reading to Kids blog about my experiences volunteering with Reading to Kids at the November 9th reading clubs. For me the best part of that morning was when a student who has been long-attending the reading clubs encouraged a first timer to come out to next month's clubs.
I've met several shy kids and it is amazing to see the change and growth every month: watching them begin to use "big words", become actively engaged in the book and our discussions, and watching as they become Reading to Kids' own little ambassadors to their peers. At every reading club I further discover how meaningful the reading clubs are to me and to the kids and how volunteering is contributing to a greater cause.
This is why I support Reading to Kids through volunteering, donating to the Annual Fund Drive, and Taskforce Committee activities - because I can feel and see the positive impact that will lead to brighter futures for these kids.
I encourage you all to join me in supporting Reading to Kids at the 2013 Annual Fund Drive so this mission can carry on. Your usual morning coffee can turn into a book at a school library!
Sincerely,
Soyoon Choo
Los Angeles Elementary School
Volunteer Reader, Special Events Committee Co-Chair
_______________________________________________
2013 ANNUAL FUND DRIVE UPDATE: SCHOOL COMPETITION WINNERS; STILL TIME TO DONATE!
At the December 14th Reading Clubs we continued the 2013 Annual Fund Drive, and thanks to 99 generous volunteer readers that morning, we have now raised more than $28,000 overall from more than 400 donors! This puts us closer to our goals of raising $45,000 from 1,000 donors by December 31st!
The school that had the largest percentage of their volunteers donate at the December 14th clubs was Politi Elementary, with Gratts Elementary coming in second. Alta Loma remains the overall leader of volunteer donor percentage!
The school that raised the highest dollar amount on the 14th was also Politi, with Magnolia Elementary in second place. Esperanza continues to lead the largest overall dollar amount raised, thanks to the gathered donations by Matthew Jones and others.
Here's how you can help, with your donations also counting towards the school competition:
1 - Donate online or make a pledge to donate by check today by visiting our 2013 Annual Fund Drive page. Contributions of any amount are greatly appreciated! $5 buys 4 take-home prize books for participating kids, and $50 buys 4 hardcover read-aloud books!
2 - Show your support by asking friends and family to contribute! Visit our 2013 Annual Fund Drive page and look under the "Help us Fundraise!" header for resources.
In particular, please consider personalizing and sending the provided sample email to friends and family, or becoming an Angel and posting our handy donor sheet.
Once they know about Reading to Kids, many will probably want to donate to us - we just need you to ask!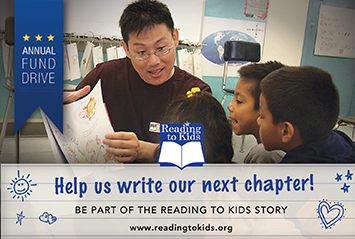 _______________________________________________
GREAT ARTICLE BY POLITI PRINCIPAL
BRAD RUMBLE
If you have ever volunteered with us at Politi Elementary, you have probably met the charismatic Principal Rumble, who usually leads the New Volunteer Training and the kids wrap-up.
Did you also know he led the creation of a beautiful, native California habitat on the Politi campus behind their library? Read all about its creation and impact in his article "Campus Space Reimagined? Naturally." at the Bill & Melinda Gates Foundation website. You will be moved and impressed!
_______________________________________________
Happy holidays next week from all of us at Reading to Kids!